The 2016-17 Buffalo Sabres marketing slogan was "Sharpen Your Swords."
After his sixth failed attempt at taking his prized asset to the NHL playoffs, it seems as though Owner Terry Pegula has merely dropped the 'S' off in his post-season press conference. [not really, but it seemed like it to us]
Addressing the media after axing Tim Murray and Dan Byslma, it appears that the 2017-18 slogan has now become "Sharpen Your Words."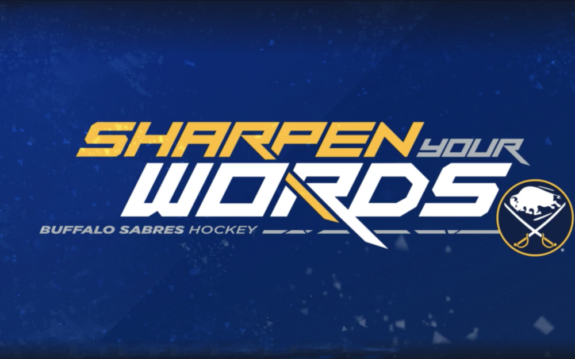 Pegula's Plan
The four words–character, discipline, structure and communication– that Pegula repeated like an over-rehearsed defendant on the stand, are by no means a plan. They're merely traits he desperately wishes his club to have. His only glimpse into the future was to state his intentions to fill openings he just created.
A plan would have specific steps; actions that would result in creating an environment in which people of high character could flourish. Structure and discipline are unwritten rules that are part of a winning culture that develops over time. All Pegula did was state that he wants a moist, delicious cake that could be in the running for a blue ribbon; yet he does not have a recipe.
"A Good Job"
Pegula didn't offer up any justifications for firing Murray and Bylsma. In fact, he said, "they did a good job." The fired duo dismantled a team of its assets to secure a top pick, misused a bevy of draft picks, completely alienated a fan base, and regressed in the standings while missing the playoffs yet again is doing "a good job."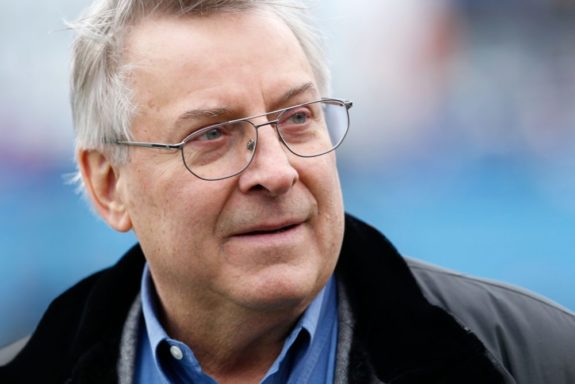 Falling Short As An Owner
Pegula himself is guilty of not following his own newly-minted marketing phrase. Take character; this is a man who still believes his team was not set up to fail (i.e. tank) in order to receive a #1 or #2 overall pick in the draft. The hypocrisy in his denial is mind numbing. Why else would they have shed so many quality players?
As for communication, Pegula went 42 months–nearly three and a half years–between press conferences for the Sabres. He's an undeniably successful businessman, but the same does not hold true for his communication skills.
When asked by The Buffalo News columnist Jerry Sullivan, if he had plans to hire a President of Hockey Operations who in turn hires a GM and then a coach, Pegula bluntly and angrily said, "No." He rejects that organizational model—the one that has helped quickly turn around struggling franchises like Edmonton and Toronto. Pegula distanced himself from Murray, stating he regrets not being more involved in hiring decision and plans to be even more actively involved in selecting the next General Manager and Coach.
The franchise's struggle with discipline has been pervasive on many fronts. Financially, it started when Pegula took over the franchise, when his deep pockets and willingness to spend landed them Christian Ehrhoff and Ville Leino. Both were eventually bought out, proving that spending money doesn't make a team any better. It requires discipline. Player-wise, there was Ryan O'Reilly's hit and run days after signing a massive contract, Kane's inability to stay off the police blotter, and players arriving late for practices and meetings. Lastly, the training medical and department lacked discipline this year–Jack Eichel, Evander Kane, and Ryan O'Reilly–all foundational pieces to the rebuild, admitted returning to the ice too early, having not completely healed.
Pegula's failed attempt at structure lasted all of five months, when Pat LaFontaine was brought in as president of hockey operations at the time of Regier's firing. At the time, optimism and hopes were high that finally there would be some sense of order brought to the floundering franchise. Alas, the Sabres legend resigned amid a reported internal dispute over the trade of Ryan Miller, the team's star goaltender. There was speculation that either Pegula didn't want Murray or that he was upset that he had relinquished enough control that he wasn't the one who hired him. Either way, this time around, his controlling, billionaire ego can't be allowed to get in the way.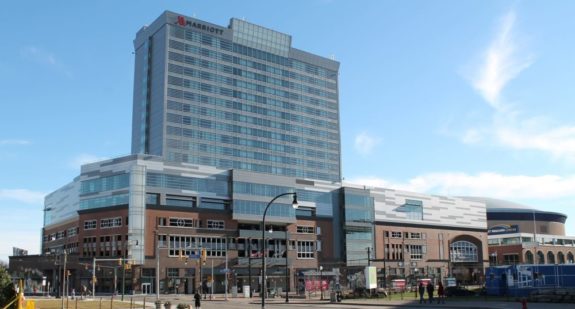 Take the Good with the Bad
When Terry Pegula purchased the Sabres on February 18, 2011, he brought stability, excitement, and purpose to the franchise. His tears of joy acknowledging Gilbert Perreault during his introductory press conference showed his heart was in the right place. However, during his six-plus years living what he called his lifelong dream of owning his favorite hockey team, it's often shown he's just that—a fan, not a capable owner.
Pegula has done a lot of good for the City of Buffalo. HARBORCENTER, the multi-purpose sports facility has anchored downtown Buffalo and led to a revitalization of the waterfront. It's already played host to major events including the NHL scouting combine and several international hockey tournaments.
Looking Ahead
Terry Pegula is no better at running a professional sports franchise than he was six years ago. And aside from few key players, this franchise has hardly progressed. This team is nowhere near being a serious contender. The statistics speak for themselves.
The lone bright light of his press conference last Thursday was when Pegula boldly stated, "accountability starts with me."
He continued, "You've got to have character throughout the organization on the ice. And they have to be in a disciplined, structured environment where everybody knows what everybody is doing and everybody is talking. And that's how you win."
There's no question Pegula is committed to the city of Buffalo and wants to bring a winning team to it. But uttering the traits of character, discipline, structure and communication six times in fourteen minutes won't instill them in your organization.
He needs to follow his own marketing buzzwords for once, put a structure in place, and have the discipline to stay out of the way.
Jeff has been covering the NHL for over a decade for various sites. He's been with The Hockey Writers as a lead Sabres writer three years, while also writing a satire column called "Off the Crossbar."