It's fairly easy to assume that every NHL franchise has at least one or two free agent signings they can look back on and say to themselves, "what were we thinking?" Signing players is a part of the business of hockey and not every general manager gets it right every time. The trick is not to land yourself atop the worst in NHL history or make the same colossal mistakes more than once.
This is not a lesson learned effectively by many teams. In the past 20 years, there have been numerous occasions where franchises have literally lost their minds and made some of the most assigning signings in NHL history. In other cases, the team's heart was in the right place and their logic was sound, but it didn't work out. Here are just a few examples.
Bobby Holik – New York Rangers
The New York Rangers have the distinction of being one of the worst teams to repeat stupid mistakes. Apparently, no other team has the ability to spend silly money and then somehow get themselves out of financial trouble like the Rangers do. There's likely some debate over which Ranger signing wins as the oddest, but our list will start with Bobby Holik who signed a nine-year contract worth an average salary of $9 million per year.
Prior to Holik's arrival in New York, he'd spent 10 years with the New Jersey Devils which made the Rangers quite familiar with him as a player. Holik wasn't a bad player, but in only three of those seasons did he break 60 points with his peak being 65 points in the 1997-98 season. Never did he score more than 29 goals. Still, the Rangers decided to pay him like a superstar.
Holik went on to score 91 points in 146 games for the Rangers over two seasons. He was promptly bought out by the team and went to Atlanta where his most productive season was the 2007-08 season in which he scored 34 points. Holik was never close to being the kind of player the Rangers were paying for and it's frankly amazing they'd thought he ever would be.
Cristobal Huet – Chicago Blackhawks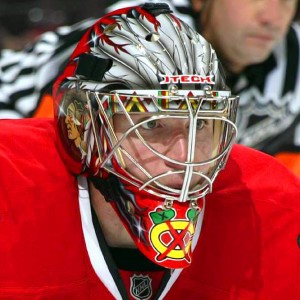 It's not that the money spent on Cristobal Huet was outrageous, it's more that Huet never wound up being a starter for Chicago and as such all the money spent on him was a completely waste. His busiest season was a 48-game campaign in which he had a .895 save percentage.
Huet carried a $5.6 million cap hit and ended up losing the starting job to both Nikolai Khabibulin and Antti Niemi in consecutive seasons. That pretty much spelled the end for him in Chicago and he was loaned to HC Fribourg-Gotteron SA of the Swiss National League A as a way to relieve the salary cap issues that came as a result of his signing. He never came back to the NHL. 
It appeared the Blackhawks were so concerned with staying at the top of the NHL standings, they didn't give much thought to whether or not they really needed a player like Huet in the first place.
This type of spending became commonplace in Chicago and after getting ousted in the first-round of the 2017 NHL playoffs, the Blackhawks might be forced to make a decision on the contracts of Patrick Kane and Jonathan Toews. While the details aren't quite the same, it's why things like the Huet signing stick around to this day. This potentially poor cap management is an odd pattern the Blackhawks still wrestle with.
David Clarkson – Toronto Maple Leafs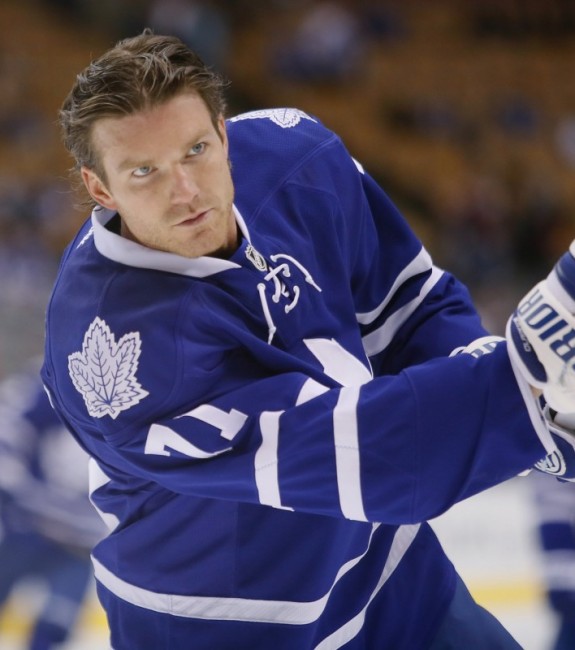 Clarkson had one good season in New Jersey where he scored 30 goals (he added 10 assists). Magically, that must have meant he was a prolific goal scorer because teams like the Edmonton Oilers and Toronto Maple Leafs wound up offering him the sun and the moon to come play for their respective teams. He chose Toronto at a rumored discount and to the tune of a seven-year, $36.75 million dollar contract… lucky them.
30-years-old at the time, the contract looked like a bad idea. In 118 games, he amassed 26 points which proved it was an awful one. That's a whopping $88, 983 per game and he cashed in $403,846 per point. The fact that Toronto made the contract virtually buyout proof is what makes it viewed as the oddest and worst hockey contracts ever. It was a real head-scratcher considering it seems GM Dave Nonis knew the backend of the deal was scary bad. To get rid of the problem, Toronto ended up trading him to Columbus for Nathan Horton — another albatross of a contract that came with its own complications.
Teemu Selanne and Paul Kariya – Colorado Avalanche
These signings made the list, not because of how bad an idea it was, but because of how oddly a good idea turned out. Kariya and Selanne are also being paired together as one entry because they came as a package deal.
Wanting to play together and win a Stanley Cup, they took huge discounts to join an already stacked team in Colorado in 2003. Both were unbelievable players who'd individually set some pretty high marks of achievement but after the Ducks moved Selanne to San Jose and then declined a $10 million option on Kariya's contract, the two players reunited and hatched a plan. Selanne agreed to play for $5.8 million, while Kariya took the largest pay cut in NHL history and signed for $1.2 million.
Kariya wound up playing in only 51 games and scored 11 goals and Selanne had the worst season of his NHL career. Kariya never did wind up winning a Stanley Cup and Selanne went back to Anaheim where he is remembered as one of the greatest Duck players of all-time. The year that Colorado stacked their team, they were ousted in the second round of the playoffs.
Ville Leino and Christian Ehrhoff – Buffalo Sabres
Another tandem, Ville Leino and Christian Ehrhoff were not hunting for a deal together nor were they signed as a pair, but both were added in an offseason that was more about new Sabres owner Terry Pegula flexing his financial muscle than it was about making good decisions. Buffalo wanted to show they were major players in free agency and the franchise made odd choices focusing in on these two players. They would wind up being crushing decisions that set Buffalo back years.
At the time of this signing, the Sabres touted Leino as a solution, yet they were going to try him at a new position. It didn't make a lot of sense and it clearly didn't work. Leino wound up playing in 137 games over three seasons and he scored a mere 46 points. He left the NHL at the end of the 2013-14 season and never returned.
Ehrhoff was just ok for the Sabres in three seasons but was notoriously bad defensively. He'd signed a 10-year, $40 million contract with the Sabres in 2011 and made $18 million over the first two years of the deal. Not bad for a player who was only average. Both players were bought out in 2014.
Dave Bolland – Florida Panthers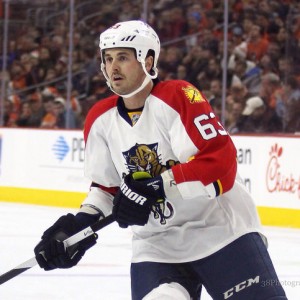 The Chicago Blackhawks have the type of team that is consistently near or at the top of the NHL salary cap. As such, they have to make difficult decisions on players that show a bit of potential, but may or may not turn out to be great players. Dustin Byfuglien was a player that Chicago moved and turned out to be a star. Dave Bolland was a former Blackhawk traded to Toronto, then signed by the Florida Panthers. There might be no player in history to cash in from scoring a big goal like Bolland has. Chicago did well to avoid this one. It's odd the Panthers didn't see this coming.
After scoring the Stanley Cup-winning goal for the Blackhawks in 2012-13, Bolland eventually wound up with a five-year deal worth $27.5 million. He didn't deserve the kind of money Florida dished out and he definitely didn't earn it after it was handed to him. After signing with the Panthers, he played a whopping 78 games. Injuries and poor play define his career and his contract was traded to the Arizona Coyotes who have become the NHL's wasteland of bad contracts that have a cap hit but little to no actual outgoing salary.
Sean Avery – Dallas Stars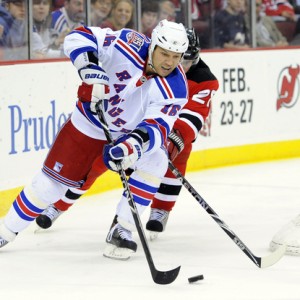 Sean Avery gets labeled as an odd signing by two measures and few players turn out to be as embarrassing for a team and the game of hockey as Sean Avery did.
First, in 2008, the Dallas Stars signed him to almost $4 million per season for four years and got 23 games and the tag as laughing-stock of the NHL. The love affair didn't last long as Avery was immediately viewed as a cancer in the locker room, was suspended for six games by the NHL and upon his return, the Stars placed him on waivers.
More concerned with fashion than hockey, Avery did things like force a chartered plane to wait for him while he was in violation of the team dress code. He put himself on magazine covers despite if affecting his hockey career and he found ways to gather gossip about players which he used in media scrums and scuffles on the ice. It appeared as if Avery was intentionally trying to work his way out of the NHL.
The first signing was odd, but maybe not as odd as the second one. After Dallas, Avery didn't leave the NHL and was brought back in by the New York Rangers who gave him another opportunity. He had already proven to be a menace and the Rangers had already gone through a very public arbitration issue with Avery in 2007. He wasn't much less of a magnet for bad press upon his return.
Honorable Mentions
Ilya Bryzgalov – Philadelphia Flyers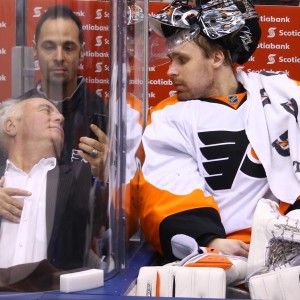 One of the most entertaining goaltenders in recent NHL history, Bryzgalov wasn't terrible, he just wasn't great and the Philadelphia Flyers moved major pieces to fit him into their salary cap. They gave him way more term and money than he could have ever deserved and he had a tendency to say the wrong things at the wrong times. He was supposed to be the savior in net for a Flyers team that always had goaltending issues. He was bought out rather quickly. The signing was odd, but maybe not as odd as the player himself.
Nathan Horton – Columbus Blue Jackets
Somehow, the Columbus Blue Jackets determined that giving a lengthy contract to an often injured player was a good way to go. Does that seem odd to anyone else? It wasn't a good idea. Horton had some pedigree as a Stanley Cup winner in Boston and he was skilled and big, but he was riddled with injuries and grossly overpaid. He was traded for David Clarkson in a salary for salary swap. That's a signing that went from odd to odder.
Brad Richards – New York Rangers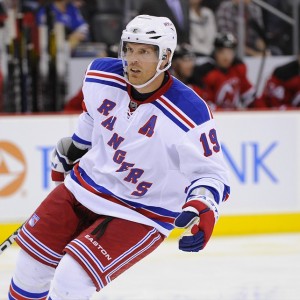 Richards signing was a bit odd because it created the mockery that we know today as the bidding war over free agents. I can still remember the media coverage on July 1st as outlets showed teams lined up and entering the building Richard's and his agent were parked in all day. Team after team spilled out presentation after presentation on the merits of joining their organization. The Rangers won out and Richard's ultimately lasted three seasons there. He never posted more than 66 points. It seemed like so much fanfare for something that was so anti-climactic.
Alexei Yashin – New York Islanders
Not a free agent signing, but more a terrible trade that turned into one of the oddest contract extensions in NHL history. He was given a 10-year, $90 million dollar deal that was still on the Islanders books until 2014-15 and long after Yashin had left the NHL.
Scott Gomez – New York Rangers
Not a bad player, but just a bad signing when you consider he took up almost 15 percent of the team's salary cap and Gomez was never a superstar. This one was odd both because the Rangers did what they always do and give too much money to just-above-average stars and that amazingly, the Rangers were able to move his contract to Montreal and picked up Ryan McDonagh in the process.
Of course, there are others. Who did we miss?