The Pittsburgh Penguins, currently sitting at .500 while trying to find an identity and effective line combinations, will face the Washington Capitals for NBC's Wednesday Night Rivalry game. A nationally televised game that will showcase two teams at opposite ends of the spectrum right now.
The Capitals enter this contest at 6-1, while the Penguins are limping in at an even 4-4. Washington ranks second in the Metropolitan Division with 29 goals-for through seven games. The Penguins are last in the Metro with only 13 goals-for through eight games. Yes, they've been outscored by the lowly 2-8 Columbus Blue Jackets and 3-6 Carolina Hurricanes up to this point.
But, this matchup against Washington simply marks the beginning of a much greater challenge that they'll face as the season progresses. The Caps are a mere 1/7 of that challenge, as the Penguins can't seem to beat anyone in their division as of late. So, while this game is obviously a great measuring stick tilt for the Pens, it's also an opportunity to get off to a strong start against their Metropolitan Division foes.
The Penguins Results Against the Metro Speak for Themselves
Last season, the Penguins finished with a dismal 9-17-4 record against their division. In those 30 games, they were outscored 99-65. The only team that they were able to finish above .500 against was New Jersey. Against the Washington Capitals specifically, their next scheduled opponent, they finished with a record of 1-3, with two of Washington's victories occurring in shutout fashion.
Though I don't necessarily relate this season's slow start directly with last season's downward spiral, there are similarities that can't be ignored. For example, in those four games against the Capitals last season, the Penguins scored only one power play goal and of their five total goals in the series, four of them were in the first meeting between the two clubs. What happened in the final three contests?
The same trend can be found throughout their regular season series against all of their division rivals. Outside of a few sparse scoring bursts, their lack of offense was a detriment throughout those 30 games. Especially their inability to score on the power play. Are things starting to sound familiar? Does it seem like we're having the same conversations again this season?
Has the Metro Figured Out Mike Johnston?
This is the burning question that will plague the Penguins until Johnston either proves otherwise or his tenure with Pittsburgh concludes. Is it fair to Johnston to assume that the rest of the league and more specifically the Metro, which he plays almost half of the regular season against has figured him out? Absolutely.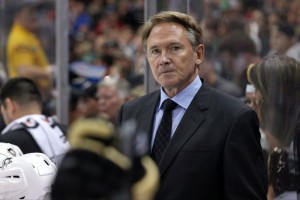 Johnston's system requires a lot of moving parts and comes off as quite convoluted. But, it's also very repetitive and often times will create scoring chances for players that simply can't capitalize. If Evgeni Malkin or Sidney Crosby gain the blue line in the offensive zone, only to pull up and hit a streaking Rob Scuderi in the slot, something isn't right. When things start going downhill for the Penguins, the answer seems to be an abandonment of Johnston's puck possession mantra and instead, they start to dump-and-chase. At that point, it's clear that the Penguins are scrambling for answers and mounting frustration is very evident on the faces of everyone in black-and-gold.
Johnston's scheme is a bit different this season, however. Compared to last season, prior to deploying a trap-style defense and dump-and-chase offensive attack against the Predators, the Penguins have been extremely aggressive with pinching defensemen and an attempt at overloading opponents in their own territory. Will they return to that philosophy against the extremely dangerous Caps? So far, we've seen it result in a multitude of odd man breaks and the Penguins have relied on Marc-Andre Fleury to bail them out quite frequently. Watching how Johnston adjusts to playing the Capitals will be an interesting story line heading into this game.
Penguins Can Take Advantage of a Struggling Division
Outside of the top three teams in the Metro right now, the remaining group has fallen victim to a slow start thus far. Among that group, the Penguins and Blue Jackets are the most likely to dig themselves out but Columbus has a long road ahead of them. So, this could be the season in which Pittsburgh turns things around against their own division. In fact, they have to.
The playoff race within the Metropolitan Division is all but guaranteed to come down to the wire, just as it did last season. If any of these teams, including the Blue Jackets, find themselves putting together a hot streak it could mean the demise of a team like Pittsburgh that still has a lot to figure out. Originally, I predicted the Pens would finish second in their division. From the looks of things, however, that may be far-fetched. It's still early but tonight's rivalry matchup between the Capitals and Penguins feels as if it there's much more on the line than a simple two points in late October.