Remember that losing streak the Penguins ran into a week or so ago? Well, Pittsburgh can be an odd place when it comes to backing a good team, let alone a reigning champion. Lose a few games in a row and it'll bring out the area's finest.
A Brief History Lesson
A lot of talk was made of the Penguins' recent three-game losing streak. The Penguins hadn't lost back-to-back games in the era of head coach Mike Sullivan since the man was first hired, and he led them to four straight losses. That was over a calendar year without losing two games in a row. That kind of consistency of wins is as impressive as it is challenging. It's really difficult to do that! But to the average Pittsburgh "Yinzer", we might have tossed all of our hometown pierogies into the Allegheny River and ripped down the statue of Mario Lemieux outside of PPG Paints Arena.
Trade Everyone!
That's pretty much the solution that the fair-weather fan turned to when times got tough. "Trade Fleury!" was their rallying cry, as it has been since Matt Murray helped them win their fourth Stanley Cup.
Fleury sucks! Trade him, cut him, I don't care get him off this team!!! #Penguins

— Jarrod Tanner (@chiefchowan) January 15, 2017
Though, some did get creative with their trade demands. It was a refreshing break from the constant Fleury-hate from the Murray backers.
Schultz is horrible in his own end, trade him while he still has value #Penguins

— Patrick Connell (@PatrickConnell7) January 15, 2017
Trade Letang. There, I said it. #Penguins

— Jason Kamler (@JKamler) January 13, 2017
[irp]
Things Calmed Eventually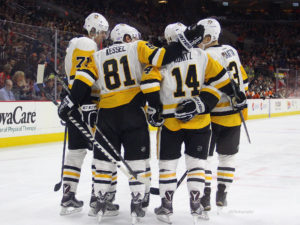 When we as a city begin to question the team, its coaches, its star players and even ownership, it usually isn't long until our "expert opinion" is thrust back into our very vocal collective mouths.
How quickly one win can remind us that it wasn't long ago that our Pens were the talk of the Metropolitan Division with their seven-game winning streak. The wildly entertaining victory over the Washington Capitals by a score of 8-7, in overtime no less, was pretty good medicine.
Knee-jerk trade reaction subsided for the most part, and we're again convinced that we're the city of champions.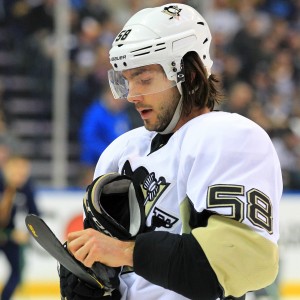 While dropping three games in a row can invoke concern in even the most optimistic fan, the Penguins have far greater concerns than a small losing streak.
Kris Letang is hurt and his loss is considered to be lengthy. Matt Murray has been…OK…in the games since the break, but he's trending upward. Do the Pens need to make a legitimate trade for another defenseman? All are very real concerns that face the Pens as they move through the last half of the season.
Thank goodness, though, the hoi polloi don't significantly impact the roster decisions.