Pittsburgh wasn't expected to make a splash at the 2012 NHL Trade Deadline. As it turned out, they didn't even make a ripple.
"It was pretty quiet," Penguins GM Ray Shero said in a press conference following Monday's 3:00 PM deadline. For the first time in his six years with Pittsburgh, Shero didn't make a single deadline deal. His only considerable transactions this month were acquiring Cal O'Reilly off waivers from Phoenix and extending winger James Neal's contract for six more years.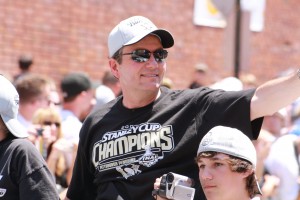 "We did make some offers on some players. But those players never even got moved. It was a long day to really come up with nothing, but as I said going into it, we were fine with that."
Considering the Pens' recent play, there's little for Shero not to be fine with. The team has won three straight by a combined score of 14-3, including a shutout of the Eastern Conference-leading New York Rangers. Evgeni Malkin leads the league in points. Marc-Andre Fleury is near the top in goaltender wins. Jordan Staal and James Neal are turning into two of the most productive players in the game.
Does that mean the Pens wouldn't have swung a deal if the market conditions were any different? Perhaps. While the roster as currently constructed didn't long for upgrades, factors outside the CONSOL Energy Center were the more likely reasons for Pittsburgh's quiet deadline.
CBA Affecting Trades
The NHL Collective Bargaining Agreement that was signed at the end of the 2004-05 lockout is set to expire this summer. A number of factors have raised concerns about the coming negotiations, including the hiring of Donald Fehr as NHLPA chief, the expansion of the salary floor to nearly $50 million and the effects of cap-circumventing contracts on the free agent market (like Ilya Kovalchuk's 15 years or Johan Franzen's $3.9 million cap hit).
"It's maybe a combination of the CBA (collective bargaining agreement) moving forward, if a guy has term on their contract, (teams) are not willing to take that on," Shero said. "I think it's a combination of everything."
As an uncertain summer of negotiations rounds into form, more pending free agents seemed content to re-up with their current teams and thereby guarantee themselves a contract than in years past. Tuomo Ruutu and Tim Gleason, to name a few former free-agents-to-be, went the way of contract certainty and re-signed with 14th-place Carolina instead of taking the chance to play for contenders elsewhere.
"There are less and less trades at the deadline, it seems. It seemed a lot of teams had cap space this year…The cap had gone up. It's just the parity in the league, I think, where a lot of teams are not trading players."
Standings Squeeze
If the looming CBA talks are doing their part to scare players into signing guaranteed deals, the bonus points of the shootout and overtime losses are doing their parts to fool lesser teams into lofty hopes of a late playoff push.
"Some teams went all the way through yesterday's games to make some decisions on players, whether to trade them or keep them," Shero said.
As of the deadline, only two NHL teams were more than 10 points removed from playoff position with about 20 games to go. In the Eastern Conference, only ten points separate eighth-place Winnipeg from last-place Montreal.
Call it parity. Or, call it the cap-forced distribution of assets. Either way, the post-lockout NHL has become a much more even playing field, and that point has never been so great as at the 2012 Deadline.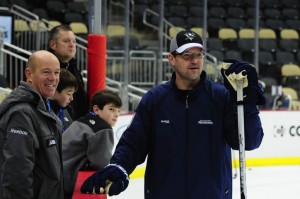 "…I think it's the parity, with the exception of a few teams. Teams are within four or five points of a playoff spot and there are still 20 games to be played. There's still a lot of hockey to be played and teams are still optimistic they'll make the playoffs."
With only a few bona fide sellers to choose from, the possibility of swinging a deal was considerably dimmed. Teams interested in rentals players grew in number. The cost of a big-name trade chip became too much for most contenders to justify. Teams which made significant acquisitions likely overpaid to do so.
The Penguins' needs weren't nearly so great that they'd swing such a high-cost, high-risk deal.
"You were kind of getting the usual, 'If I get blown away by an offer I might consider moving my player.' Well, a lot of these players didn't move because teams wouldn't pay that price…But I said this six weeks ago when we had lost six in a row, I like our team and I believed in our hockey team. I still do and I'm comfortable with this team moving forward. That's where we are."
Shero should be happy with his club. As of Monday, they held home-ice position in the Eastern Conference standings and the team's stars are playing at levels greater than during the 2009 Stanley Cup campaign.
If the team can benefit from the continued strong play of its franchise assets (and a little good luck as far as soft-tissue injuries go), no one will question the club's decision to stay quiet during a mostly uneventful deadline season.
"Our power play has been very good, obviously. Just a lot of things have come together for us and we've got some of these injured players back. We have a number of those guys who have [Stanley Cup] rings in the room. That counts for something as we move forward towards the playoffs."
This was the first deadline under Shero in which the Penguins didn't see the need to address any area of concern. It's possible that market factors were non-factors, and the Penguins have covered all bases from within.
When healthy, that's a scary team to add to the playoff mix.
Unless otherwise attributed, all quotes obtained and used with permission.