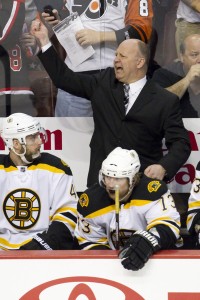 On Monday, the Boston Bruins came to terms with Claude Julien on a new multi-year extension that will keep the coach with the Black and Gold through (at least) the 2014-15 season.
Julien, the Bruins' longest-tenured head coach since Don Cherry (and with a single game's action in 2012-13, the B's longest-tenured coach since Milt Schmidt's run from 1954-61), said at Tuesday's press conference: "My goal was to win a Stanley Cup here in Boston. Now, my goal is to win another Cup for the Boston franchise… I remain hungry… I remain dedicated."
Peter Chiarelli and the Bruins refused to announce the terms of the arrangement, so speculation on the length of the deal will continue until the actual numbers are released.
GM Peter Chiarelli indicated that his task of keeping the Bruins' championship core together didn't stop with the players: "We feel that we've come a long way to keeping this critical mass together for our team… We're happy to announce [Julien's] extension"
Coming on the heels of the Bruins first opening-round exit since 2008, this extension will surprise some in the B's fanbase. Some felt his inability to improve the Bruins' moribund powerplay (and their early departure) is reason enough to hold-off on furthering the relationship.
But – recent failures aside – his impressive record of success in Boston can't be overlooked.
Julien took the defending champs to their second-consecutive Northeast Division title (and third in four seasons) in 2011-12. During his tenure, the Bruins have averaged over 45 wins and 100 points per season.
Julien enters his sixth season with the B's in 2012-13 with an immaculate record of success in Boston: Five postseason berths in five seasons, a Jack Adams Award, and the 2011 Stanley Cup Championship. His Bruins squads have never lost a playoff series in fewer than seven games.
Fourth all-time in wins with 228 and first in postseason victories with 63, Coach Claude joins Hall-of-Famers Art Ross, Harry Sinden and Milt Schmidt at the pinnacle of Boston's coaching history.
Julien should jump past Don Cherry (231 wins) and Schmidt (245 wins) into second-place on the Bruins all-time wins list. He's 133 wins shy of Ross (361 wins), the all-time leader. With another Cup, he'd be the first Bruins coach to manage two championships at the helm.
Down 2-0 and heading to Montreal the spring of 2011, Julien seemed on his way out of Boston. However, Claude stuck to his guns and led the Bruins to an unlikely series-victory and the Cup.
For those disgruntled few who disagree with the signing, hear these words:
Not shocked that people are slamming Julien extension. The only necessary response: Find me a better available option right now.

— Ty Anderson (@_TyAnderson) July 23, 2012
Really, that's the question, isn't it? Point out a better candidate than Claude to lead this group back to the Promised Land.
For the longest time, I wasn't a member of the Claudinistas. Hemming and hawing over his conservative stylings and deliberate defensive scheme (and his handling of wunderkind, Tyler Seguin) I vociferously demanded movement from the Bruins front office. But, like many, I was wrong.
Julien demands accountability from his players and they readily buy into his system. His defensive structure has garnered great dividends – over the past five seasons, the Bruins became the best defensive team in hockey, allowing fewer goals (984 – exactly 2.4 goals per game) than any squad during that span.
During his tenure, the Bruins' offense's has experienced inconsistencies, but in three of the past four seasons, it's finished among the top-five teams in the League. Despite oscillations in the powerplay's effectiveness (and overall inconsistency), the team remains among the best attacking squads in the game with Julien in-charge.
At the press conference, Chairelli lauded Julien's work with the team's younger players: "Claude has been good with these younger guys… I think it's more difficult sometimes for these players at the mid-twenties to… get them where they need to be."
Julien's successful development of players like Seguin, Brad Marchand and Adam McQuaid certainly speaks to his rapport with the up-and-coming players in the organization.
At the press conference, Chiarelli also announced that Nathan Horton had been cleared for contact and and all other injured Bruins were either completely healthy – or well on their way to recovery.