With just over a month to digest the results of the 2012 NHL draft and subsequently recover from NDWS (NHL Draft Withdrawal Syndrome), henothwest-western-conferencere are my projected top ten team selection performances for 2012. I say projected because one will inevitably require three to five years or more to reflect back and truly ascertain whether or not a team had a successful weekend at the draft table in Pittsburgh.
This ranking is based on perceived value for the selections made,  influenced by THW's The Next Ones Draft Guide and Final Rankings.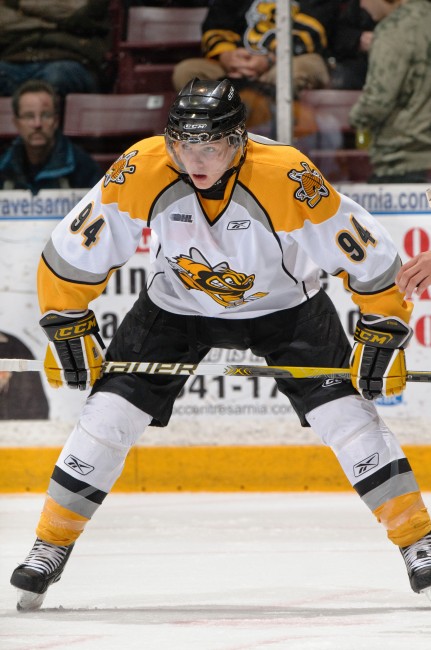 1 (3) Alex Galchenyuk, C, Sarnia (OHL)
2 (33) Sebastian Collberg, RW, Frolunda (Sweden)
2 (51) Dalton Thrower, D, Saskatoon (WHL)
3 (64) Tim Bozon, LW, Kamloops (WHL)
4 (94) Brady Vail, C, Windsor (OHL)
5 (122) Charles Hudon, LW, Chicoutimi (QMJHL)
6 (154) Erik Nystrom, LW, Modo (Sweden)
No surprise here as the Canadiens first four selections all ranked in my top 23. The 4th and 5thround selections of Vail and Hudon have talent and upside worthy of being selected in the 2ndround.
2. Dallas Stars
1 (13) Radek Faksa, C, Kitchener (OHL)
2 (43) Ludwig Bystrom, D, Modo (Sweden)
2 (54) Mike Winther, C, Prince Albert (WHL)
2 (61) Devin Shore, C, Whitby (OJHL)
3 (74) Esa Lindell, D, Jokerit (Finland)
4 (104) Gemel Smith, C, Owen Sound (OHL)
5 (134) Branden Troock, RW, Seattle (WHL)
5 (144) Henri Kiviaho, G, Kalpa (Finland)
7 (183) Dmitry Sinitsyn, D, UMass-Lowell
The Stars reloaded the prospect coffers with a savvy draft weekend. Faksa was the safe pick in the first round, but is an immense talent. All three 2nd round selections have tremendous offensive upside. Lindell was projected to be a safe 2nd round selection. He adds skill and size to the blueline. Landing ice warrior Gemel Smith in the 4th round might just be grand larceny; I had him ranked 48th. I had 5th round selection Troock ranked as a 3rd rounder, but I thought the potential power forward would be coveted enough by a NHL team to go in the 2nd round.
1 (1) Nail Yakupov, RW, Sarnia (OHL)
2 (32) Mitchell Moroz, LW, Edmonton (WHL)
3 (63) Jujhar Khaira, LW, Prince George (BCHL)
3 (91) Daniil Zharkov, LW, Belleville (OHL)
4 (93) Erik Gustafsson, D, Djurgarden (Sweden)
5 (123) Joey Laleggia, D, Denver
6 (153) John Mccarron, RW, Cornell
The old adage is that you get the best player in a trade, then you win the trade. There is little doubt that the Oilers snatched up the most dynamic player amongst this year's draft crop in Yakupov. In this rankings, we're looking at the overall draft haul and for that reason lagged behind the Stars and Canadiens.
While the order of where they selected the players is somewhat curious, Edmonton came away with some very nice pieces in addition to Nail. Zharkov is a 1st round talent who many thought would land in the 2nd round. Oilers seized him in the 4th round. I thought power forward Moroz would be a draft day riser with a chance to go in the late 2nd or 3rd round. The Oilers plucked him off the board at 32nd. Khaira, their 3rd round pick, absolutely torched the BCHL this year scoring-wise. Laleggia is an intriguing piece. The undersized blueliner possesses outstanding offensive potential and has a history with franchise cornerstone Ryan Nugent-Hopkins.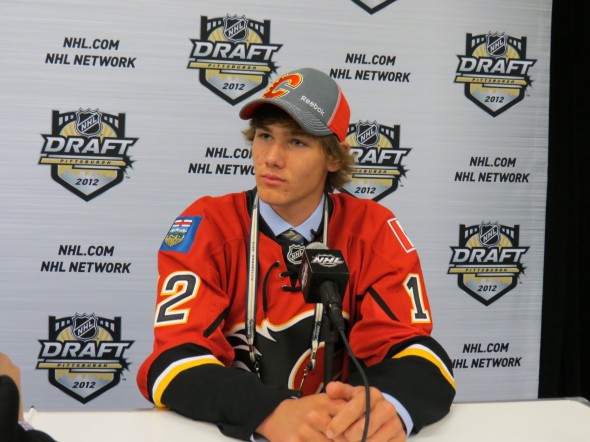 1 (21) Mark Jankowski, C, Stanstead College (US East)
2 (42) Patrick Sieloff, D, USA U-18 (USHL)
3 (75) Jon Gillies, G, Indiana (USHL)
4 (105) Brett Kulak, D, Vancouver (WHL)
5 (124) Ryan Culkin, D,Quebec (QMJHL)
6 (165) Coda Gordon, LW, Swift Current (WHL)
7 (186) Matthew Deblouw, C, Muskegon (USHL)
Many readers may scoff at the Flames placement here in the rankings. There are definitely project picks in this group from 1st rounder Jankowski to 3rd round colossal netminder Gillies. Nevertheless, each of the seven shiny new Flames prospects from this draft could conceivably play in the big league. Jankowski might just be the true number one center the Flames have sorely lacked for so long. Sieloff is going to be a nightmare to play against for opposing forwards. I am not a fan of drafting goalies early and not sure this was a pressing need for the Flames, but I actually do not mind the 3rd round pick given Gillies's upside.
Of all ranking services out there, none had Kulak ranked higher than The Next Ones, as I had him ranked as a first rounder. This silky smooth and efficient bluelines has tremendous upside and excellent value for a 4th round pick. Many had Culkin ranked as a potential 3rd rounder. Coda Gordon was nabbed in the 6th round, but was perceived to be a 2nd or 3rd round talent. If he can improve his skating, the Flames could have an offensive gem. Deblouw was ranked 51stby NHL Central Scouting amongst North American skaters. The projected 3rd or 4th line center was definitely worthy of a 7th round selection with his work ethic and determination.
1 (12) Mikhail Grigorenko, C, Quebec (QMJHL)
1 (14) Zemgus Girgensons, C, Dubuque (US West)
2 (44) Jake McCabe, D, Wisconsin
3 (73) Justin Kea, C, Saginaw (OHL)
5 (133) Logan Nelson, C, Victoria (WHL)
6 (163) Linus Ullmark, G, Modo (Sweden)
7 (193) Brady Austin, D, Belleville (OHL)
7 (204) Judd Peterson C-RW, Marshall HS, Duluth, Minn.
Sabres had a top three talent fall in their lap in Grigorenko. Girgensons looks to be a safe pick after the deal they made with the Flames to move up. McCabe went off the board a little earlier than expected but has solid upside. Many scouts like the potential of Kea and what he brings to the rink. Second year eligibles Nelson and Ullmark were good value picks. Judd Peterson is a raw talent with some upside.
2 (37) Pontus Aberg, LW, Djurgarden (Sweden)
2 (50) Colton Sissons, C, Kelowna (WHL)
3 (66) Jimmy Vesey, LW, South Shore (EJHL)
3 (89) Brendan Leipsic, LW, Portland (WHL)
4 (112) Zachary Stepan, C, Shattuck-St. Mary's, Faribault, Minn.
4 (118) Mikko Vainonen, D, Hifk (Finland)
6 (164) Simon Fernholm, D, Huddinge (Sweden)
6 (172) Max Gortz, RW, Farjestad (Sweden)
6 (179) Marek Mazanec, G, Plzen (Czech Republic)
Without a 1st round selection to their name, David Poile and his outstanding scouting team more than made up for it with the 2nd round selections of Aberg and Sissons. Both were perceived as 1st round talents. Second-year eligible Vesey was a draft day riser after an excellent record-breaking offensive season in the EJHL. Leipsic, Stepan and Vainonen were all solid 3rdand 4th round picks, respectfully.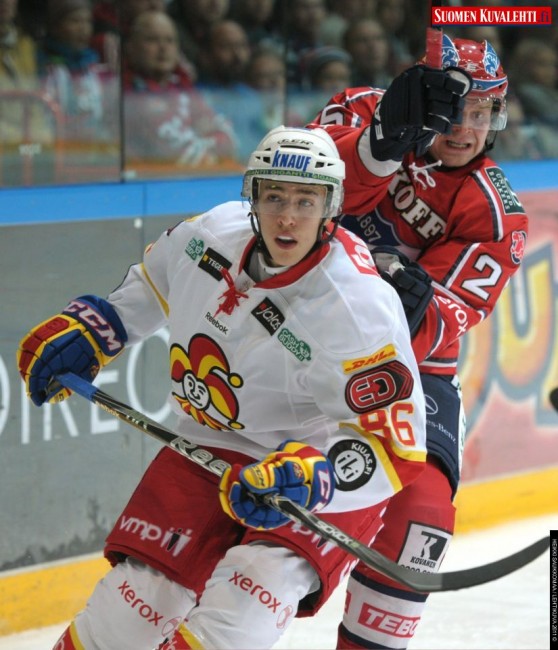 1 (18) Teuvo Teravainen, LW, Jokerit (Finland)
2 (48) Dillon Fournier, D, Rouyn-Noranda (QMJHL)
3 (79) Chris Calnan, RW, Noble and Greenough HS, Dedham, Mass.
5 (139) Garret Ross, LW, Saginaw (OHL)
5 (149) Travis Brown, D, Moose Jaw (WHL)
6 (169) Vincent Hinostroza, C, Waterloo (USHL)
7 (191) Brandon Whitney, G, Victoriaville (QMJHL)
7 (199) Matt Tomkins, G, Sherwood Park (AJHL)
The rich get richer as the Blackhawks get a top 10 talent at 18th overall in the offensively electrifying Teravainen. In The Next Ones Top 100 Fantasy-Based Rankings, he was ranked second overall. Fournier projects to be a talented two-way blueliner. NHL Scouting Combine dynamo Chris Calnan is a project pick, but was 3rd round worthy. I thought 5th round pick blueliner Travis Brown might get scooped up in the 3rd or 4th round. I thought I had Whitney ranked lower than just about all ranking services, but could not fathom the number two ranked NA goalie by NHL Central Scouting would last until the 7th round.
1 (8) Derrick Pouliot, D, Portland (WHL)
1 (22) Olli Maatta, D, London (OHL)
2 (52) Theodor Blueger, C, Shattuck-St. Mary's, Faribault, Minn.
3 (81) Oskar Sundqvist, C, Skelleftea (Sweden)
3 (83) Matthew Murray, G, Sault Ste. Marie (OHL)
4 (92) Matia Marcantuoni C-RW, Kitchener (OHL)
4 (113) Sean Maguire, G, Bchl Powell River (BCHL)
5 (143) Clark Seymour, D, Peterborough (OHL)
6 (173) Anton Zlobin, RW, Shawinigan (QMJHL)
The host Penguins, of course, made the gigantic splash in trading Jordan Staal. While I had Pouliot ranked 18th overall, I had him ranked 8th in my fantasy –based rankings – the very slot which he was selected by Pittsburgh with the pick obtained in the blockbuster deal with the Hurricanes. I had Maatta ranked 12th and the Penguins managed to land him at 22nd for really great value. Blueger was a draft wildcard for me, having really liked his play at the World Juniors. Most services had him ranked as mid- to late-round draft pick. The Penguins called his name 52nd, comparable to where I had him ranked at 50th. Murray was a good value pick in the 3rd round; he looked really good at the World Juniors U18s. Marcantuoni is a speed demon who had a year to forget. Based on his potential, this could prove to be a very wise selection for Shero's scouting team. Zlobin was a second-year eligible, but proved what he was worth this season in the QMJHL and at the big stage of the Memorial Cup, providing timely scoring.
1 (10) Slater Koekkoek, D, Peterborough (OHL)
1 (19) Andrey Vasilevskiy, G, UFA 2 (Russia)
2 (40) Dylan Blujus, D, Brampton (OHL)
2 (53) Brian Hart, RW, Phillips Exeter Academy, Exeter, N.H.
3 (71) Tanner Richard, C, Guelph (OHL)
4 (101) Cedric Paquette, C, Blainville-Boisbriand (QMJHL)
6 (161) Jake Dotchin, D, Owen Sound (OHL)
7 (202) Nikita Gusev, LW, Cska 2 (Russia)
While I do not necessarily agree with where many of the picks were selected, there is no denying that Yzerman's scouting crew got formidable value throughout the draft with each and every of their eight selections. Koekkoek was another prospect going off the board slightly earlier than projected, but has high upside after an injury-riddled season. Again, I am not a proponent of drafting goalies early, especially in the first round, but Vasilevskiy has the size and talent to develop into a NHL franchise goalie.
Blujus is an intriguing blueliner with some clear strengths and weaknesses. Hart was one of the best pure athletes available in the draft, but will be a project. Richard made a smooth transition to the North American game. There was no way he would not get selected in his second year eligible. Paquette was a rock solid 4th round selection.
The Lightning may have struck gold in the final two round of the draft. Dotchin was thought highly enough by Mark Edwards and HockeyProspect.com staff that he was ranked as first-round worthy in their final rankings. Gusev has a tremendous offensive skill-set and those talents were on full display at the 2012 World Juniors in Calgary. Tampa Bay seemed all too fitting as his eventual destination. They might be one of the few teams that could entice him to make the trip across the pond.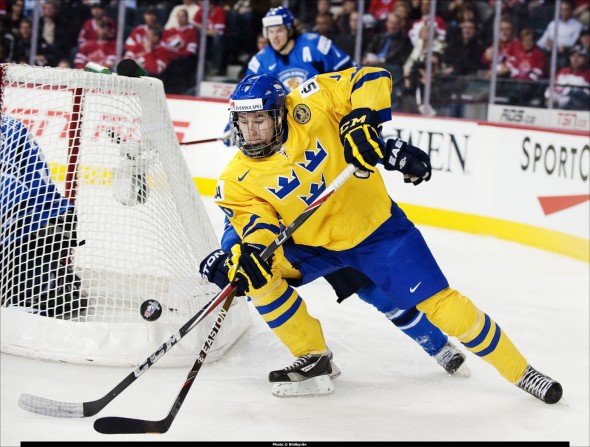 1 (11) Filip Forsberg, C, Leksand (Sweden)
1 (16) Thomas Wilson, RW, Plymouth (OHL)
3 (77) Chandler Stephenson C-LW, Regina (WHL)
4 (100) Thomas Di Pauli, C, USA U-18 (USHL)
4 (107) Austin Wuthrich, RW, Notre Dame
5 (137) Connor Carrick, D, USA U-18 (USHL)
6 (167) Riley Barber, RW, USA U-18 (USHL)
7 (195) Christian Djoos, D, Brynas (Sweden)
7 (197) Jaynen Rissling, D, Calgary (WHL)
7 (203) Sergei Kostenko, G, Novokuznetsk 2 (Russia)
Capitals brass could not have foreseen projected top five pick Forsberg dropping out of the top ten. They wasted little time snapping up the highly regarded Swedish forward. Wilson is a power forward who will be out to prove naysayers wrong regarding his offensive upside. His production in last season's OHL playoffs must have convinced George McPhee's scouting team.
Stephenson presented nice value for a 3rd rounder given his offensive upside. The Caps got very good value with three of their next four picks coming from the USDTP in Di Pauli, Carrick and Barber. Wuthrich, Djoos and Rissling all have legitimate shots at developing into contributors in the bigs.
***
Amongst my honourable mentions would be the Toronto Maple Leafs, Ottawa Senators,Winnipeg Jets, Anaheim Ducks and New York Islanders – even if Garth Snow and crew selected a blueliner with each and every pick.
Each of the aforementioned teams made some astute selections, but not quite enough quality in their overall draft haul to crack the top ten.
How would you rank the team draft performances? How do you think your squad did?
***
Christopher Ralph is THW's lead prospect/draft analyst as well as a Managing Editor.
Follow ChrisRalphTHW on Twitter as he infiltrates, dissects and analyzes happenings of hockey prospects and the NHL entry draft.