Teodors Blueger
Date of birth: August 15, 1994
Place of birth: Riga, Latvia
Ht: 183 cm / 6′ 0″
Wt: 80 kg / 176 lbs
Shoots: Left
Position: Centre/LW
NHL Status: 2012 Draft eligible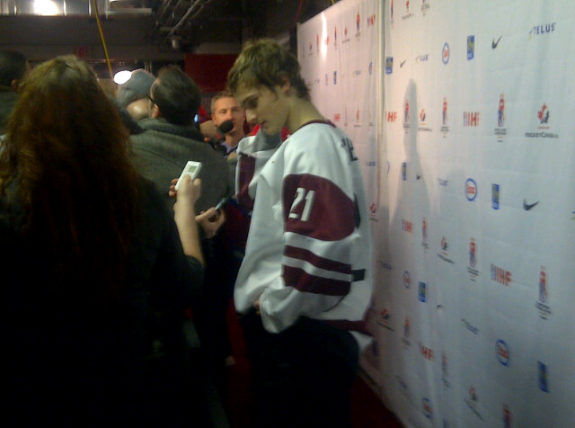 Lativia's #21 Teodors (Teddy) Blueger is a potential latter round 2012 NHL entry draft pick. The centreman  plays for Shattuck St. Mary's, a high school in Minnesota, for which he has scored 33 points in 20 games so far this season.
The school has some obvious high-end alumni including Sidney Crosby, Zach Parise, Jack Johnson, Drew Stafford and Jonathan Toews.
He is a solid two-way player with a strong work ethic. I had the opportunity to talk with him after they lost 14-0 to Russia in round robin play at the 2012 World Junior Championship.
While he has just 1 assist in 4 games thus far at this year's tournament, keep in mind just how difficult it is for a first year draft eligible prospect to make an impact at this level. Fellow Shattuck alumni Toews, for instance, had just 2 assists in 6 games in this first championship.
Back in July of 2010, The Hockey Writers took a closer look at the hockey factory that is Shattuck-St. Mary's:
In 1993, seeing the possibility of growing the school population through an accelerated hockey program, Director of Hockey Craig Norwich convinced the powers-that-be to leave the Minnesota High School Hockey League and strike out on its own.  All high school hockey in Minnesota is community based; if you live in Edina, you play in Edina.  The uniqueness of SSM's program (the boarding school aspect, players from across the world, 50-70 game schedule) allows Shattuck to register with USA Hockey as the only non-community-based Minnesota team and consequently to represent the state in the USA Nationals playoffs every year.
The program looks for specific types of individuals when evaluating which hockey prospects are right for their school. This certainly speaks to the character of Teddy Blueger.
Tom Ward was named Director of Hockey four years ago. Asked what he looks for in a young prospect, Ward had some very straight advice:
"A candidate for our program must first be a person of good character; have a passion for the game; and understand that the environment here is unique.  He has to be willing to put in the effort it takes to be the best he can be.  It is a full day here.  His chemistry teacher will expect him to be fully present when he is in class and we will expect the same when he hits the ice.  Our expectations are very high.  We have high standards for a kid entering the school and once he has arrived in the program, we like to create an atmosphere here for him to grow that talent, to reach his potential as an athlete and as a member of the community."
The well-spoken Blueger attended English schools in Latvia growing up.
Interview
Chris Ralph: What  path did you take to get to Shattuck St. Mary's?
Teddy Blueger: I was looking for somewhere in North America and I went and toured a bunch of East Coast prep schools and also toured Shattuck. I liked Shattuck the best and so glad I made the decision to go there. I love it there. I thought it was the best fit for me to work on and develop my game. They also have some pretty good alumni!"
CR: It was a pretty tough loss tonight, but you and your team have had some impressive moments in the tournament so far, such as battling Slovakia until the very end. The local fans have also taken a liking to your team. What positives have you taken from the tournament at this point?
Blueger: It's a great experience and once-in-a-lifetime opportunity. Obviously it was a disappointing performance tonight, but hopefully we can learn from our mistakes moving forward. It's been unbelievable.  Hockey is such a huge deal here. To get be treated very well,  it's been a great experience so far.
CR: I couldn't help but notice your prowess in the face-off circle. (I later discovered Blugers won the award for best face-off percentage (68.75%) at the 2010-11 WJC U18s D1A tournament. For round-robin play in this WJC, Teddy finished 20th overall for best face-off percentage; definitely a strong showing for a 17 year-old.)
Blueger: No, not really. I try to work on it when I get a chance. I guess I've played centre all my life so I've naturally taken a lot of face-offs and therefore have the experience which helps.
CR: Any significance to your jersey number "21"?
Blueger: Yeah – I've always worn it growing up because I idolized Peter Forsberg.
CR: That answers another question. Any current NHLer you pattern your game after?
Blueger: Pavel Datsyuk (Detroit Red Wings). He's one of the best players in the NHL obviously. He's unbelievable. His skill level and the way he plays the game is fantastic.
CR: Do you have any particular post-game activities?
Blueger: Soccer is a good way to get worked up and to cool down before and after practices and games.
CR: What's your plans for next year – still NCAA?
Blueger: Next year I'm heading to Minnesota State University (Mankato) in the NCAA?
CR: Any thoughts on playing in the CHL?
Blueger: No, I haven't really thought about that at this point.
CR: You were drafted in the second round in the KHL. I consider you a sleeper for the 2012 draft? Does the NHL entry draft enter into your thoughts as all?
Blueger: Not really – I have to keep playing well. Hopefully, it all works out, but it's really up to me on how my game develops.
One-Timers:
Dean Millard of Coming Down The Pipe dubbed Blugers a wild card for Team Latvia:
Teodor Blugers is a 17 year old centre who was born in Riga, Latvia but developed in North America. He's currently in his 3rd season with Shattuck St. Mary's prep school where he's torching things up with 33 points in 20 games. Next year he's set to join Minnesota State University (Mankato)at the 2010-11 WJC U18s D1A tournament. Blugers is also 2012 draft eligible.
Alessandro Seren Rosso of Hockey's Future in his preview of Team Latvia noted:
Forward Teodors Blugers is having a very solid season in the USHS with Shattuck St. Mary's as he scored 33 points in the 20 games played so far. Blugers pretty much fell behind the radar until now. It wouldn't be much surprise if a team uses a late round pick on him in the 2012 Draft, considering his skills level and the very good season he is having this year.
Shots From The Slot:
Teodors had 5 points (4 G, 1A) in 4 games for Latvia at the 2010-11 WJC U18s D1A tournament and was tied for most goals in the gold medal winning performance by Latvia.
Blugers was drafted 39th overall in the 2011 KHL draft.
| | | | | | |
| --- | --- | --- | --- | --- | --- |
| 39 | Teodors Blugers | F |  Latvia | Dinamo Riga | Shattuck St. Mary's (USHS) |