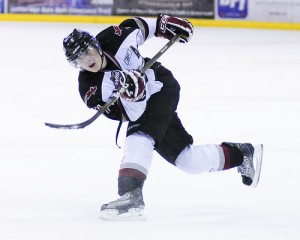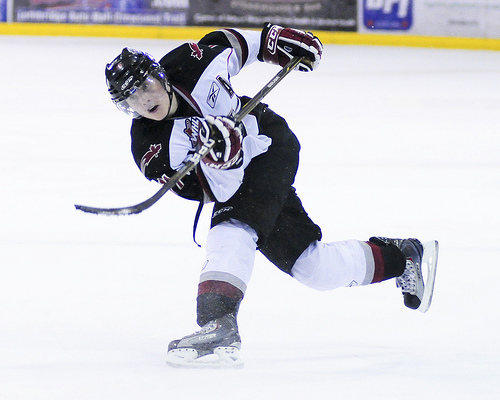 Brendan Gallagher has always been told that he was too small. He was the smallest player on the ice, the smallest student in his class, a ninth round pick in the WHL draft…he could go on forever. As a result, people told him that he would never see his dream come true, that he would never play in the National Hockey League. Right now, that dream is looking like it'll be coming true a lot sooner than everyone thought.
Born in Edmonton, Gallagher is currently a sniper for the Vancouver Giants of the Western Hockey League. He's  listed at 5-foot-9, 178 pounds, but some say he plays the game of a 6-foot-3, 200 pound power forward. His size has always put him at a slight disadvantage against bigger competition, but it's never stopped him from trying to be the hardest working player on the ice.
"I've always been told I was too small," Gallagher said in an interview with the Montreal Gazette. "I was always the smallest guy out there. I learned to deal with it at a young age. It's something that never really bothered me. I was always able to do what I wanted to do. "
In the 2010 NHL Draft, Brendan Gallagher was selected in the fifth round, 147th overall, by the Montreal Canadiens. The Habs signed him to an entry-level contract in November. He has the chippiness and edge to his game that all teams look for in smaller players, so it's came as no surprise when in the same interview, he said this:
"I really enjoyed watching Brad Marchand in the playoffs or Brian Gionta in Montreal," Gallagher said. "Martin St. Louis – I've admired him my whole life. Those smaller guys, I really watch closely. The one thing they all do is compete. They're very competitive players, and if you ask anyone about them, they're very hard to play against."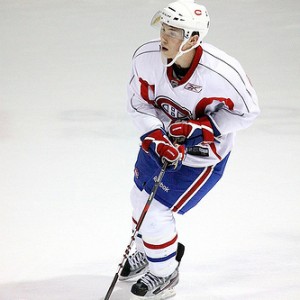 When you watch Gallagher play, you'll notice right away that he's not afraid of very many people on the ice. You'll see that he drives the net hard every time, and is quite willing to take a shot in the face from a bigger defender if it means it'll spark his team. Being a small player, speed is a must-have, so in the summer he worked with a power skating coach to improve his quickness. As a result, it's very common to see Gallagher speeding down the wing looking for a pass.
After four games with Team Canada in the 2012 World Junior Championship's, Gallagher has two goals and an assist. He's played great so far, and if it hasn't been maximized already, he's likely to really step up his intensity in the medal round. He earned an invitation to Team Canada's summer camp after scoring 44 goals and recording 91 points for the Giants in 66 games last season. So far this year, he has 46 points in 28 games played for them. Clearly, point production at the major junior level isn't an issue, however, whether he can do it in the NHL is the million dollar question.
"He's a character guy," said Team Canada captain Jaden Schwartz in an Edmonton Journal article. "He's a fun guy to have around, but he's definitely a hard worker when he needs to be."
Brendan's father, Ian Gallagher, who is also the strength and conditioning coach for the Vancouver Giants, says that his son has always been really competitive, no matter what sport he's playing. Giants head coach Don Hay – also known as the head coach of Team Canada – has no time for lazy, sloppy practices, meaning the right-winger goes all out even when he's going up against his own teammates.
With all he's had to overcome, Gallagher isn't slow to admit that it felt amazing when he found out that he made the World Junior team.
"It was great to get that knock on the door knowing you've made the team," said Gallagher, 19, told the Vancouver Sun. "It was pretty special. When you're growing up in Canada as a little kid, you kind of dream of this moment. It was a really cool morning for all of us."
At the moment he's the living the dream. He's one of Canada's top junior hockey players, he's signed an NHL contract, and he's playing for his country at the World Juniors. However, Gallagher know's that he's still got a long way to go before becoming a full-time NHLer, and make his childhood dream come true.