Ludvig Byström THW Close-Up:
Date of Birth: July 20, 1994
Place of Birth: Örnsköldsvik, Sweden
Height: 6′     Weight: 187
Shoots: Left
Position: Defenceman
NHL Draft Eligibility: 1st time eligible in 2012
Rankings:
NHL Central Scouting (Final):  8th (European Skaters)
***
Click here for Notes Up Front for various topics covered below in the live updated NHL 2012 Entry Draft Guide – The Next Ones home page – your quintessential draft resource. 
***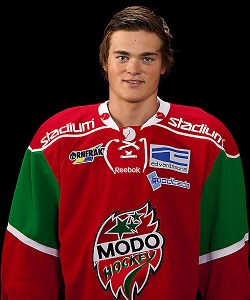 The system of MODO Örnsköldsvik has provided the NHL with significant talent in recent memory, including Daniel and Henrik Sedin, Markus Näslund, Peter Forsberg, Alexander Steen and Victor Hedman.  Additionally, it has provided the likes of Anders Eriksson, Tommy Salo and Anders Kallur, the latter being the first Swedish player to ever win the Stanley Cup.
In 2012, defenceman Ludvig Byström can join that list.
Byström made his début in MODO's system in 2008 at the age of 14 with their under-16 team, playing three games, but it was not until the next year when he started to make an impact.  During the 2009-10 season, he got to play 14 games for their team in the Swedish J18 Elitserien team.  Byström scored four goals in those 14 games.  Also, he got to play ten games in the J18 Allsvenskan, as well as five playoff games, registering one assist in the 2010 postseason.
The 2010-11 season was a busy one for Byström.  He played on four teams in four different leagues, all in the MODO organization.  He recorded three assists in three games in the J18 Elitserien and then went on to play six games in the J18 Allsvenskan, scoring one goal and two assists.  Byström graduated to the SuperElitserien to play for MODO's J20 team.  In 37 games, he recorded 11 points (one goal, ten assists) and accumulated 28 penalty minutes.  Most remarkably, he was also given the opportunity to play one game for MODO's top team in the Elitserien.  Additionally, he played at the Memorial Tournament of Ivan Hlinka in August 2011, winning silver.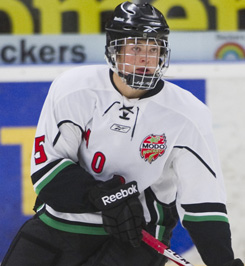 If the 2010-11 campaign was not busy enough, 2011-12 was even more intense, especially since it is Byström's draft year.    Yet again, he spent the majority of the season with MODO's J20 team, scoring 29 points (seven goals, 22 assists) and recording an incredible 101 penalty minutes, in 34 contests.  He also played 20 games in the Swedish Elite League, tallying an assist, his first professional point.  This was in addition to playing one game in the J18 Elitserien and one playoff game in the J18 Allsvenskan, a contest in which he registered ten penalty minutes.
Byström's 2011-12 season also included a trip to Canada.  From November 7-13, 2011, he played at the World Junior A Hockey Challenge in Langley, British Columbia.  His teammates included several other 2012 NHL Entry Draft hopefuls, including Erik Karlsson, Hampus Lindholm and Oscar Dansk.  He tallied one assist in four games.  Additionally, after the end of the regular season, he traveled to the Czech Republic for the World Under-18 Hockey Championships.  He tallied one assist in six games, winning a silver medal.
It should be noted that Byström is under contract with MODO's J20 SuperElitserien team for the 2012-13 season, which may include yet another call-up to the Elitserien.  He could also be highly considered for the Swedish under-20 team who hopes to repeat as gold medalists at the 2013 World Junior Hockey Championships, which will be held in Ufa, Russia.
Byström has been lauded for his solid passing and his fluid skating ability, as well as the propensity to remain calm in stressful situations and the initiative to play with a physical edge.  Conversely, he has been criticized for trying to do too much and it causes him to have mental lapses, causing him to be caught in his own end.  That being said, however, Byström does have incredible upside that makes him a solid defensive prospect that many teams will find beneficial.
***
Scout's Honour:
David Burstyn (McKeen's Hockey):
"Byström split time with the Junior team and the Elitserien team in MODO. As a junior he was one of the better players in the league and amongst his peer group he was a fixture on each of Sweden's International tournaments this year. Byström played sparingly in MODO (SEL) and was used more as an injury call up than that of a regular player. His strengths lie in his ability to play a calm game with the puck and not hurry his decisions. He has an exceptional first pass and does an outstanding job of disguising his movements to throw off the opposition. Byström has a fluid and graceful skating stride and a quick first step that allows him to easily jump into the play. He is capable of manning a PP but his shot is not over powering rather it is his puck distribution skills that makes him a threat to manufacture offence. Byström shows some confidence in the physical aspect of the game in defensive situations but needs to be more assertive in terms of positioning and maintaining his gap control. Byström's calculated style of play has value at the NHL level."
"Ludvig Byström is a smooth-skating d-man who is a good problem solver and has good smarts with the puck. He can deliver really good outlet passes tape to tape. I watched him a few times in the SEL, where he was dressed about 20 games this season. I was impressed with the poise he showed at the big stage in Sweden. He played a more mature game against men than he did against players of his own age. When I've seen him with MODO's junior team, I've felt he has tried to do too much at times, which led to some mistakes in his own end." 
Radoslav Vavřina (Blogger/Reporter, hcbilitygri.cz):
"If you are looking for someone who might become the next Erik Karlsson, Byström is the player for you. You might be able to get him as deep as in the third round, because (I hate to say it) he was a dud at the last U-18 WJC. Even though he didn't post the best numbers at the event, his presence was still the key for Swedish easy-to-penetrate-through defence, but I'd say all the NHL scouts will note that he didn't show his potential the way everyone expected. Hopefully for fans of Swedish hockey, it was just a short slump from which he'll quickly bounce back. Why? Because he's been stellar in the Swedish junior league."
***
Statistics:
Links:
International Tournaments:
2011 Memorial Tournament of Ivan Hlinka (Silver)
2012 World Junior A Hockey Challenge (4th)
2012 Five Nations Cup (Gold)
2012 World Under-18 Hockey Championships (Silver)
ETA:
2-3 Years.
Risk-Reward Analysis:
Risk: 2.5/5     Reward: 4/5
NHL Potential:
Top-pair defenceman; powerplay quarterback.
Strengths:
* See "THW Close-Up" Section above.
Puck-moving ability.
Calm demeanour.
Willing to get involved physically.
Flaws/Aspects in Need of Improvement:
Needs to not try to do everything himself.
Propensity to be caught in own end.
Slapshot needs to get harder.
Fantasy Hockey Potential:
Defenceman: 8.5/10
NHL Player Comparisons:
Erik Karlsson
Tomáš Kaberle
Off the Iron (Interesting Notes):
One of Byström's teammates over the last two seasons was his brother Anton, who is almost exactly two years older than he.
Byström was born on Peter Forsberg's 21st birthday.
Byström was chosen 56th overall by Severstal Cherepovets in the 2012 KHL Draft.
Byström's EliteProspects profile (as of June 15, 2012) is 23rd out of the 100 most viewed player profiles on that site for players born in 1994.  That is higher than fellow 2012 draft hopefuls Andrei Vasilevski (24th), Hampus Lindholm (29th), Radek Faksa (31st), Jacob Trouba (56th) and Esa Lindell (76th).
Byström can be followed on Twitter: @luddebystrom.
***
THW's The Next Ones prospect profile template design architect: Chris Ralph
***
For more stories like this, please feel free to follow me on Twitter: @MargannLaurissa.
Margann Laurissa is based out of Kingston, Ontario. She contributes profiles to MyNHLDraft.com on a regular basis.