Oscar Dansk THW Close-Up:
Date of Birth: February 28, 1994
Place of Birth: Stockholm, Sweden
Height: 6'2″       Weight: 187 lbs.
Shoots: Left
Position: G
NHL Draft Eligibility: 2012
For complete coverage and analysis of the 2012 NHL Entry Draft and its prospects, click here for Chris Ralph's 2012 NHL Entry Draft Guide.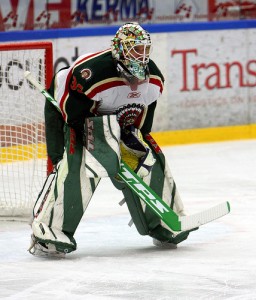 Out of all of the goalies eligible for the 2012 NHL Entry Draft, Oscar Dansk might have the lengthiest resume of the group. Having played in North America in the famous Shattuck St. Mary's Hockey School, Dansk has some experience with the North American style of hockey as well as the international style of play. After spending the majority of three seasons ('07-'08, '08-'09, '09-'10) playing in the Bantam and Midget leagues for Shattuck St. Mary's, Dansk made the transition to international hockey for the next two seasons.
For the last two seasons, Dansk has played in the J18 Elit and Allsvenskan leagues in Sweden as well as 49 games for the Brynas J20 team of the SuperElit league. While Dansk has been playing a good amount of hockey in the last five years (at least 169 games), he has been very consistent in his stints in North America and Sweden. In his three seasons at Shattuck St. Mary's, Dansk never had a GAA above 1.98 for a single season and continued the same type of solid play for the Brynas J18 and J20 teams. International play might not have been one of Dansk's strong points as the goalie struggled in the U16, U17, and U18 International Junior tournaments from 2009-2011. International Junior play and tournaments could be daunting for any hockey player, but Dansk made some clear adjustments for Team Sweden during international U18/U19 play in 2011-2012.
Coming in to the 2011-2012 WJC U18 Tournament, Dansk might not have been the most trustworthy option based on his track record in international junior tournaments, but the goalie proved himself in a big way. Dansk led Team Sweden to the silver medal at the U18 World Junior Championship and compiled a very impressive 1.98 GAA and .937 Save Percentage in five games played. Not only did Dansk put forth a strong showing at the U18 WJC, but the netminder had sparkling efforts in the World Junior A Challenge (0.98 GAA & .970 Save Percentage in 2 GP) and in International Junior play for Team Sweden (1.87 GAA & .935 Save Percentage in 10 GP). Dansk's improvements in his play for his national team illustrated that the goalie was extremely focused and had made the right adjustments to help his team succeed in a number of international tournaments during the 2011-2012 hockey season.
While international play can help increase a goalie's stock for draft day, Oscar Dansk has been making a name for himself through solid and consistent play. Having helped Team Sweden to silver medals at the U18 WJC and the 2011 Ivan Hlinka Memorial Tournament, Dansk is not a stranger to the spotlight and can be a valuable asset for any NHL team that chooses to put their stock into the Swede. Many project Dansk to be a second round draft pick at this year's draft selection, but the goalie has the skill set to compete with other highly touted netminding prospects such as Malcolm Subban and Andrei Vasilevski.
Dansk employs the butterfly style and is a very quick goalie that possesses good lateral movements. The goalie's quickness helps him to stay in many plays and allows him to make saves that other goalies might not be too adept at making or even attempting. Some of the knocks against Dansk's style of play might be that he wanders out of his net a bit too much and might not have great rebound control, but both of the aforementioned weaknesses can be improved upon with some solid mentoring. While Dansk's ability to stay in a lot of plays can be attributed to the goalie's solid technique and calm demeanor, the netminder's movements seem to be very well calculated and extremely efficient. Dansk might not be the tallest or biggest goalie, but his reflexes and hockey IQ make him very difficult to beat, even when the opposition has a legitimate scoring chance.
The 2012 NHL Entry Draft should be loaded with some interesting goalie prospects, but if Swedish goalie coach Per-Erik Alcén has shown NHL fans anything, it is that he can help mentor and improve some of the best goalies (Markstrom, Lindback) that Sweden has to offer to North America. Oscar Dansk will probably be selected behind Malcolm Subban and Andrei Vasilevski at the 2012 NHL Entry Draft, but the development of goaltending prospects is usually the hardest to forecast. Dansk certainly possesses the skill sets to be a very successful goalie in the NHL, but the netminder will have his work cut out for him when he is selected in late June. However, if history and Dansk's current track record are any indication of how well the goalie can play in the NHL, then the sky will be the limit for the Swedish prospect.
Scout's Honour:
"Dansk is one of my favorite prospects in this summer's draft, as the goalie for Brynas' (SWE) junior team is having an excellent season in his native land. But it is important for readers to realize he actually has two years of experience playing in North America; he posted good numbers for Shattuck St. Mary's from 2007 to 2009 and gained a wealth of knowledge about playing on the smaller rink."
– The Goalie Guild's Justin Goldman on DobberHockey
"Cool, quick-legged, butterfly goalie who displays strong positioning, good balance, and has size to the top of the net. The top goalie available from Sweden. Lets the play come to him, anticipates well, and is pretty agile, so he recovers well. Very sharp and in control during games and forces shooters to commit by being more patient than they are. Gives few rebounds and has great feet to reposition himself quickly. Teams are not only familiar with him because of his performance at last summer's Ivan Hlinkla tourney, but also because he was a member of the Shattuck St. Mary's program before returning to Sweden to hone his skills there."
– Bill Placzek of Draftsite.com
"I'm not really an expert when it comes to goaltending and I haven't watched Dansk enough to make an assessment of his game, but I did a piece for The Hockey News on him and talked to his goalie coach Per-Erik Alcén, who also has coached goalies like Jacob Markstrom, Anders Lindback and Eddie Lack to name a few. According to him, Dansk is "a big, mobile goalie who has the same fire in his eyes that Markstrom and Lindback share." With that, he means that Oscar is a goalie that really craves for victories and is always competing in every practice and game. Dansk compares himself to Jaroslav Halak of the St. Louis Blues. "I like his style and we share the same kind of composure in our game", he told me. Good to know: Dansk moved to Faribault, MN when he was only 13 years old to go to school and play for Shattuck St. Mary's where Sidney Crosby, Jonathan Toews and Zach Parise all played in their teens. He spent three seasons there before moving to Sweden to play for Brynäs."
– Uffe Bodin of Hockeysverige.se
"Ultimately, I'll probably find myself projecting Subban to go first, then Vasilevski second, then Sweden's Oscar Dansk third. But from a personal standpoint, I would advise NHL teams to draft Dansk first. I think the guidance he received during his two seasons at Shattuck St. Mary's, plus the guidance from esteemed goalie coach Per Alcen in Sweden, will go a long way in turning him into one very special NHL goaltender."
– The Goalie Guild's Justin Goldman
"No team demanded more attention from those in attendance than the first place Swedes, who won the Five Nations utilizing a team balanced with high-end draft talent for both 2012 as well as 2013. Some of that talent included goaltender Oscar Dansk, who played with the poise and confidence to make the save he should make, and even stealing a couple he shouldn't have. Dansk really shows strong technique and a compact frame when moving laterally. He just doesn't open up much when going side to side."
– Dan Stewart of Future Considerations
Statistics:
Bio/Interview(s)/Link(s):
International Tournaments:
Dansk helped Team Sweden win silver medals on two different occasions, once at the 2011 Ivan Hlinka Memorial Tournament and the other at the U18 WJC tournament.
Dansk was superb in the World Junior A Championship, especially in a last second 1-0 victory against Team USA where the goalie saved all 44 shots thrown his way.
ETA:
2-3.5 Years
Risk-Reward Analysis:
Risk: 2/5      Reward: 5/5
NHL Potential:
Number 1 Starting Goalie
Strengths:
* See "THW Close-Up" section above.
Great glove hand.
Composed and very hard to rattle.
Excellent quickness and very efficient movements.
Good puck handler.
Great use of technique and positioning.
Quick recovery when dropping down.
Leaves little to shoot at when employing butterfly stance.
Good athlete.
Flaws/Aspects He Needs To Work On:
Must learn to control his rebounds better.
Should work on leaving his net less in order to play the puck.
Could use a little bit of work on his blocker side.
Fantasy Hockey Potential:
Goaltending: 9/10
NHL Player(s) Comparison:
Compares his composure to that of Jaroslav Halak and also likes the style that Halak employs.
Video(s):
Off The Iron (Interesting Notes):
Has a 19-year old brother, Victor Dansk, who is a defenseman.
Oscar wanted to be like older brother Victor when the latter started to attend goalie schools.
THW's The Next Ones prospect profile template design architect: Chris Ralph