Stefan Matteau THW Close-Up:
Date of birth: February 23, 1994
Place of birth: Chicago, Illinois
Height: 6'1″      Weight: 209 lbs
Shoots: Left
Position: LW
NHL Draft Eligibility: 2012 For complete coverage and analysis of the 2012 NHL Entry Draft and its prospects, click here for Chris Ralph's 2012 NHL Entry Draft Guide.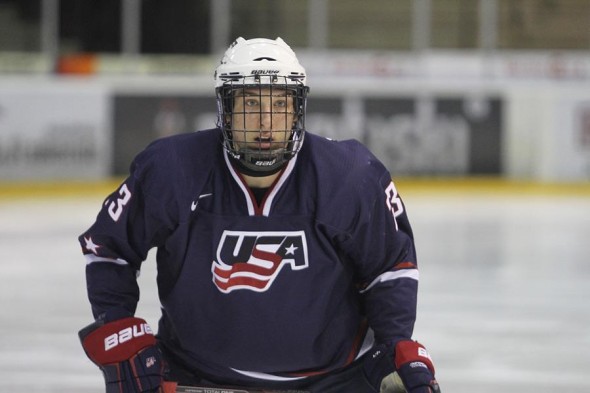 Stephane Matteau is synonymous with all New York Rangers fans for arguably one of the most important goals scored in NHL history.  "MATTEAU! MATTEAU! MATTEAU!"  New Yorkers can still hear Howie Rose's call ring out.  Chills still run down their spines.  His son, Stefan, was a mere 4 months old at the time but his last names still carries high expectations to be as great (if not better) than his father.  What seems like a burden to some hockey players, Stefan has taken the challenge head-on and seems to have proved that he has a very successful career in front of him.
Matteau is a big, skilled, two-way winger whose tenacity stands out among his peers.  He has the height and the physical strength to push guys around, protect the puck, and unleash his patented shot that tends be pretty lethal.  His aggressive forecheck and ability to win battles in close and along the boards make him an attractive option for a team that is looking for a Lucic/Burrows/Callahan mold of a player.  A weakness in his game is his overall skating.  He doesn't have breakaway speed and his movement is a bit choppy, but it isn't something that can't be worked on in the QMJHL with the Blainville-Boisbriand Armada.
While grit and toughness are key to achieve success in the NHL, Matteau needs to harness his anger sometimes and use it in more productive ways.  This season Matteau was suspended numerous times for acting out against opposing players (in one case, spearing a player on the Green Bay Gamblers).  It will take some time to build self discipline, but when he does, his game will be that much more effective. He has projected to go anywhere between the mid-1st round to early 2nd, but where he ends up going in the draft shouldn't matter to the average fan, or even himself.  He has the tools and capabilities needed to push for a spot on any NHL teams top-six and brings a work ethic, toughness, and skillset that is coveted by many GM's around the league.  Oh yea!  Having legendary NHL bloodlines doesn't hurt either.
Scout's Honor:
"Matteau's game translates well to the professional ranks which makes him valuable as a relatively safe bet in this range. He has pro size as well as an effective skill set that will suit the physical rigors of the NHL. Matteau shoots well, makes the simple play with the puck and brings a physical edge to his game. What Matteau lacks in pure foot speed, he makes up with an efficient skating stride that should allow him to gain quickness as he continues to get stronger. Matteau was originally slated to attend North Dakota but has since committed to play in the QMJHL next year with Blainville-Boisbriand." – The Scouting Report
"There is no one more effective in the USHL when shielding the puck, fending off the opposition and creating space down-low. Protects the puck miraculously with his frame, reach and ability to force his way through traffic. Possesses play-making vision and hands. Sees the ice extremely well, especially from confined quarters such as the corners and boards. Is able to feed the puck out of tight situations and hit his mark the majority of times, although here – he was a bit quick to distribute and had a few issues with connecting. Hard to contain when storming his way down the ice and into the offensive zone but needs to work on his puck control skills when in flight. Makes for a monstrous net presence.  Outstanding defensive awareness and anticipation. Works a disruptive stick, covers his point well and shows a lot of hustle and engagement on the back-check. Effective in jamming up lanes and supporting the puck. Ferocious when challenging the puck carrier. Is clever with his body positioning to restrict the oppositions' time and space." – Reel Hockey Scouting
"He's a big, prototypical pro-type forward.  His approach is really good and he wants to get better. One of the things with guys with this skill level and at this age is a lot of times they can just go out there and play. And even if they're doing things wrong, they're good enough that they can get away with it." – Danton Cole, USA Hockey
Statistics:
Bio/Interview(s)/Link(s):
International Tournaments:
Stefan has played in the U17 World Hockey Championships and scored 5 points in 5 games (2G, 3A).  Unfortunately, Matteau was disqualified from playing in the U18 World Hockey Championships this year due to a complication with his eligibility.
ETA:
3-4 years
Risk/Reward Analysis:
Risk: 1/5    Reward: 4/5
NHL Potential:
Top-6 two way forward
Strengths:
Defensive awareness
Shot
Puck control/protection
Physicality
Tenacity/toughness
Flaws/Aspects He Needs To Work On:
Skating speed and agility
Discipline
Passing
Fantasy Hockey Potential:
Offensive: 6/10   Defensive: 6/10
NHL Player(s) Comparison:
– Milan Lucic
– Ryan Callahan .
– Alex Burrows .
– David Backes
– Steve Downie
Videos:
Off the Iron (Interesting Notes):
Stefan has dual citizenship in the USA and Canada and can speak fluent French.
Follow Shawn Reznik on Twitter (@ShawnReznikTHW).
THW's The Next Ones prospect profile template design architect: Chris Ralph