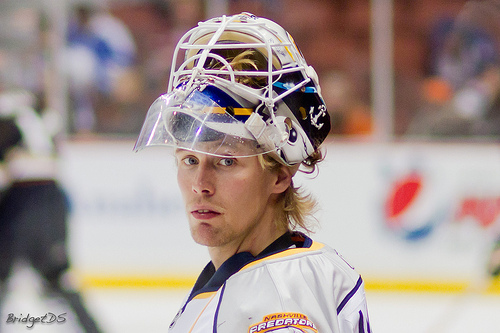 The confetti had barely finished falling on the Los Angeles Kings' Stanley Cup victory parade before Lightning GM Steve Yzerman pulled the trigger on a deal that allows him to cross off the number one item on his off-season to-do list. On Friday, Tampa Bay announced that they had traded Sebastien Caron, two 2012 second round draft picks and a 2013 third round pick to Nashville in exchange for goaltender Anders Lindback, forward Kyle Wilson and a 2012 seventh round pick.
The acquisition of Lindback, a restricted free agent, followed Thursday's announcement that the team had signed 2006 first round pick Riku Helenius to a two year deal. According to the St. Pete Times' Damian Cristodero, Mr. Yzerman fully expects Lindback and Mathieu Garon to be the goaltending tandem in Tampa next season. Helenius will most likely start the season with the Lightning's new affiliate in Syracuse.
It is possible that the Lightning general manager isn't done dealing yet as the two moves have left him with an excess of young goaltending talent. If Helenius does start the season in Syracuse then either Dustin Tokarski or Jaroslov Janus appear to be the odd man out. It is possible that one of them may accept a demotion to the ECHL, but that would be a bitter pill for either one of them to swallow after leading the Norfolk Admirals to a Calder Cup this past season. Mr. Yzerman may be tempted to move one of his young netminders on draft day to recoup some of the picks he lost on Friday.
Fan reaction has been mixed on the acquisition of the 24-year-old Lindback. While the rumor mill has mentioned the 6'6" Swede as a possible target since the February trade deadline many still wonder if he has the potential to be a number one goalie at the NHL level. His numbers have been solid in limited duty (16-13 record, .914 save percentage and 2.53 goals against average in 38 total NHL games over two seasons), but so were Mike Smith's numbers before he joined the Lightning.
The Lightning were able to acquire Lindback because of their glut of early picks. Even though they traded away two second round picks for this year's draft they still have two first round picks and a second round pick. While some might see it as a bit of an overpay (especially teams jockeying for the services of Jonathan Bernier or Roberto Luongo), based on the assets the Lightning had in their possession the deal is quite affordable. It didn't cost them any of their top prospects and they still have three picks in the top 40 to use at the draft to keep their prospect pipeline full.
There is still the minor detail of signing Lindback to a new deal, but by moving quickly Mr. Yzerman has left himself plenty of time to iron out a contract for his newly acquired goaltender. He should be able to sign him to a team-friendly deal that should leave him plenty of money to shop for a few new defenders to play in front of former seventh round pick.
Finding the right mix of players to suit up in front of Lindback is now the most important item left on his off-season rebuilding list. Even Patrick Roy in his prime would have struggled to keep the puck out of the net with the way the team played on the ice last season. It wouldn't be a surprise if the Bolts weren't done raiding the Predators' roster.
It's very likely that Mr. Yzerman is kicking the tires on acquiring defenseman Ryan Suter. The Wisconsin native is likely to be the prize of this season's free agent class and his ability to move with the puck would fit right into Coach Boucher's scheme. Signing him is probably a bit of a long shot as the GM is loath to overpay players or handcuff himself financially with long-term deals.
For the second year Mr. Yzerman is taking a chance on an unknown commodity in net. Last season's experiment of re-signing Dwayne Roloson didn't work out as well as had hoped, so know he's placing his faith (and reputation) in the hands of a netminder with less than a half-season's worth of experience at the NHL level. The GM made the move and now it's up to Lindback to see how it turns out. For Lightning fans hopefully it mirrors the Nikolai Khabibulin signing instead of the Marc Denis/Mike Smith/John Grahame experiences.