It can be devastating to come two wins short of hockey's ultimate prize, the Stanley Cup, and that's where the New Jersey Devils find themselves as they head into this offseason. Questions are abound in Newark as GM Lou Lamoriello faces some major questions regarding some important pieces of his franchise.
Martin Brodeur, Zach Parise and Bryce Salvador are set to become unrestricted free agents on July 1 and the Devils would like to keep them all; but can they? Will they also be able to retain some of the key contributors during their improbable run such as Petr Sykora, Stephen Gionta, Ryan Carter, Alexei Ponikarovsky, Johan Hedberg and Steve Bernier? Teams that have successful runs are generally not able to keep the same group together due to the salary cap and you can be sure that the poachers will be abound to offer some of New Jersey's players longer and more expensive contracts that may not able to be matched.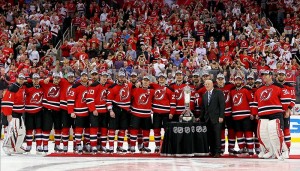 Maybe some players will take pay cuts to stay in a winning, familiar and stable situation, but more than likely not. The last time a team went to the Finals and returned the next year was in the spring of 2009 when Detroit and Pittsburgh squared off for the Cup in consecutive seasons; the Devils haven't appeared in back-to-back Finals since 2000 & 2001.
They say that sometimes you have to lose to know how to win. Brodeur was on the Devils team that rebounded from a crushing loss in the 1994 East Finals to win it all the following season and believes that this season's elimination could prove to be the same type of springboard. "I went through it in '94 and we were able to be successful after that. It's just the way it goes. Everybody is there to win and the Kings deserve what they got, but the guys have to be very proud of what we accomplished," said the 40-year-old goaltender as the team packed up for what will be a short summer vacation. "I'm sure these guys, we will be celebrating a championship in the near future."
For the first time in a long time the Devils appear to have a stable situation behind their bench, as Pete DeBoer made Lamoriello's decision to hire him look magical. The players, to a man, enjoyed playing for DeBoer and thrived playing in his up-tempo style — even the enigmatic Ilya Kovalchuk who has had his share of clashes with coaches over his career, bought into the team-first attitude and was still able to finish fifth in the league in points (83 points in 77 games).
Brodeur has already said he expects to be a Devil again next season, barring another work-stoppage, and also acknowledged that keeping Parise in the fold is the team's number one priority as the offseason begins. "I hope the Devils will be able to keep him because I think he's the face of the Devils, a kid that people, they see him, they see a Devil, they see the work ethic that he has. First year as a captain, not too shabby to bring the team to the cusp of the Stanley Cup finals. It's a big priority for the Devils to get him signed."
Kovalchuk echoed Brodeur's comments when asked about the situation, "I said all year long that's our first priority of the off-season to sign him," Kovalchuk said. "He's our captain He's our leader. We've got to sign guys like him and Sal as well; all the key guys who were playing really well. We've got a lot of unrestricted free agents, but I'm pretty sure Lou and ownership will figure out how to get things done."
Salvador was an offensive and defensive juggernaut in the playoff run and will probably receive some hefty offers if he makes it to July 1. The Devils have a tough decision to make with Henrik Tallinder, Andy Greene, Marek Zidlicky, Anton Volchenkov, and Adam Larsson all blueliners under contract for next season and Mark Fayne as a restricted free agent. The question will be what means more to Salvador: more money or staying in a winning situation. Peter Harrold is also an unrestricted and may find a better offer for more playing time elsewhere as New Jersey has some defense prospects moving up the depth chart — most notably Jon Merrill.
Up front, expect Gionta, Sykora and Bernier to all be re-signed to one, or two-year deals as all have played a vital role throughout the season and or playoffs and Lamoriello will likely reward them with cap-friendly deals. Carter and Ponikarovsky will likely be left to sign with other teams unless a trade is pulled off that frees up more money. But if that happens the freed-up money will likely all be funneled into keeping Parise in New Jersey for the long-term. The Devils captain has stated numerous times that he likes the team, living in New Jersey and his teammates, and in his final meeting with the media he used a lot of "us" and "we" when talking about the team regarding next season and beyond. He also let it be know that he wouldn't be signing with Jersey's biggest rival (and poacher: see Scott Gomez, Bobby Holik), a statement that may have made his agent cringe.
With the emergence of Adam Henrique, a healthy Travis Zajac and Jacob Josefson, the Devils appear to be three-deep at center which should allow players like Patrik Elias and Dainius Zubrus to play on the wings where they can be a little more productive.
This team had 100+ points this season and was fourth in their division, so there is some room for improvement, and Lamoriello will be hard at work this offseason to put another winner on the ice in October. "To go through three series that we went through with Florida, Philly and the Rangers, that's exceptional. Then, certainly we all know what transpired (in the Finals against the Kings), which could have gone either direction and only one team can win and we came up on the short end of it. But you can't dismiss the achievements by this team."
My gut feeling says that Parise and Brodeur will be back, along with Fayne, Bernier, Gionta and Sykora with a possibility of Hedberg back for one-more season. Brodeur will take a one or two-year deal for a little less money that will go directly to the Keep Zach Parise Fund. I expect to see Salvador, Ponikarovsky, Carter and Harrold wearing different uniforms when the new season starts.
No one really knows what will happen yet, but it will be just as interesting off-season in New Jersey as it was during the most remarkable season they had since 2003.
Dan Rice can be reached via Twitter: @DRdiablo321 or via email: drdiablo321@yahoo.com
Dan Rice is in his 9th year of reporting for THW & has covered NJ Devils home games for 15+ years at various websites. He began his journey working for legendary broadcaster/writer Stan Fischler from 2002-04 & completed an internship at the ECHL; he also has been writing features for the NWHL (nwhl.zone) website since 2016.