Brett Kulak THW Close-Up:
Date of birth: 01/06/1994
Place of birth: Stony Plain, AB, CAN
Ht:  6'1″ Wt: 175
Shoots: Left
Position: Defence
NHL Draft Eligibility: 2012 1st year eligible
THW Ranking (May): 36th
Other Rankings:
***
*Click here for Notes Up Front for various topics covered below in the live updated NHL 2012 Entry Draft Guide – The Next Ones home page – your quintessential draft resource.
***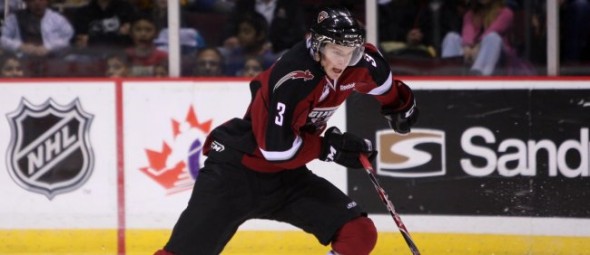 The first thing you may notice about Brett Kulak while watching him man the blueline for the Vancouver Giants is that unless you were specifically paying him attention, he likely would likely be unnoticeable. In Kulak's case, and in the case of efficient defensemen in general, this is often a very desirable trait.
Looking for an NHL comparable than look no further than Duncan Keith, who Kulak himself patterns his game after.  Kulak is a smooth, effortless skater with tremendous puck poise and always seems to make the simplest and often correct decision. It may take some time, but he also has untapped offensive upside as well given his hockey IQ and the rapid development track he is on. At this point in time, Keith is in another stratosphere in terms of offensive ability, but given time Kulak has the potential to be on the same echelon. Kulak currently keeps his game simply rather than flashy.
Brett had a solid year on the stats sheet. He led all Vancouver Giants in his WHL rookie season with 9 goals. He finished third in scoring amongst Giants blueliners with 24 points in 72 games. He added 4 assists in 6 playoff contests.
In isolation, the plus/minus stat is not very useful. However, as a comparator in can be a telling stat.
Kulak led the Giants with a plus-29 rating. Forwards Cain Franson and Brendan Gallagher had a plus-26 and plus-19 rating respectively, finishing closest to Kulak. The next closest blueliner had a plus-15 ranking. In fact, about three-quarters of the roster finished below plus 10. This helps exemplify the efficiency with which Kulak plays the game.
Kulak is a very underrated blueliner who is simply silky smooth. He quietly goes about his business on the ice in a proficient manner. I have been extremely impressed for quite some time and feel he possesses ridiculous upside.
Some have criticized a lack of physicality in Kulak's game. While this may come with time, he is still an effective defender utilizing his smarts and aptitude to process the game at a high level.
He has come a long way in a short amount of time with more growing to do. Kulak has also grown immensely in stature since being taken in the 9th round of the WHL bantam draft in 2009 when he was just 5'6" and 145 lbs.
Coach Don Hay on Kulak: "He's got to form his own type of identity. I've coached some real good defencemen along the way. You know Brett's starting to come. He's starting to play well every game, and that's what you need: consistency."
Where will he end up in June: While I have him ranked 36th overall in my current Top 120 rankings (May, 2012), I had him landing in Phoenix at 58th overall in my Memorial Cup Edition Mock Draft, but I do see him being a draft day riser. He'll likely land anywhere in the 2nd or 3rd rounds; yet another one who is tough to project.
***
Scout's Honour:
Kulak had an impressive rookie season in the WHL where he came out of nowhere to become one of the Vancouver Giants most reliable defenseman. He plays a safe and quiet game that has translated to some impressive numbers. In addition to putting up 24 points, he also registered a plus-29 rating. Kulak will have to build more strength and become a more physical defender. While he is a good stick checker, he doesn't take the body nearly enough. His smarts and sound positional play make him a safe bet to get drafted.

Fantasy Outlook: C-

Some offensive upside, but he mainly projects to be a reliable second or third pairing defenseman.
Zenon Herasymiuk, DobberProspects.com
***
Kulak is a solid, but somewhat unspectacular defender for the Giants.  He's got good size and is a solid skater, but he isn't overly physical. He moves the puck well, plays with his head up and has great poise with the puck.  He defends by using his body positioning and stick very effectively, but could definitely bring more mean into his game.  He won't jump off the page at you in anything he does, but he rarely is caught out of position or makes mistakes with the puck.  Projects to be a 4th round selection, although I would have him rated slightly higher than that.
– Cody Nickolet, WHL From Above
***
Brett Kulak quietly developed into one of the most reliable shutdown defensemen in the WHL this season, finishing first on the Giants (and just inside the top-20 in the league) in plus/minus. Kulak's role was elevated late in the season as David Musil went down to injury, and the 17-year-old rookie seemed more than ready for the task, as he was challenged with facing the opposition's top offensive players on a nightly basis. Kulak is a classic stay at home defender, who is a good skater and plays a no-nonsense game. He could use his body more effectively, but he more than makes up for his lack of physicality be using good stick position. Kulak also quietly added 9 goals for the Giants, perhaps a sign of future offensive potential.
Statistics:
Bio/Interview(s)/Link(s):
Excerpt: Questions 3 & 4 of 5:
3. Have you talked to any scouts for what you may want to work on and areas of your game you could improve upon?

"They've just asked me my personal stuff. They haven't really given me very much feedback, obviously physical strength though and battling the bigger guys out there. Some of those guys out there are 20 pounds heavier than me and I need to shoot harder."

4. Do you have a favourite player or a favourite team that you follow?

"I'd say Nicklas Lidstrom and Duncan Keith. I kind of model my game after them and they're similar players to me I feel. They're just good role models for me, good guys, good to look up to. I cheer for my hometown, Edmonton, but maybe Detroit as well."
ETA = 3-4 years
Risk-Reward Analysis:
Risk = 0.5/5   Reward = 4/5
NHL Potential:
Top 4 blueliner who could potentially blossom into top pairing defender
Strengths:
*See "THW Close-Up" section above.
Smooth skating ability
Poise
Decision-making
Hockey IQ
Reliable
Coachable
Consistent
Ridiculous upside
Flaws/Aspects He Needs To Work On:
Continue to train to increase strength and add mass to frame to handle the rigors of the NHL.
Continue to develop his defensive zone acumen.
Recognizing when he can take advantage of offensive opportunities.
Fantasy Hockey Potential:
Offensive = 7.5/10   Defensive = 8.5/10
NHL Player(s) Comparison: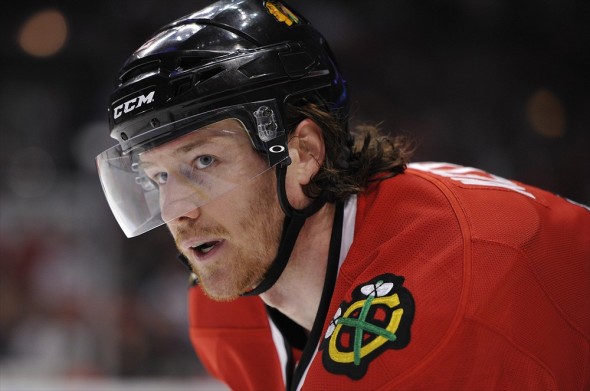 – Marc-Edouard Vlasic
– If he taps into all of his ridiculous upside: a blend of Duncan Keith and Ryan Suter (stick tap to Cody Nicholet, WHL From Above for the latter comparison)
– Hall of Fame comparison:  Niklas Lidstrom-lite
Video(s):
Off The Iron (Interesting Notes):
***
Worth Retweeting:
https://twitter.com/News1130Sports/status/208637440154537986
***
THW's The Next Ones prospect profile template design architect: Chris Ralph
***