Now that the NHL has played its last game for the season (hopefully not much longer than that though), the world of shinny turns its eyes to the Hockey Hall of Fame induction announcement taking place later this month.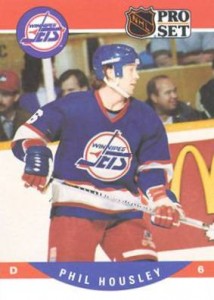 This year's crop features a bevy of great first time candidates, among them Joe Sakic, Jeremy Roenick and Brendan Shanahan; but there are also a few older names that have yet to get the call to the Hall that could sneak into line, such as Pavel Bure and Dave Andreychuk.
Like most teams in the NHL, the Winnipeg Jets (v.1) have a few players that are recently retired; but unlike most teams, those who are truly of Hall of Fame calibre are few and far between. Yes, Teppo Numminen and Thomas Steen had formidable careers on the ice, but they lack the individual honours (let alone Cup rings) to be deemed worthy of hockey's hallowed hall.
In fact, there is only one Jet who, at this point, can be deemed to have a reasonable argument for being inducted into the HHOF (if you allow that Anders Hedberg and Ulf Nilsson will never get the call due to pro-NHL biasy) is Phil Housley.
Though his tenure in the NHL is perhaps best remembered for his days in Buffalo, Housley's impact in Winnipeg was certainly noteworthy (to say the least). Though he only spent three seasons in the River City, Housley made the most of his time, scoring at well above a point-per-game average across those years, something unheard of for most d-men. Additionally, Housley led all NHL defencemen in scoring during the 1992-93 season, where he tallied 97 points. He was also an NHL All-Star each year he was in Winnipeg and was named to the league's post-season Second All-Star Team in 92-93.
Across his career, Housley put up the kind of numbers not normally seen in the NHL from the blueline. In 1495 games, Housley amassed 338 goals, 894 assists and 1232 points. Today, Housley still sits in the top 20 all time for assists and top 40 in points. Not bad for a reardguard by any stretch of the imagination.
Yes, Housley lacks a Cup ring or an Olympic gold medal, but he does have a World Cup title to his name (1996) and a Winter Games silver medal (2002). He also did make an appearance in the Cup Finals with Washington (1998) and, just as importantly, still ranks among the top scorers among US-born players.
Of course, there is a reality that is part of Housley's chances this year – that the new breed of retired players is top notch, there's still a chance that Housley could get the nod. Hey, stranger things have happened.