Filip Forsberg THW Close-Up:
Date of birth: 8/13/1994
Place of birth: Östervåla, SWE
Ht:  6'2″ Wt: 181
Shoots: Right
Position: Forward
NHL Draft Eligibility: 2012 1st year eligible
THW Ranking (May): 5th
***
*Click here for Notes Up Front for various topics covered below in the live updated NHL 2012 Entry Draft Guide – The Next Ones home page – your quintessential draft resource.
***
By now, one likely knows that Filip is no relation to Peter. However, if you've seen him play his on-ice presence is definitely reminiscent of Foppa.
This version of Forsberg is a safe bet to develop  into a complete player in the NHL. He has the ability to raise the play of his teammates in a synergistic manner. He's mainly played as a winger, and his strong play along the boards compliments this. However, there have been hints from the hockey world that he might thrive as a centre as well, which may make him even more desirable to some NHL squads. I wouldn't bank on that position switch at this point though.
Team Sweden's head coach Roger Rönnberg praised Forsberg throughout the 2012 World Juniors in Calgary:
"He's a skillful player. He can contribute in all parts of the game. He can play the power play, the penalty kill, and he's really a hard-working, good skater. And he loves to battle. Of course, he can also be the guy who makes the difference offensively."
Forsberg is an offensively skilled forward first and foremost, but is extremely versatile as well.  His relentless work ethic, fearless play and hockey IQ make him effective in all three zones. While he won't go out of his way to make a big hit, like Foppa, he is tough on the puck and embraces being engaged physically on the ice. He has the ability to create for himself offensively as well as delivering crisp and accurately delivered passes.
Although he is an agile and smooth skater, Forsberg himself recognizes he has to work on his first-step quickness and overall speed.
Some proclaim Forsberg to be that leading candidate for "most NHL ready prospect". I think he'll undoubtedly make it to the big league, but he'll likely need a couple of years to get there. Uffe Bodin of The Hockey News and HockeySverige.se agrees and recently told me:
"(Forsberg is a) great skater with good hands and the drive to break through the defense. (Filip) hasn't been very consistent playing among men in the Swedish equivalent to the AHL (Allsvenskan) this season, but when things have worked out for him he has been a dominant force even there. Has solid leadership qualities and is very mature and poised for his age, Needs to get stronger. I've seen other people describe him as one of the most NHL-ready prospects in this draft, but I disagree. He needs one or two more years in Sweden before he's ready to challenge for a spot."
Forsberg is perhaps one of the safest picks of the 2012 draft crop. He is a tantalizing mix of projectable size, creative offensive ability, compete level, hockey sense and desire to continuously improve. He'll make an exception building block for any team that selects him that has the patience to let him develop optimally over the coming years.
Where will he end up in June: In another strong draft year for Swedish players, Forsberg seems to be a cut above the rest. While I have him ranked 5th overall in my current Top 120 rankings (May, 2012), I had him landing 2nd overall to the Columbus Blue Jackets in my Memorial Cup Edition Mock Draft. He'll likely land anywhere from 2nd to 7th overall.
Scout's Honour:
"I liked Forsberg in Calgary (WJC U20s), but I really liked him in the Czech Republic (WJC U18s) when he had Elias Lindholm, a late '94,  as his centreman. I think Forsberg is that type of player that needs a top centreman to bring out the best in him. He's definitely a guy that can finish when he's around the net. He can win his own pucks; he's a big strong kid and uses that size. I really like the way he powers up and down the wing.  The first time I saw him I really wasn't quite convinced that he was worthy of a top 10 pick, but after seeing him this spring I was a lot more sold, and I really like him as a player at this point."
– Mark Edwards – Founder and Director of Scouting at HockeyProspect.com
*Watch for their 2012 NHL Draft Black Book to be released anytime now.
***
"A leader who shows by example — I would compare him to Anaheim's Corey Perry a little bit. Has a nose for the net, and often scores the big goals. He's a creative playmaker, good skater with fine straight-ahead speed. He's a right-handed forward with an excellent shot and an effective two-way player with a great winning attitude. Filip's a solid puck carrier with very good puck-handling skills; mature, good size and physically strong. On top of that, he'll sacrifice himself to make the play."
– NHL Director of European Scouting, Goran Stubb 
Statistics:
Bio/Interview(s)/Link(s):
International Tournaments:
At the 2012 World Junior U20 Championship in Calgary, Forsberg had a fairly uneventful tournament, but was not given a substantial role on the gold-medal-winning team. He did manage to somehow get player of the game honours in a game which Max Friberg scored 4 goals. He did show glimpses of making those around him better. He was somewhat surprisingly outplayed by fellow 2012 eligible forward, Sebastian Collberg, who is also projected to be a first half 1st round selection in June. Forsberg was the youngest player on that squad.  I had the opportunity to speak Filip on several occasions during the tournament. He is a well spoken kid and obviously thoroughly enjoyed the experience and being a part of a historic Swedish gold medal victory.
This spring he had a very good WJC U18s for Sweden's silver-medal-winning squad. He notched 5 goals and 2 assists in 6 games for 7 points in that tournament.
ETA = 2 years
Risk-Reward Analysis:
Risk = 0.5/5   Reward = 4.5/5
NHL Potential:
Top line forward
Strengths:
*See "THW Close-Up" section above.
Ability to make those around him better
Size (frame)
Skating
"Complete" player
Puckhandling
Great hands
Puck Poise
Playmaking ability
Competitiveness
Flaws/Aspects He Needs To Work On:
Continue to train to increase strength and add mass to frame to handle the rigors of the NHL.
Continue to develop his defensive zone acumen.
Although fundamentally a good skater, he could stand to work on his first step quickness and "top gear".
Fantasy Hockey Potential:
Offensive = 8.5/10   Defensive = 8/10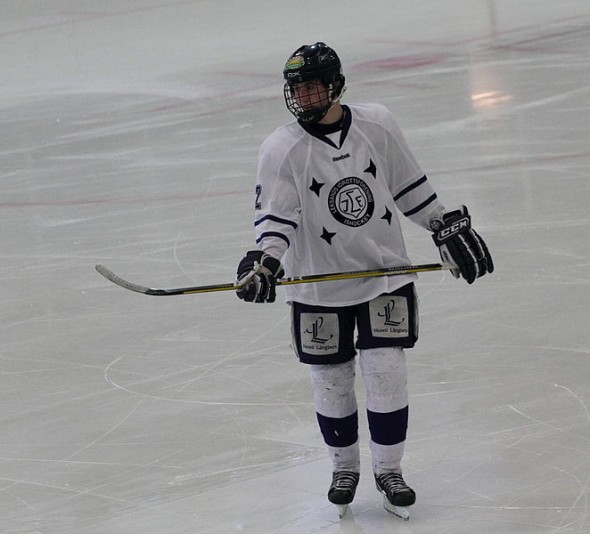 NHL Player(s) Comparison:
– Corey Perry (but slightly less abrasive)
– Hall of Fame comparison: Peter Forsberg
Video(s):
Off The Iron (Interesting Notes):
Forsberg was selected by HC Sibir Novosibirsk in the 2nd round at 41st overall in the 2011 KHL draft.
Filip is signed to a contract with Leksand through to the 2012/13 season.
"The triumphant return to his country following the tournament included a huge reception in Stockholm and a meeting with Sweden's royal family. After seeing the hero's welcome that the Swedish men's national team received in past years, the last thing Forsberg expected was to receive a similar reception when the juniors returned from Alberta." (IIHF.com)
"I never dreamed I'd get the chance to meet the royal family and it was a big honour for me to meet them and talk to them," said Forsberg. "It was interesting to see that they are like regular people, and it was definitely cool to talk hockey with the crown prince." – Filip Forsberg
***
THW's The Next Ones prospect profile template design architect: Chris Ralph
***
Chris is THW's senior draft/prospect analyst and a Managing Editor. Watch for "The Next Ones" Prospect Profile series, exclusive rankings, mock drafts, as well as the annual THW NHL Entry Draft Guide. Follow @ChrisRalphYQ on Twitter as he infiltrates, dissects and analyzes all happenings of hockey prospects and the NHL entry draft. Email: cralph[at]thehockeywriters[dot]com