[This article was originally published over at
Calgary Puck
]
With the recent naming of Steve Spott, the head coach and general manager of the OHL's Kitchener Rangers, as the head coach of Canada's entry into the 2013 World Junior Hockey Championships in Ufa, Russia there has been a revival of discussion over Canada's national junior program. The recent surge of popularity in the month of May is aided by the Memorial Cup tournament currently playing out in Shawinigan, Quebec as the host Cataractes will play the defending champion St. John Sea Dogs in the semi-finals, with the winner moving on to play the traditional powerhouse London Knights in the final. However, the discussion on my local sports radio has unfortunately taken to the discourse of most Canadian international hockey competitions- how anyhting less than gold is a dissapointment.
This reminded me of my own personal experiences with the World Junior Championship, as I recently attended the event myself when it was held in Calgary and Edmonton this past winter. I wrote a critical piece on the event then, and I feel with the recent surge of discussion on the topic that it is now an appropriate time to share it. It was written on January 4th, 2012.
Just before General Custer and his men were killed by the Lakota Sioux and Cheyenne natives at the Battle of Little Bighorn in the summer of 1876, Custer encouraged his men with a cry of "Hurrah boys, we've got them!  We'll finish them up then go home to our station!"
Custer's historic defeat, and all others that match it, are often not so substantial because the loser has underestimated his opponent but rather has overestimated himself.  Nothing crumbles quite like a pride built upon a foundation of hubris, as the Canadian World Junior Hockey Team and Canada itself is undoubtedly learning after Canada's 6-5 semifinal loss to Russia yesterday.  For the third year in a row, Canada will finish the annual tournament without a gold medal- for the second time on Canadian soil in that span.   While this is obviously disappointing to everyone involved, this is ultimately a necessary "evil" because this tournament has slowly but surely chipped away at something that I once thought was intrinsically Canadian- humility.
Having personally attended three of the tournament games, and a fourth is coming later this afternoon, as well as owning a TV, I have had the unfortunate experience of having Canadian propaganda shoved down my throat at the expense of the alleged inferiority of other hockey playing countries competing in the tournament.  At these games I have seen vast crowds of Canada-clad fans, big screen messages from suits and bigwigs like Jim Peplinski calling for more Canadian gold, intermission competitions with cherished Canadian jerseys as prizes, and signs baring bold proclamations such as "THIS IS OUR GAME" and "GOLD OR BUST."  This is all well and good, but what makes this a deliciously rich cardinal sin is that I have yet to attend a game in which Canada is playing.
As a Canadian, it troubles me that our national love for the game has degraded into an ignorant chest-thumping machismo that would make Captain America blush.  Questions arise about the validity of our actions- since when did we as a nation purchase hockey? How long have we owned it?  Why must we flagrantly wave this alleged ownership for all to see, much like a dog marks his territory with musty piss?  This is especially troublesome when my home province and hometown serve as the locales for this prestigious international event- an event that in my eyes is a failure both on the ice and off.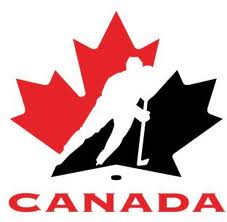 While TSN has done a remarkable job of making this event a holiday tradition, they have also been a large part of the problem as their overwhelming Canadian content and focus has had a significant role in cultivating this Americanized love.  Sportscenter is riddled with Canadian interest pieces and analysis while paying little lip service to games I attended such as Switzerland and Denmark.  Obviously those two countries are not in medal contention in the relegation round, but they are also capable of playing a damn good hockey game that has drama, momentum shifts, amazing saves, and an intense overtime.  You probably wouldn't know any of this unless you were there though, as TSN feels that you should instead know that Canada is not only the unquestioned champion but has been for 30 years- as their 30 Years of Excellence snippets can attest.  Oh, and if you haven't heard of this campaign don't worry- Hockey Canada liked it enough to put it on the Canadian jersey, where it sits like a notch on a bedpost.
Hockey Canada did everything they could to make all aware that in Canada, Canada wins.  From the very top with Bob Nicholson to the very bottom with period intermission show hosts, the swagger oozes from their actions like puss from a pimple popped a week too late.  Jim Peplinski, a chairman of the committee that earned Edmonton and Calgary hosting privileges of the tournament, makes an appearance-a-game on the Enmax Energy Board at the Saddledome- complete with Hockey Canada windbreaker- to thank us, the Canadian fans, for the yet-to-be-completed event's enormous (i.e. financial) success and ensure more Canadian gold medals for years to come.  At one of these games (I believe Slovakia-Russia), a man who will forever serve as the archetype of what I am describing felt it necessary to proclaim "Atta boy, Jim!"  Given the events of yesterday's game, it may as well have been "Hurrah boys, we've got them!"  The intermission shows before the zambonis freshen the ice feature international visitors aiming a puck as close as possible to the center ice dot.  Swedes, Slovaks, Russians, Swiss, and Latvians do their best to win a mysterious prize that turns out to be a Team Canada jersey.
This decision leads me to believe the event planners had two prizes to choose from- the jersey or a slap in the face.  I'm glad they were able to muster up the decency to make the right choice.  I thought my country and my city had more class and tact than that. Why can't we offer them a cowboy hat, or a neutral IIHF jersey, or a memento of the great prairie city in which they are guests- our guests.  We have been anything but the most gracious of hosts, choosing instead to act like reigning conquerors than humble equals.  While we make our prognostications of gold while showering our heroes with praise and admiration, Russian players avoid debris being tossed on the ice by disgruntled Canadian fans who have been so brainwashed and imbued with a sense of superiority that defeat is treated as an unfortunate case of happenstance in which higher powers assuredly plotted against us.
I am Canadian, and I love hockey.  But so do the Swedes.  And the Czechs. And the Finns. And the Swiss. And the Slovaks. And the Russians.  Hockey is a shared game, an international sport loved by many different people from many different lands.  We treat it like property that is to be leased and profited from, with our ownership allowing us to reclaim it for our own whenever we see fit.  I'm disappointed in my team and my country, and if the result of this tournament still fails to allow for us to have respect for other hockey playing nations I sincerely hope it at least manages to lower the overwhelming pride that has now been unjustified for 3 consecutive years.
Canada has not placed 1st in the last three World Junior tournaments, losing to Russia and the United States in gold medal games and will finish no better than 3rd this year.
Since NHL participation began in the Winter Olympics in 1998, Canada has received gold twice and finished without a medal twice.  Finland has medaled three times.
The IIHF World Hockey Championships has been won by Canada 24 times, good for 2nd behind Russia's 25.
"As a people, we know what we can do, we know how to do it, and we just want to get on with it.  How?  By ensuring that Canada's place in the world is one of influence and pride."- Paul Martin
"American history contains much matter for pride and congratulation, and much matter for regret and humiliation."- Herbert Croly