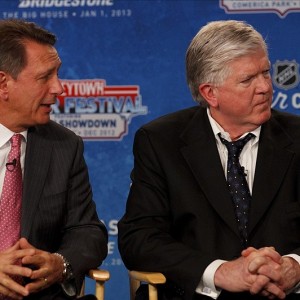 While Brian Burke has done some very good things in trying to rebuild the Leafs into a playoff team, there is also the flipside – he's also made some terrible deals and signings. He's miscalculated in terms of talent evaluation, and as a result, he's acquired players who were perhaps oversold to LeafsNation, resulting in expectations not being met. While some of his 'big deals' and free agent signings have worked out in his favour, some certainly have not. No one can be perfect, but for long-suffering fans of the Leafs, deals that don't help Toronto only add to their frustration.
Here are Brian Burke's worst 5 transactions while in Toronto so far.
5. September 18, 2009 – Toronto acquires the rights to F Phil Kessel from BOS in exchange for 2010 first round draft selection (#2 F Tyler Seguin), 2010 second round draft selection (#32 D Jared Knight) and 2011 first round draft selection (#9 D Dougie Hamilton)
What TOR gave up: On the face, the Leafs gave up three draft picks, two of which turned out to be top-10 in consecutive years. It meant that in 2010, Toronto, a non-playoff team, did not select until pick #43 (F Brad Ross), a pick they had to trade prospect Jimmy Hayes to Chicago to get. In 2011, Burke again had to make trades just to get a selection in the first round.
Note, Burke was forced to make further deals in order to make the Kessel trade. Toronto's 2010 second rounder had been sent to Montreal in the Grabovski trade, subsequently dealt to Chicago, and Burke needed that pick to consummate his deal with Boston. On July 1, 2009, Burke sent Pavel Kubina and Tim Stapleton to Atlanta for Garnet Exelby and Colin Stuart. On July 27, he sent Stuart, along with Anton Stralman and a 7th round pick in 2012 to Calgary for Wayne Primeau and Calgary's second round pick in 2011. Then, on September 9, he packaged that second round pick with a 3rd round pick to get back Toronto's own 2010 second round selection.
What TOR got: In Kessel, the Leafs got a young sniper – an offensive threat which had been lacking for some time. He's not a consummate leader, and in his first few seasons some wondered if he had a true desire to 'win at any cost', especially as he seemed to lack any sense of defensive play. Burke felt Kessel was one of the best goal scorers in the league, with room to grow perhaps into an elite point-getter.
Today: This trade has been dissected and will continue to be, in part because Kessel, Seguin, Knight and Hamilton are all still quite young. In all, Toronto traded Kubina, Stapleton, Stralman, 2010 1st round pick (Seguin), 2011 1st round pick (Hamilton), 2011 3rd round pick (D Michael Paliotta) and 2012 7th round pick in return for Exelby, Primeau, and Kessel, with Stuart and the 2010 second round pick simply passing through Toronto's possession. Kessel been good – three consecutive 30+ goal seasons, and hit a career high 82 points in 2011-12. He's matured as a player, improving defensively, playing with more passion – he's performed as advertised. It's difficult to say whether Seguin or Kessel will prove better based on a complete career, or whether Knight or Hamilton will prove NHL regulars. Still, this deal will likely haunt Burke, and define his Toronto tenure. For many, the Leafs had far greater needs at the time than a young sniper. Kessel is a player who could prove dangerous on a solid team, but his efforts are somewhat wasted when the team he plays for is weak defensively and in net. Further, Burke gave up 3 draft selections, one of which was the second overall. And even further, consider that Kubina, Stapleton and Stralman all still play in the NHL, while Exelby and Primeau no longer do. It's not a reflection on Kessel, but Burke likely gave up the better opportunity to improve his team in the long-term. Kessel is a nice player, but Primeau and Exelby were not part of the future, while Seguin, Knight, Hamilton, and even Stapleton and Stralman might have been.
4. June 30, 2010 – F Viktor Stalberg, F Chris DiDomenico and F Philippe Paradis traded to CHI in exchange for F Kris Versteeg and F Bill Sweatt

What TOR gave up: Stalberg had looked like he would stake a claim for a regular forward spot with the Leafs. The big speedy wing had 9 goals and 14 points in 40 NHL games and over 30 points in 39 Marlies games during 2009-10. DiDomenico was more of a project, a small player who could have an outside chance, but needed time in the minors. Paradis had been acquired by Burke only 6 months prior from Carolina in return for Jiri Tlusty. He had size but as a junior, was still developing (though his offensive totals had steadily been increasing).
What TOR got: Versteeg was seen by some as a player with offensive skills and some grit who perhaps was being stifled by Chicago's incredible depth at forward. Upon his arrival in Toronto, some thought he would line up on the other side of Kessel to give the Leafs 2/3 of a top line. Sweatt might have been a physical presence on wing ticketed for the minors, perhaps in Burke's mind a direct replacement for what Paradis might have been.
Today: In the end, it never quite worked out for Toronto. Chicago got Stalberg, who had 22 goals and 43 points in 2011-12, emerging as a very decent top-9 forward. DiDomenico and Paradis remain with the Blackhawk organization in the minors. Versteeg's numbers were consistent with his years in Chicago, but something wasn't right. He never meshed with Kessel, and ended up playing what amounted to third line. There were denials that management expected him to be a first-liner, but before the year was out, Versteeg was moved to Philadelphia for a first round draft choice (which the Leafs used to draft Stu Percy). Sweatt did not sign with Toronto, inking with Vancouver about two months after the trade. Percy looks like he may develop into a good NHL defenseman, but in the end, Burke dealt 3 young forwards (2 of whom, Tlusty and Stalberg, are playing NHL games) for a prospect who is still a couple seasons away.
3. July 1, 2009 – Signed D Mike Komisarek to a 5-year, $22.5M contract

What TOR gave up: A fairly significant amount of cap space, and a roster spot on the blueline.
What TOR got: Probably significantly less than Burke thought he was getting. There can't be any doubt Burke felt Komisarek as at worst a 2nd pairing defenceman. But Komisarek has been injured or ineffective mostly, not the steady, hard-rock type defender Burke thought he'd signed.
Today: Consensus seems to be that Komisarek was effective in Montreal because he played with a great in Andrei Markov. Others contend he actually wasn't even that effective. And others might believe he just didn't fit into the system of Ron Wilson. Whatever the case, Komi has become a lightning rod for the fans' anger, an example of Burke's tendency to over-evaluate and overpay a player he's fixated on. Certainly, the issues on the Leaf defence do not all start and end with Komisarek, but it's difficult to ignore the contract amount and length, and that it was supposed to be one of Burke's first significant moves to improve the club. With 2 full seasons and a no-movement clause remaining, the hope will be that defensive-minded coach Randy Carlyle can find a way to make Komisarek an effective blueliner in Toronto, or that Burke will find a taker for the contract in order to free up some cap space. But unless Komisarek can turn things around, it amounts to a bad signing by the general manager.
2. July 7, 2010 – Signed D Brett Lebda to a 2-year, $2.9M contract

What TOR gave up: A little cap space, and a roster spot on the blueline.
What TOR got: Significantly less than Brian Burke thought he was getting. Lebda came to Toronto as a defenseman with over 300 regular season and 60 playoff games to his credit, and like others mentioned (Exelby, Komisarek) was to lend stability and experience to a blueline that had youngsters like Luke Schenn and Carl Gunnarsson playing regularly. The thing is, Lebda was a 3rd pairing guy, playing in Detroit behind guys named Lidstrom, Chelios, Rafalski, etc.
Today: The Lebda signing may not have cost as much or been as long a contract as Komisarek, yet Lebda was even less effective than Komisarek.He was mistake-prone, and played in only 41 games, garnering a -14 rating, worst among Leaf defensemen. It seemed apparent that Lebda, like Komisarek, was not nearly as good as he'd appeared, that playing on a strong team like Detroit might have shielded his weaknesses, but on a blueline with other issues, he was exposed. Frankly, perhaps not much should have been expected out of the signing. But, as Burke has said, he believes in a strong defence… he must have thought Lebda's experience and abilities would help. Instead, Lebda was often singled out as among the worst Leafs whenever he played.
In another of those "I didn't think he would be able to…" deals, Burke managed to package Lebda and AHLer Robert Slaney to Nashville in return for Matthew Lombardi and Cody Franson. He was cut loose by Nashville, eventually signing with Columbus during the 2011-12 season.
1. July 1, 2009 – D Pavel Kubina and F Tim Stapleton traded to ATL in exchange for D Garnet Exelby and F Colin Stuart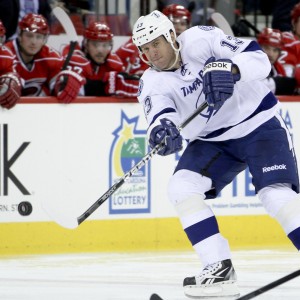 What TOR gave up: Kubina was an adequate defenseman in Toronto, though his effectiveness as a powerplay producer was hampered by the presence of Tomas Kaberle and Bryan McCabe being on the first unit. Still, in 3 Toronto seasons he accumulated 101 points, though he was dubbed one of the Muskoka Five due to his contract and no-trade clause. Stapleton, a mid-20s former US college player, had returned to North America from Europe and played 70 Marlie games, tallying 79 points.
What TOR got: Exelby was brought in by Burke to provide some of his desired "pugnacity, testosterone, truculence and belligerence". Like Stapleton, Stuart was a former US collegian who had spent most of his career in the minor pro leagues.
Today: The deal was a salary dump, though in many ways Toronto ended up on the short end. Stuart was packaged off almost immediately in Burke's machinations to make the Kessel deal work (see above). Exelby played in 51 Leaf games, and was never a particularly effective blueliner. He left Toronto as a free agent and has played in the AHL ever since. Stuart was moved almost immediately. Meanwhile, Pavel Kubina has declined somewhat, but remains an NHL defenseman, playing over 22o games for Atlanta, Tampa and Philadelphia. Stapleton remains with the Atlanta/Winnipeg organization, and played 63 games in 2011-12, amassing 27 points and a plus-10 rating.
It's fair to say that perhaps neither Kubina nor Stapleton fit into Burke's plans for the franchise, but even taking salary into consideration, it wouldn't be unreasonable to think there were better returns available for these 2 players. In fact, Kubina alone garnered an AHL player and 2 draft picks for Tampa when he was moved to Philly.
Every general manager will admit he's made a poor deal along the way. Sometimes things just don't work the way they were drawn up. But as Brian Burke's first few years mount up, and his Leafs have continued to miss playoff action, it's fair to say he has made his share of poor decisions.