The New Jersey Devils have faced a lot of hurdles since not making the playoffs in the 2010-11 season. There were trade rumors and speculation surrounding their now-captain, Zach Parise. Stories of their financial problems floated around the media. Many didn't understand why Martin Brodeur wouldn't just retire, as he was no longer playing like the elite goalie he once was.
But throughout the playoffs, the Devils have put all of their naysayers to rest. After dispatching the Florida Panthers in the first round, they knocked off a Philadelphia Flyers team that boasted Claude Giroux, who would still likely be in the Conn Smythe Trophy race had the Flyers advanced. That Philadelphia squad also had outstanding young talents in Sean Couturier and Matt Read.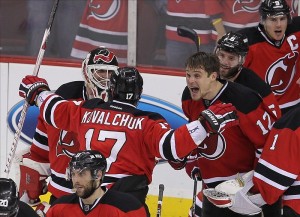 Now, New Jersey is on the brink of its first Stanley Cup Finals appearance since 2003, when it also won their last title. Its ability to overcome obstacles will be crucial to wrapping up the series against the New York Rangers.
The Devils have shown resiliency in spades against the Rangers. They were shutout 3-0 in both Games 1 and 3, but found ways to bounce back and win Games 2 and 4.
In Game 2, Ilya Kovalchuk scored a power-play goal, and David Clarkson scored his third goal of the playoffs (all of which were game-winners) to give New Jersey a 3-2 win and a series tie. This was in spite of the fact that the Rangers had two power-play goals of their own.
Then, in Game 4, Zach Parise tallied two goals to help give the Devils a 4-1 win. Defenseman Bryce Salvador had his third goal of the postseason, and Travis Zajac added a tally. This caused the Rangers to lose their cool, as Mike Rupp punched Brodeur, setting off an on-ice scrum. John Tortorella also got into it with Devils coach Peter DeBoer at the teams' benches.
New Jersey took advantage of New York's short fuses and carried the momentum to a 5-3 win in Wednesday's Game 5. The Devils got goals from five different players (Parise, Zajac, Stephen Gionta, Patrik Elias and Ryan Carter) and had a 3-0 lead before the 10-minute mark of the first period. The Rangers tried to cut the lead down with goals from Brandon Prust, Ryan Callahan and Marian Gaborik, but woke up too late, just as they had in Game 4.
This journey has been in the making ever since the end of last season. New Jersey missed out on the 2011 playoffs with a record of 38-39-5 and 81 points, which put it 11th in the Eastern Conference and fourth in the Atlantic Division.
The Devils took their lumps, but refused to start a disturbing trend. With DeBoer taking over and adding a new approach to the team's game, they turned things around and finished the 2011-12 season sixth in the conference and fourth in the division with a record of 48-28-6 for 102 points.
Aside from the Devils' refusal as a whole to give up, some of the individuals on the team have written their own stories of triumph this postseason.
Zajac only played 15 games in the regular season due to an Achilles injury, posting just six points. Now, he is third in the NHL with seven goals in the playoffs and eighth with 12 points.
Parise missed all but 13 games of the 2010-11 season with a knee injury and the necessary recovery time with surgery. He played all 82 games this regular season, posting 31 goals and 69 points. He was also fourth in the league with three shorthanded goals. He has continued that run in the playoffs, ranking third with seven goals and fifth with 14 points.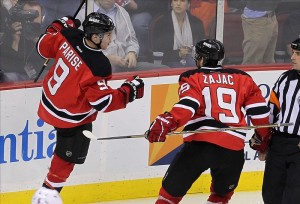 Kovalchuk is experiencing the first significant playoff success of his career, ranking second in the NHL with 16 points and first with four power-play goals and 10 assists. This follows a regular season where he was sixth with 37 goals and fifth with 83 points.
Brodeur still hasn't decided on his future beyond this season, but he is showing that he is still a clutch playoff goalie. Currently, he has a record of 11-5-1, good for second among playoff goalies in wins. He is also eighth with a .921 save percentage and sixth with a 2.04 GAA.
All of these things have led to a Game 6 tonight at a sold-out Prudential Center. The Devils have not let their rivals keep them down for long, and now, they are in the driver's seat. If they can pull out the win and advance to the finals, the physical pain and Henrik Lundqvist's two shutouts will be distant memories, but also great stories of how the Devils got their groove back.