It all began with New York Rangers Coach John Tortorella dismissing the media. Snubbing, harassing, and taunting have spread into the Rangers-Devils series igniting a feud between coaches and players. Criticized heavily in the media for a ho-hum series, it seems that Peter DeBoer and the Devils are more than happy to liven up the series. Trumping the Rangers with a 3-2 series lead will most certainly fuel the fire.
Though his media tactics berate a notable group of professional journalists, Torts has turned himself into a stomping angry man who could preserve some integrity in this matchup. Sparking a shouting match with Devils coach Peter DeBoer over the incident involving New York's Mike Rupp and New Jersey's Martin Brodeur was just another incident of intolerance. The "sucker punch" was not much to ruffle feathers, but suspension talk hyped the action and brought about rivalry reaction. Rupp is played to get in the way, to dishevel the opponent by evidence of his 13 fighting majors during the regular season.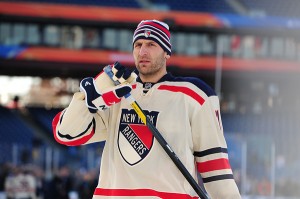 Goaltender Martin Brodeur and Mike Rupp's encounter, spurned a battle between both teams and the animosity grew, and grew. While the Devils ran the show, the Rangers had a meltdown. The possibility of grinding out the next win is plausible, if New York can win in New Jersey.
For fans of the game in New Jersey, lines were drawn in sports bar. Rangers fan and Devils fan sat at the same table, shared the same pitcher of beer, and reminisced about the last Stanley Cup. Devils fans were in their glory for Game 5 and head into Game 6 quite confident. Die-hard Rangers fans know the drill and know the deed can be done.
Losing three straight Game 2s after series-opening wins had many doubting, but then New York won all three Game 4s following victories in Game 3s. The Rangers have won two in a row only once in 18 in playoff games and have just one two-game losing streak in the postseason. However, they are 3-0 when on the brink of elimination. And it looks like New York in on the brink.
"We've been here before," said Rangers coach John Tortorella.
Regular-season leading goal scorer Marian Gaborik needs to get hopping, as well as top-liner Brad Richards who seemingly had some sparks early on. Why do the Rangers look so confused? In Game 5, both teams panted their way through three periods. Both teams played a game worthy of their talents, but New Jersey has put the issues and antics aside.
Now the rebound efforts settle on the battle of Henrik Lundqvist and Marty Brodeur. Lundqvist has been the savior plenty of times. King Henry can be counted on to save New York from elimination, as he has done for the fourth time in the Stanley Cup Playoffs. Hank has only lost three straight games twice, both early in the season, plus he hasn't lost three straight since the middle of last season.
If and when the Rangers win Game 6, then Game 7, their work still needs to improve greatly. New York is 10-9 in the postseason when facing a sixth, seventh and eighth seeds. The Los Angeles Kings are 12-2 against first, second and third seeds, which isn't great news for the rebounding Rangers.
The Rangers have a problem closing out a series. To be champs, they must play like champs. When they don't win, they need to act like champs, not chumps.