Brian Burke has been with Toronto since November, 2008. For many, he came to a team that had precious little desirable talent playing at the NHL level, and the franchise was lacking top-level prospects. He's turned the roster over completely – no one who ended the 2007-08 season having played a Leaf game remains. While the Maple Leafs still haven't reached the playoffs, the team has at times been quite competitive. Further, the AHL affiliate Marlies have reached the conference finals, and could well contend for the Calder Cup. It may not be as much as LeafsNation would like, but the franchise is in better shape now than it was when John Ferguson Jr. was running the ship.
One weapon in Burke's repertoire has been 'the big trade'. He's not afraid to use it, and some results have been positive. The g.m. has been able to move out a number of players who did not fit the long-term plan, and in return, he's acquired some very useful assets.
Here are Burke's five best moves during his stay in Toronto.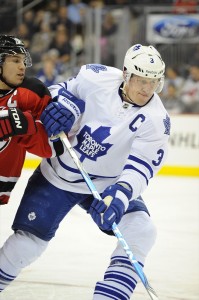 5.  January 31, 2010 – F Matt Stajan, D Ian White, F Nik Hagman and F Jamal Mayers traded to CGY in exchange for D Dion Phaneuf, F Fred Sjostrom and D Keith Aulie.
What TOR gave up: In a nutshell, Toronto gave up some 'ok' NHL talent, but little that would be key to a Leaf rebuild. Stajan was in his 6th Leaf season, but had never scored more than 16 goals or 55 points. He struggled to fill even a second-line role. White on the other hand was developing in a decent defender – some gritty play and a pretty good offensive ability (he had 26 points in 56 games as he was traded, matching his career high). Hagman was providing adequate 3rd line play, while Mayers was a good if unspectacular 4th line player with some fighting ability.
What TOR got: Phaneuf, who began his career with such promise, was struggling under the weight of a huge contract. Burke felt a change of scenery would help his recapture his tough, offensive style of play. Sjostrom was to provide penalty-killing and 3rd-line stability, while Aulie was a top defensive prospect with size, who Burke felt woould be an important part of the Leaf blueline down the road.
Today: Only Stajan remains in Calgary, where he has largely been a bust, playing 3rd line minutes or sitting as a healthy scratch. White was moved to Carolina, and then to San Jose before settling in Detroit, where he has been a good 2nd pair blueliner. Hagman's numbers have declined greatly, and now plays for Anaheim, while Mayers moved as a free agent to San Jose then on to Chicago.
For the most part, the success of this deal lies in that Burke was able to move out four players and get something back. Phaneuf was quickly named captain in Toronto, though he has not consistently played at the level hoped for. Phaneuf does represent a large salary cap hit, and some have questioned his abilities as a captain, but he did have an all-star worthy first half of 2011-12. Sjostrom played just over a season and was largely ineffective as a defensive forward (and only scored 10 goals over 85 games). Aulie played half a season with the Leafs, but mysteriously dropped down the depth chart and was moved at the 2012 trade deadline for big-body forward prospect Carter Ashton.
4. February 18, 2011 – D Tomas Kaberle traded to BOS in exchange for F Joe Colborne, 2011 first-round pick (#30 – Richard Rakell) and conditional 2012 second-round pick.
What TOR gave up: Kaberle had become an interesting case in Toronto. A good puck-moving defenceman who frustrated fans with his reluctance to shoot. An important blueliner who lacked any sort of physical game and at times made terrible decisions. A link to previous playoff years and a valuable trade-commodity who carried a long-term deal with a no-trade clause. Kaberle was viewed as the player who could bring the most back in a trade, however as time moved on, many wondered if Burke could actually get value back for a player who was perhaps declining in his ability to be an impact player, though he was still a consistent 40-50 point player who could bolster a powerplay.
What TOR got: A 2008 first round selection of the Bruins, Colborne was targeted by Burke as a big-body forward player. Despite his large frame, Colborne is not known as a physical player, though he does have some good offensive skill. He is still something of a project, not quite ready for the NHL even in 2012, though he has shown flashes. The first round pick in 2011 gave Toronto 2 selections (along with Philadelphia's 2011), having traded their own to Boston for Phil Kessel. The second round selection was realized when the Bruins made the Stanley Cup Finals in 2011.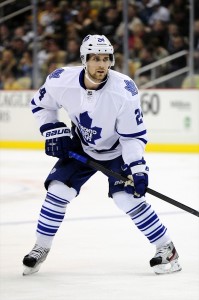 Today: Despite winning the Cup, Kaberle did not provide the impact Boston was hoping for. He was merely adequate, and Boston chose to let Carolina sign him to a 3-year contract ($4.25M cap hit). After less than half a season, Kaberle was struggling with the 'Canes and was moved to Montreal where he's played fairly well. Colborne remains with the Leaf organization, and will get a chance at training camp to move to the NHL full-time, though he has not progressed as quickly as hoped. The first round selection was traded (along with Toronto's second round choice, #39 John Gibson) to ANA for the #22 selection, which Toronto used to take Tyler Biggs. Biggs is another large winger with a bit of an edge, projected as perhaps a gritty 3rd line forward. The second -round selection from BOS was moved to COL in return for John-Michael Liles. Liles is essentially Burke's replacement for Kaberle, a veteran puck-mover, not very physical, but who can provide offense and powerplay duty. He was extended with a 4-year deal, 2 years longer than Kaberle's deal, but about $400,00/yr less. He struggled a little after returning from concussion, but should be an important blueline fixture.
3. July 2, 2009 – Resigned F Mikhail Grabovski to a 3-year, $8.7M contract.
What TOR gave up: Nothing except some cap room, Grabovski was already in he Leaf organization, acquired by Cliff Fletcher for a pick and a prospect from Montreal.
What TOR got: At first, there was some question as to whether Grabovski, who had scored 48 points in his first full Toronto season, was worth the $2.9M/yr hit, as at times he appeared inconsistent, immature and out-of-control. His 2009-10 season was interrupted by injury, and he had only 35 points. However, 2010-11 saw Grabovski evolve into the organization's best centreman, as he posted 58 points and a +14. After a slow start, he and linemates Clarke MacArthur and Nik Kulemin were the best trio the Leafs had. Grabovski followed that up with a 51 point season in 2011-12. Despite the signing of Tim Connolly, the decent play of Tyler Bozak and the acquisition of David Steckel, losing Grabovski would have drastically thinned an already sparse group of centres.
Today: Burke and Grabovski agreed to an extension of 5 years at $27.5M long before the free agency period. While he is not the same bargain he was, Grabovski remains an important part of the Leaf forward group, and fans are hopeful he can continue to produce at the pace he has been.
2. January 31, 2010 – G Vesa Toskala and F Jason Blake traded to ANA in exchange for G Jean-Sebastien Giguere.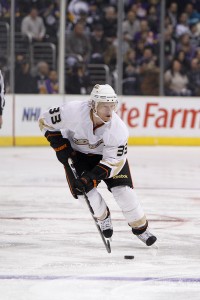 What TOR gave up: At the risk of being uncharitable, Burke found a way to unload two players who simply could no longer continue in Toronto. Toskala may be remembered as one of the worst goalies to ever play in the city, and one of JFJ's worst trades. Blake, who won a Masterton Trophy as a Leaf, was signed by JFJ to a rich contract after a single 40-goal season, a level he could never come close to again. Fairly or not, Toskala and Blake represented what was wrong with the Leafs as Burke arrived.
What TOR got: Burke acquired Giguere to solidify the Leaf net. Giguere had been replaced by Jonas Hiller in Anaheim, and some thought his career may be waning. While he did not provide the same kind of impact other big-name goalies like Fuhr, Joseph or Belfour had on the Leafs, he was a fairly solid goalie when he was healthy. Unfortunately for the Leafs, he often was not. Over a season and a half, Giguere appeared in only 48 games, with a 17-18-6 record.
Today: Unsure of Giguere's ability to bounce back at 35, Burke let him walk as a free agent, choosing to run with Jonas Gustavsson and James Reimer for 2011-12. He played back-up for COL, posting a 15-11-3 record with a 2.27GAA and .919sv%. Still, the trade ranks among Burke's best for his ability to move Toskala (who appeared in only 6 more NHL games) and Blake (playing well, but not counted on as a primary forward), clearing up cap space and moving out 2 players who underperformed in Toronto.
1. February 9, 2011 – D Francois Beauchemin traded to ANA in exchange for D Jake Gardiner, F Joffrey Lupul, conditional 2013 draft choice (4th round).
What TOR gave up: Beauchemin was another former Duck that Burke won the Cup with, and Burke figured he would solidify the Leaf blueline. In terms of points, he was around his average career numbers. But, as with so many defencemen who come to Toronto, it seemed he became a turnover machine. For many observers, Beauchemin was not the same blueliner he'd been in Anaheim, likely because he was no longer playing behind guys named Pronger and Niedermayer. Certainly Beauchemin wasn't the only defenceman having problems, but a relatively low cap hit ($3.8M) and his experience made him an attractive trade commodity.
What TOR got: The key to the deal for Burke had to be Gardiner. Having come from Anaheim, Burke was quite aware if the depth in young defencemen Anaheim had, including Gardiner, Justin Schultz and Cam Fowler. The Ducks finally agreed to part with Gardiner, who interestingly was drafted immediately after Joe Colborne, who was made a Leaf 9 days later. Additionally, Burke had to take back a contract in Lupul. Burke had employed Lupul previously, and felt he knew what Lupul would bring, despite that the player had suffered complications from surgery and injury.
Today: Beauchemin is a solid contributor to the Ducks, and has been extended there. He's a veteran presence, though Anaheim did have it's problems overall, eliminated from playoffs the year he was traded, failing to qualify in 2011-12.
While the Leafs also missed the playoffs, the trade is as close to a homerun as it can be. Gardiner won a roster spot of out the 2011-12 training camp, and played 75 games, scoring 30 points in his rookie year. He is currently with the Marlies attempting to win the Calder Cup, and should be a fixture in Toronto for years to come. He has noticable offensive ability, though as with many young blueliners, he needs to improve defensively to be a great NHLer. Lupul clicked with Phil Kessel, and scored a surprising 18 points in his first 28 Leaf games. In 2011-12 he scored a career high 67 points in 66 games before being sidelined with injury, and is currently pegged to return to the Leaf first line.
Granted, not every one of these deals worked exactly as Brian Burke would have hoped. Still, it can be seen that the g.m. has been able to rid the franchise of some terrible contracts, and acquire some good talent that forms something of a core to build around. The task is not complete of course, but to his credit, Burke has made some bold choices. In these 5 cases, it seems to have worked for the better.