"The New Jersey Devils winning the Stanley Cup? They haven't been that good in years!"
That seems to be the common opinion floating around hockey circles lately with regards to the Devils and their chances of winning the Cup this year, especially compared to the remaining competition.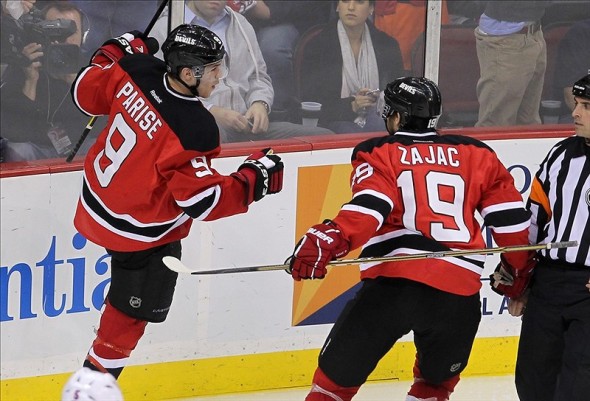 Hell, the Los Angeles Kings and their supporters have pretty much mounted their horses and embarked upon their royal procession eastwards to New York, not seeming to notice the pack of hungry Coyotes still chasing them.
On Monday night the Devils delivered a calibrated, methodical 3-1 win over the Eastern champion New York Rangers, frustrating them at every turn. The win ties up the Eastern Conference finals at 2-2 heading back to Madison Square Garden.
But is it enough of a statement for the Devils' critics to take the team seriously?
Nobody thought much of them when they quietly finished a respectable 6th in the East during the regular season with 102 points, nor was their much flutter when they bested the newly-not-awful Florida Panthers in 7 games in the opening round.
Even after the Devils needed only five games to snuff out the flames of the fiery Philadelphia Flyers, who were considered by most as Cup favourites after running roughshod over the highly acclaimed Pittsburgh Penguins, few expected the team to be able to best King Henrik and his merry entourage of loyal shot-blocking noblemen.
But, here we are, the series now becoming a Best of Three, with the Devils holding a legitimate shot at making the finals again for the first time since 2003, much to the surprise of everyone.
Maybe everyone expected the Devils to dissolve after the lockout, floating in the wake of their once proud Dead Puck Era dynasty with the continued and inevitable decline of Martin Brodeur, and the losses of defensive leaders Scott Stevens and Scott Niedermayer.
Who could blame them for entering tough times? All once-proud dynasties must face the music sooner or later, right? I mean, who do they think they are, Detroit?
However, full credit has to go to New Jersey GM Lou Lamoriello, who has done a remarkable job of keeping this Devils team competitive even after the departure of past team leaders. While they might not have the oft-ballyhooed size of the Kings or shot blocking of the Rangers, the Devils have something not quite as flashy, but just as valuable: balance.
Their offence isn't great, but it's just good enough.
Their defence isn't great, but it's just good enough.
Their goaltending isn't great, but it's just good enough.
Their special teams aren't great, but they're just good enough.
What makes the Devils so dangerous on any given night is that the team has such balance and so few weaknesses to exploit, and that they're stonewalled in their execution of their system. The Flyers, for all their rough and tumble, couldn't knock the Devils off their game, and wound up losing with Claude Giroux suspended in game 5.
Late in Monday's game versus the Rangers, New York forward Mike Rupp gave a pugilistic shove to Brodeur after a whistle, and during the ensuing barnyard dance on the ice Rangers coach John Tortorella and Devils coach Peter DeBoer exchanged verbal pleasantries across benches. That's about as much as you'll see the Devils ruffle their feathers, but it was painfully clear that the Rangers are the far more frustrated team right now.
Again, credit goes to Lamoriello. He took a lot of heat for the 17-year signing of Ilya Kovalchuk in 2010, but to in his defense the team would not be this far were it not for Kovie's team-leading 14 points. Nor would they be here without hiring DeBoer, who turned out to be a perfect fit for this team right now. Even New Jersey's fourth line of Ryan Carter, Stephen Gionta and Steve Bernier, all shrewd  pickups by GM Lou, has been giving the team everything that they could ask for out of a fourth line.
And then there's Marty. Even at age 40 and after winning pretty much everything that he can possibly win during his career, one of the league's best goaltenders ever can still steal games when his team needs him to.
While they still have a long, difficult road ahead of them if they are to win the franchise's forth Stanley Cup , the New Jersey Devils are no fluke. They might have gotten this far quietly, but it's getting harder and harder to ignore a strong, proud team that's out to prove that it's dynasty years are far from over.
Derek Neumeier primarily covers the Dallas Stars, but also other various topics related to the sport of hockey. A Journalism graduate of Mount Royal University, Derek also writes for Defending Big D, and has done previous work with the Edmonton Oilers as a communications intern and Hockey Canada as a freelance writer. You can follow him on Twitter at @Derek_N_NHL