In a sport as grueling and demanding as hockey there are certain traits that all successful teams share. Looking beyond the obvious, and required, luxuries of possessing star-level talent and consistent goaltending allowing teams to reign atop the league standings in a given season, there must also be a potent mix of grit, size, depth and the oh-so-important ingredient known as the "intangible".
These requirements, or lack thereof, generally manifest themselves during the Stanley Cup playoffs, when physical play is ramped up several notches and the reliance on secondary scoring is heightened. For teams that find themselves on the outside looking in come springtime hockey, such as the Anaheim Ducks, glaring weaknesses reveal themselves sooner rather than later and swift action needs to be undertaken in order to rectify the problem areas.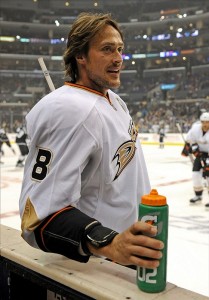 The predicament Anaheim is now faced with in the suddenly, ultra-competitive Pacific Division, is how to go about addressing their needs. With free agency the only truly viable option with regards to retooling, precautions need to be taken. The imminent departure of Jason Blake and his baggage (his $4 million salary) is a welcome sight, but Anaheim must allocate that money in a more financially stable investment.
On the other side of the equation, if ageless wonder Teemu Selanne retires, while his $4 million salary will be off the books, Anaheim will lose its leading scorer creating a sizable void on the power play and within the top-six forward contingent. It is unlikely that Selanne would once again lead the team in scoring provided Ryan Getzlaf and Corey Perry bounce back, but his offensive skill is sorely needed on a team that lacks a plethora of secondary scoring.
As for size and toughness, Anaheim will have decisions to make on enforcer George Parros and hard-nosed defenseman Sheldon Brookbank. Both players bring some much needed snarl to the team, but with the game seemingly beginning to phase out one-dimensional players, investing moderately would be prudent should they choose to resign either.
Thus, the Ducks find themselves in a state of flux. The team does possess enough legitimate talent to bounce back and become a playoff team as soon as next season, but in order to ensure they take the next step they'll have to spend wisely come the free agency period. The hand of Anaheim's management team will be forced by the uncertainty of whether or not youngsters such as Devante Smith-Pelly and Matt Beleskey can contribute regularly behind the Getzlaf line. While not a certainty yet, it appears Beleskey is destined to become a role-player, whereas Smith-Pelly will likely contribute offensively, but not enough to merit top-six minutes.
Emerson Etem will be afforded every opportunity to make the big squad next season, but as talented as he is, depending on a rookie to provide you with a large amount of secondary scoring is akin to playing with fire, especially when you have legitimate playoff aspirations. Ditto for Kyle Palmieri, who can certainly chip in offensively, but is nowhere near ready to assume a scoring role.
The blueline isn't necessarily bad per se, but while Francois Beauchemin and Toni Lydman are steady, upgrades are needed if the Anaheim is going to compete with the likes of the Los Angeles Kings and the upstart Phoenix Coyotes. With the Kings icing big forwards such as Anze Kopitar, Dustin Brown and Dwight King, not to mention Jeff Carter and the small, but physical Mike Richards, size on the blueline will play an integral role in containing them. Alternatively, when playing teams deploying skilled, speedy and agile lines up front, size and physicality will allow Anaheim to wear the opposition's best players down.
Since Anaheim needs to bide its time before players such as Etem and Palmieri make the transition to the NHL and contribute regularly, they'll need to sign players who can be stop-gap measures as they continue to develop their prospects "in-house". However, with the free agency market weak this off-season, they need to maintain a sense of frugality in order to avoid overspending in a market that lacks a modicum of saturation at any position.
Offensively, a return to Anaheim for Dustin Penner would make sense, but only at a lesser salary than the $4.250 million he took home during the 2011-12 campaign. Penner would be a perfect fit on the second-line due to his size and scoring touch, but lusting after a mercurial, inconsistent player has potential for disaster. Combined with a weak free agent market and a strong playoff performance from Penner thus far, it's likely he's out of Anaheim's price range.
A better option may be David Jones, who despite not being the most physical player, possesses a nice combination of skill and size. Other players that would be good fits that may check in at $2 million or less are Alexei Ponikarovsky, Daniel Winnik and Daniel Paille. None of those players would be considered a notable addition, but they would serve their purpose well, adding much needed size and depth up front as the next flock of Ducks continue their development.
On the defensive end, Brad Stuart should be a target. Due to family issues he'll be looking to finish his career in California and although San Jose is the rumored destination, prying him away from a divisional rival would be a tremendous coup for Anaheim. Stuart brings a nice mix of size, skill and physical play to the table, while his ability to mentor Cam Fowler and Luca Sbisa would be valuable as well.
Prying away Barret Jackman from the Blues might prove difficult, but he also has the size and strength that Anaheim so covets. Hal Gill and Bryan Allen are also options that should be considered with respect to getting bigger, stronger and more physical on the back-end.
While the pickings will be slim for Anaheim this summer, their top-end talent can carry them to the playoffs provided the supporting cast is improved slightly and does it part next season. Anaheim will be active in their pursuit of addressing their needs and will likely target veterans with cheap price tags willing to accept short-term deals, which is precisely what the Ducks need as they await for a skilled, but inexperienced group of prospects led by Emerson Etem to arrive.
Ryan Fulford is an up-and-coming hockey writer who relishes the opportunity to confront, and dissect, the game's most controversial and pressing issues. Dedicated and ambitious, he strives to marry originality with journalistic integrity to provide readers with unique insight and analysis. In addition to his work with THW, he writes for The Good Point and Bleacher Report. Follow him on Twitter @dryanfulford.