In hockey (or any sport for that matter), it's a "what have you done for me lately" business. No one has time to relish the memories of years past when it comes to making personnel decisions.
When the Boston Bruins missed the playoffs last season, someone would be left to face the wrath of upper management. Unfortunately for then-general manager Peter Chiarelli, it was he who got the axe.
Highly questionable personnel decisions (cough, trading Tyler Seguin and Johnny Boychuk, cough) and an over-reliance on his core group of players (exhibit A: Chris Kelly) was his downfall just two seasons after the Bruins were two wins away from their second Stanley Cup in three years. It was a meteoric fall from grace going from a Stanley Cup contender to a playoff pretender at the drop of a hat.
However if we rewind the clock back ten years, think about where Boston was. They were the laughing-stock of the League after the 2004-05 lockout, spending two seasons closer to the NHL basement than the playoff bubble. Then came May 26, 2006 when Chiarelli was the guy pegged with the responsibility of resurrecting the Bruins back to prominence.
It took some time but the man from Harvard did his part in reviving the Black and Gold from the doldrums of mediocrity.
Laying The Foundation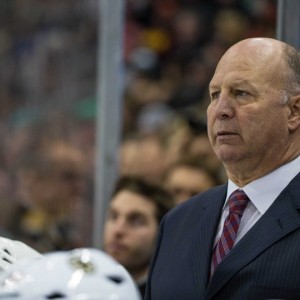 Chiarelli's first significant trade in laying the groundwork for that 2011 Stanley Cup took place in February 2007, when he used two pieces from the infamous Joe Thornton trade (Brad Stuart and Wayne Primeau) to acquire Chuck Kobasew and character defenseman Andrew Ference from Calgary.
It's no secret the Bruins needed help on the blue line. They had been one of the NHL's worst defensive teams in the two seasons after the 04-05 lockout and signed now-captain Zdeno Chara to patch up a leaky defense. In Ference, Boston got a gritty, tough blue liner who was stout in his own zone and a true locker room presence.
In the summer of 2007, Chiarelli dumped Dave Lewis in favor of Claude Julien. The defensive-minded coach had an unproven track record of playoff success, including a firing at the hands of New Jersey Devils' GM Lou Lamoriello prior to the postseason in 2006-07. Right away, Julien gave the club a defensive identity as a tough team to play against while tightening the screw in their own zone. In just one season under their new coach, the Bruins went from 29th in goals allowed (285) to 11th (215).
As for Kobasew, he was flipped in October 2009 to Minnesota for Alex Fallstrom, the Wild's second-round pick in 2011 (Alexander Khokhlachev) and Craig Weller. It didn't seem like much at the time but Weller, who never played a minute in the NHL, was sent to Florida over six months later with depth forward Byron Bitz and a second-round pick in 2010 (Alex Petrovic) for Matt Bartkowski and Dennis Seidenberg.
Chiarelli identified that to have any type of success, he needed to bulk up the blue line. Sure enough, he did just that from the coach to the players he acquired to execute the system.
Horton's Heroes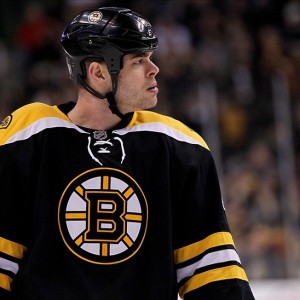 In the summer of 2010, Chiarelli once again pulled a rabbit out of his hat by going back to South Florida.  He acquired winger Nathan Horton, Gregory Campbell and Dennis Wideman from the Panthers for a first-round pick in 2010 and a third-round pick in 2011. The 6'2 Horton took his new digs like a fish to water scoring 26 goals in his first season on Causeway Street.
However, where he made his money was the 2011 Cup run. Horton scored arguably the most memorable goal on the playoffs by blasting an overtime slapshot by Montreal Canadiens goaltender Carey Price in Game 7 of their first-round series. So many things could have changed were it not for his heroics and three game-winning goals to get the Bruins to the Cup Finals.
Even after Aaron Rome's hit in Game 3, the team and city rallied around their fallen comrade to ride the wave to a title. Horton, Seidenberg, Campbell, Ference, and Wideman all got their name on the Cup while all Chiarelli traded away to get them was three draft picks and a bunch of depth forwards.
Talk about highway robbery.
"Well They're a Lock, Right?"
Through all the great trades, draft picks (Brad Marchand, Ryan Spooner, David Pastrnak, etc.) and free agent signings (Torey Krug, etc.), one of the more underrated memories of Chiarelli's time here was a simple press conference before Boston's 2013 Eastern Conference Finals matchup with the powerful Pittsburgh Penguins.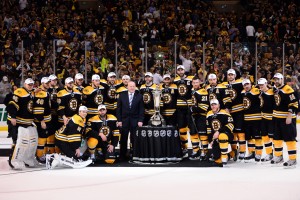 The Pens were the best team in the Eastern Conference in 2013 with the most prolific offense in the League during the regular season. They had managed to steal away Jarome Iginla from the Bruins in the dying hours of the trade deadline. They had Sidney Crosby, Evgeni Malkin, James Neal, and a full arsenal of weapons to attack Boston from all angles. So when asked about how his team could compete with the mighty Penguins, Chiarelli responded with the following:
"Well they're a lock, right?"
It turned into the Bruins' personal battle cry.
No one gave Boston a chance to compete with Pittsburgh yet Chiarelli instilled a belief in his players that not only could they compete with the Pens but could take them out. Many of the same pieces that won the Cup two years prior were the same faces that combined to restrict the Penguins to just two goals en route to a four-game sweep.
Chiarelli had a belief in his squad that they could slay the dragon. Those five words only echoed his sentiment. It remains one of the more memorable quotes during his stay in Boston.
With Edmonton paying their only visit to TD Garden on Monday night, it will be his first visit back to his old workplace. Chiarelli is now tasked with the responsibility of resurrecting another storied franchise in the Oilers back to the playoffs. Drafting Connor McDavid is a pretty good start but there's still much work to be done, particularly on the blue line as it was when he started on Causeway Street.
It may be easy to forget, but what Chiarelli did in Boston should be mostly commended instead of criticized. Thanks to his shrewd moves and patience, he saved the Bruins from the depths of despair and delivered a Stanley Cup to a region that had to wait 39 years to taste glory.
Joe is a writer covering the Boston Bruins. He is a lifelong native of Massachusetts and is currently a content writer/manager for a newsletter at a Human Services Agency. Joe can be found on Twitter: @JoeCherryTHW