There's arguably no one in the NHL who can attract negativity and harsh criticism despite solid play like Phil Kessel. Whether Kessel is scoring 35 goals in a season or having a down year, on pace for just 25, the views on his work never change.
He's lazy. He's soft. He has a poor attitude and he doesn't stay in tip-top shape like other professional athletes.
Of course, a lot of the criticism Kessel has faced came at the hands of a venomous Toronto media throughout his six-year tenure there. Recently, the Toronto Sun had the opportunity to ask Jim Rutherford, GM of the Pittsburgh Penguins and Kessel's current employer, how Phil has done so far since being acquired this past summer.
Phil's done OK. You always want more from him, because you know what the talent level is and how he can score.
Rutherford's comments seem to echo those of most Penguins' fans and media types. He isn't going to score 40 goals like so many anticipated, including myself. How could he not explode with scoring while joining such a star-studded team? If he nets 25 this season, which will tie his season-low throughout his tenure in Toronto aside from the shortened lockout season, the acquisition is a failure, right?
Wrong.
Points are Points, Production is Production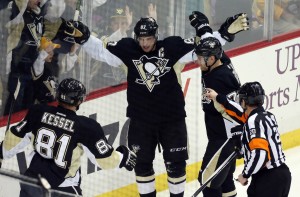 Kessel's lack of goal scoring is a common topic of conversation these days. As Rutherford stated, you always want more from him, mainly because you know he has the ability to be a top-5 sniper in the NHL. However, there are two things to consider, one of which is that the Penguins as a whole were a horrid offensive team through the first two months of the season. How much has that impacted his point totals?
To start the season, Kessel recorded seven goals and 15 total points through October and November, good for .65 points-per-game. During that stint, the Penguins were one of the lowest scoring teams in the NHL, with others such as Sidney Crosby and Kris Letang also failing to contribute.
However, since Jan. 1, Kessel has recorded 17 points through 21 games-played for a very respectable .81 points-per-game. He'd be working on a 66-point season with that pace. It isn't a coincidence that his production picked up when Pittsburgh started clicking under Mike Sullivan, along with so many others on this roster. He has been more of a playmaker in Pittsburgh than throughout his career so far, but points are points.
The bottom line is, under Sullivan, Kessel is producing. He shares the ice with Evgeni Malkin, Crosby and Letang on a consistent basis. In a season in which the league is recognizing its lowest goals-per-game since the end of the dead puck era in 2003-04, there's only so much scoring to go around.
Phil Kessel Isn't Completely Off the Hook
I mentioned that it's no coincidence we're seeing a boost in production from Kessel under Sullivan's tutelage. It also isn't a coincidence that his goal totals are down in a season in which he boasts a near career-low shooting percentage. In fact, a few weeks ago, he was clicking at a pace that was below his dismal 8.9-percent that he experienced in Toronto last season.
In Kessel's defense, shot quality in general was down throughout Mike Johnston's stint this season. Sullivan has been pushing Kessel to get between the dots and so far, it's paying dividends. His shooting percentage is slowly rising, as is his number of goals. Looking at the following chart via WaronIce.Com, it's easy to see why that has been a major area of focus for the Penguins' new head coach.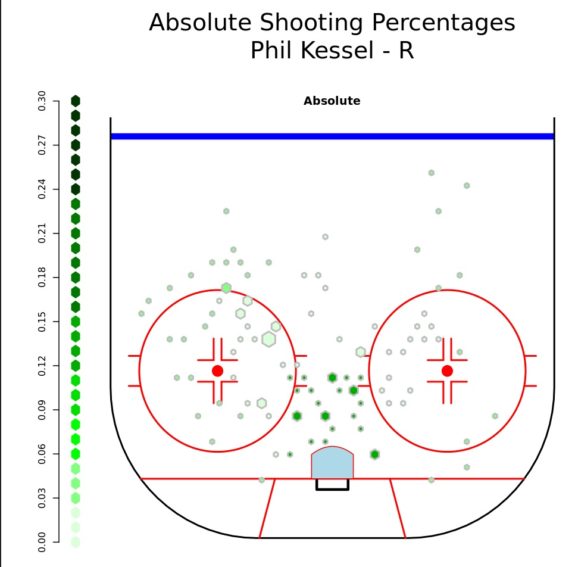 The debate on high-danger scoring chances in the NHL is interesting, as there isn't necessarily a correlation between the top-scoring teams and those than rank highest in high-danger chances-for. However, in the case of Kessel, he makes his living between the dots and below the hash marks. Notice the darker green areas? Those are his highest shooting percentage spots.
Some credit can be given to Sullivan for pushing Kessel to that area. On the other hand, you have to wonder why he needs that type of push. Was Johnston really the reason he was shooting from lower-percentage areas? You can't place that blame solely on the coach. That's on number 81.
Kessel hasn't been the game breaker that most were hoping for in Pittsburgh. You absolutely want more from a player making $6.8 million, which is what the Penguins are on the hook for after Toronto retained $1.2 million. However, you also have to take other issues into consideration and understand that Kessel goes as the Penguins go, not the other way around. It's far too early to call the Kessel trade a bad move and considering what Pittsburgh gave up in exchange, I'm not sure that'll ever be the case. Like most, I want to see more out of Kessel. Unlike most, I'm encouraged by his performance of late and won't jump to conclusions until we see a larger sample size under Sullivan and a playoff or two.
He hasn't been legendary, but he has been better than 'OK' recently.
Thanks for reading. Follow me on Twitter at @Michael29Angelo for more conversation around the Pittsburgh Penguins and everything NHL.