When you're a young hockey player growing up playing youth hockey for your local team, you dedicate a certain amount of time to different aspects of the game. Maybe 50% is dedicated to actually playing and practicing. Maybe 10% watching and learning. About 10% talking about the game to anyone who will listen. 5% preparing your gear. And about 25% of your time to hockey is fantasizing yourself doing something in the game that most likely will never happen.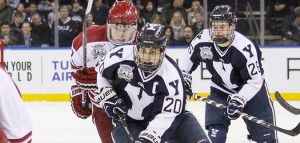 Naturally when your shooting pucks or balls in the driveway, it's game 7 of the Stanley Cup finals, 3rd period, you're wearing your favorite team's sweater, you countdown the clock while stick handling, then you roof one just under the bar with no time left. Finally you get to lift that imaginary Stanley Cup in your driveway. That's the ultimate hockey fantasy. But there are other fantasies some kids grow up thinking about.
So how about this fantasy…
It's your junior year, lets just say you're at Yale, and your team gets voted in with an at-large bid into the 16 team NCAA Tournament. You are greeted with National powerhouse Minnesota in the first regional game, you take them to overtime, and you score 9 seconds into OT, and lead your team to a tremendous upset. Now it doesn't get any easier, because you have to play North Dakota in the regional final and a chance to go to the Frozen four. Then you get the game winning goal in that game in the 3rd period, earning Regional Tournament Honors, sending you to the Frozen Four, which just happens to be in your hometown. That would be a cool fantasy right? Sure, maybe that could happen, but probably nothing more. Well let's take it a step further.
Your team is playing great with two NCAA tournament upsets under its belt, so why not add another upset of the Hockey East Tournament Champions UMass-Lowell to our fantasy, putting you into the NCAA Finals against #1 overall seed Quinnipiac, who happens to be about a mile away from Yale and is a local rival. Finally, you and your team ice off the fantasy by dominating on the scoreboard, you get a goal in the game, and you win the National Championship in your own backyard, in front of hundreds of friends and family, and all after upsetting 4 of the Nation's top college hockey teams.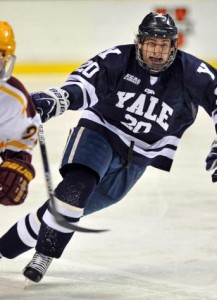 Okay that seems a bit ridiculous, and very specific. So maybe you didn't fantasize about all of those particular things happening in that order. But this all happened, and it happened to one of the best people to come out of the Pittsburgh hockey scene in recent years, Jesse Root.
"Use each day to develop into a better student and a better hockey player, and by graduation, you'll be happy with the result."
I had the privilege of being a teammate of Jesse during our freshman year of high school while playing for the Pittsburgh Hornets. I've played with a lot of people over the years. A lot of very good players. But Jesse is one of the best people you can hope to meet in our game. Hard worker, natural leader, intelligent on and off the ice, comes from a great family, and just the kind of player every coach wants to add to his roster.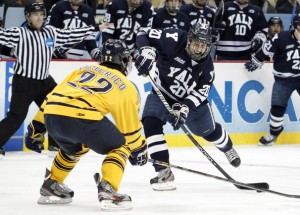 Jesse played for Yale from 2010-2014. He played in 122 games and accumulated 92 career points. Root earned ECAC All-Academic Team honors his Freshman year. His senior year he wore the "C" for the Bulldogs, earned the first ever ECAC "Best Defensive Forward" Award, Second Team All-ECAC honors, and once again was on the ECAC All-Academic team. And of course, was a catalyst on the 2013 National Championship team during his junior campaign.
His college career was more than any individual player could hope for. Earning All-Academic honors multiple times while competing in a great league like ECAC, and attending a prestigious Ivy League institution is a remarkable feat. But Root let me know that all his success in the NCAA came because of his teammates and coaching staff. In Part 4 of "Pittsburgh and College Hockey", I caught up with National Champion Jesse Root of the Yale Bulldogs.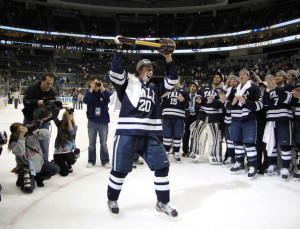 1. Jesse, How are you?
"Good Sully, great to hear from you! Hope all is well back in the Burgh and that your family is all doing well."
2. Tell us about your time playing in Pittsburgh for the Pittsburgh Hornets and Mt. Lebanon High School?
"I certainly wouldn't be where I am today without the development, coaching, and competition provided the Pittsburgh area."
3. You played your College hockey in the ECAC for the storied Yale Bulldogs, what made you decide on Yale?
"For me, it was a pretty easy decision. I had always wanted to play college hockey for the best program I possibly could and simultaneously attend the best academic institution. Yale clearly offered the best of both the academic and athletic worlds. So when they presented me an opportunity to play, I jumped at it."
4. What was your overall experience like playing for Yale?
"Playing for Yale exceeded my every expectation. We had great success as a team, which certainly made it more fun. But most importantly, the people at the University and within the hockey program made my experience so special."

Jesse Root of Yale
5. You were on the National Championship winning team in 2013, and had some big goals in the NCAA tournament. What propelled your game come tournament time?
"I think more than anything it was just fortuitous timing. I had a lot of chemistry and confidence with my linemates Kenny Agostino and Andrew Miller during the tournament. So it was just exciting when the puck finally went in."
6. What was it like to play in the NCAA Tournament and upset a handful of teams on your way to the title?
"It a great thrill, but something we as a team were not surprised by. Every game we truly expected to win, and we believed that over the course of a 3 period game, we would wear teams down."
7. Your Senior year, you were named captain, tell us about what it takes to be a captain of a Division I team, and what you learned from the experience?
"First of all it was a huge honor to be elected by my teammates. Yale has a long history of exceptional people and players that captained the hockey program so my first thought was just to uphold that tradition. That said, I had great support from my entire senior class. Each guy led by example, on and off the ice, that made my job much easier."
8. What was it like playing for Keith Allain?
"I consider myself very lucky to have played for Coach Allain. Obviously, you can tell by his record and his championships that he is a talented coach. But what most people do not see is all the effort that he has put into molding the culture of the Yale hockey program – which is what sustains the program's success. Additionally, he taught me, and all of my teammates, the power of consistent and dedicated preparation. I think it is an incredibly important skill, and something we as former players will take with us to every future endeavor."
9. What was it like playing in your hometown in front of friends and family in the Frozen Four?
"It was certainly one of, if not the, highlight of my hockey career. Playing in Pittsburgh, with all the pride that Pittsburghers have for their city, and in front of family and friends was something I'll never forget."

Jesse Root of Yale
10. How was juggling hockey with the rigors of an Ivy-League academic schedule?
"It was definitely tough at times. So much is expected of you in the classroom and at the rink that it can be daunting. But it forced me to manage my time effectively. Also, it taught me how to compartmentalize and to focus on the task at hand."
11. What would you tell an underclassmen or future NCAA Ice-Hockey player right before he gets to campus for the first time?
"I would say make sure to live entirely in the moment. What I mean by that is when you're in class, focus on class. When you're at the library, put all of you're effort into your studies. Then when you are at the rink, focus solely on how you can become a better hockey player. It can be a tough transition at first. But remember you have a long four years. Use each day to develop into a better student and a better hockey player, and by graduation, you'll be happy with the result."
Bill is a 2012 Graduate of Franklin Pierce University, where he played D3 NCAA Ice-Hockey. He covers Atlantic Hockey and D3 for the USCHO. He covers College hockey for THW.