Depth on defense is a great thing. When playoff time rolls around, it seems that the position that is always dinged up the most is defensemen. However, depth on defense does not make up for a lack of quality defensemen.
The Flyers have great depth on defense. When healthy they haven nine legitimate NHL defensemen (not including Pronger). But on a contending defense, they're mostly middle and bottom pairing options.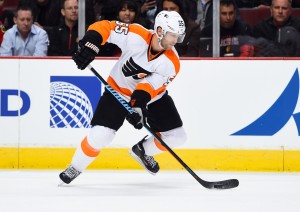 Yesterday, Nick Schultz was given a 2 year, $4.5 million dollar extension, in a move that seemed much more Holmgren-esque than what the Flyers faithful hoped Ron Hextall would be. Players like Schultz are available late in every free agency period, and can unquestionably be had for less than $2.25 million a year.
Consdiering the Flyers already had five healthy defensemen signed for 2015-16, this move clearly signals that bodies are on their way out the door. Add in the fact that the Flyers have a quintuplet of promising defensive prospects on their way, and it becomes even more obvious.
Who Stays?
Nick Schultz: For obvious reasons.
Andrew Macdonald: Not because he's good, because his contract makes him untradeable. He has a cap hit of $5M for the next four years, and has been a healthy scratch the past four games.
Michael Del Zotto: Picked off the scrap heap after a poor 2013-14, Del Zotto is a part of the solution for the Flyers defense. His strong skating and transition game have been a welcome sight for a weary, immobile Flyers defense. He's a restricted free agent after this season, and should absolutely be re-signed. I envision a 2-3 year deal in his future.
Mark Streit: By far Philadelphia's best defenseman this season, Streit has been a monster on the power play and an effective even strength player at both ends of the ice. But in a trade, he does not hold the same value that he does for the Flyers. He is signed for another two years at a $5.25M cap hit and is already 37 years old.
He still remains extremely effective, but teams may be scared away due to the possibility of a sharp decline in his play due to age.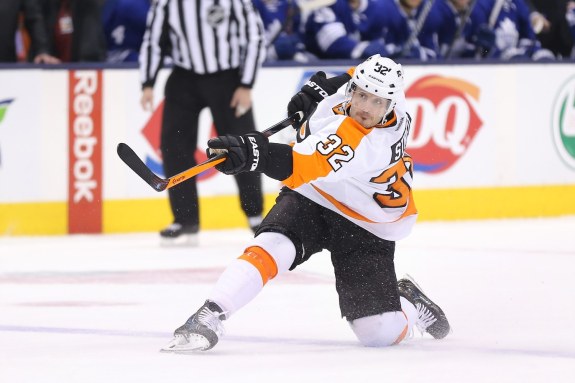 So, the Flyers should keep him for two reasons. The first is there is good reason to believe he can continue this pace of play (with a slight decline) because he's a young 37 who didn't play in the NHL until age 28.
The second is that he will be a valuable mentor to the young, upcoming Flyers prospects. If he's still playing at a high level in the last year of his deal and the Flyers aren't contending, they can flip him at the deadline.
Who Goes?
I don't think all of these guys will be dealt at the deadline, but I would be surprised if more than one of them was in a Flyers uniform at the start of next season. Hextall already stated the Flyers would not be buyers at the deadline, so expect them to sell off a defenseman or two.
Kimmo Timonen: Despite a life-threatening scare with blood clots, it appears as though Timonen will make a remarkable recovery and play again this season. He's skating with the team in practice this week, and is expected to take 7-10 days to get back into game shape.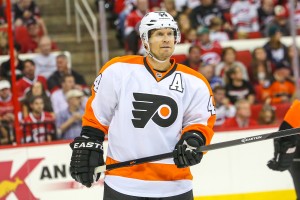 That means he will likely be able to play one or two games before the March 2nd trade deadline. Despite his age, Timonen is still a valuable asset on both special teams units, and would instantly improve any contender's defense.
The most likely deal would be for a conditional mid-round pick that improves as Timonen plays more games, or his team advances further into the playoffs.
Braydon Coburn: Though I have long been against trading Coburn, I believe it is now the time to part ways with the longest tenured Flyer. It's not because he's ineffective, but because he only has one year remaining on his contract, and the Flyers can't pay him the raise he'll command.
A relative bargain at $4.5M/year, he could easily get $6M on the open market. The Flyers can't afford to give him that much money considering Voracek,  Couturier, Raffl, and Brayden Schenn will all be receiving pay increases in that same offseason.
He may be dealt for a 1st rounder & prospect at this deadline (similar to the Franson trade), or he could be dealt at the draft. His value only goes down the less term he has on his contract.
Nicklas Grossmann: Any advanced metrics paint a very grim picture of Grossmann's abilities. His defensive, shot-blocking style with limited mobility means teams undoubtedly spend more time in their own zone when he's on the ice.
Fortunately for the Flyers, not every NHL franchise only considers analytics to make every personnel move. It hurts the Flyers that Grossmann has another year on his contract at $3.5M, but I would not be surprised if a team needing depth took him on for a late round pick or flier prospect at the deadline. On a bottom pairing, he's plenty serviceable.
Luke Schenn: Schenn has played fairly well this season despite being a healthy scratch a few times. As long as he keeps his game simple and makes the safe play, he's a good stay at home defenseman that plays the body well. He's signed for another year at $3.5M before becoming an unrestricted free agent.
I don't envision a scenario where Schenn gets an extension beyond then unless his play improves drastically. He could likely get a similar amount, or more, as a free agent. For the Flyers, that money is better spent on extending other players and his spot should be given to one of the young prospects.
Next week, I will examine a number of trade deadline deals the Flyers could seek out in exchange for their surplus of defensemen.