Today, the Flyers announced two very important pieces of news regarding the future of their blueline.  The first was signing recently acquired defenseman Andrew MacDonald to a mult-year extension.  The second was signing electric defenseman Shayne Gostisbehere to an entry-evel contract, ending speculation about him returning to Union or refusing to sign with Philadelphia.
Flyers have re-signed D Andrew MacDonald to a 6-year, $30 million extension.

— David Pagnotta (@TheFourthPeriod) April 15, 2014
BREAKING: #Flyers have signed D Shayne Gostisbehere to an entry-level contract. More details: http://t.co/MUMNsTyhFx pic.twitter.com/D97487tUf7

— Philadelphia Flyers (@NHLFlyers) April 15, 2014
One of these pieces represents an important philosophical change in Philadelphia's attitude towards constructing their blueline.  The other represents an all-too-familiar reminder of the team's previous tactics.
Building For the Future
For the first time in recent memory, the Flyers boast a good (not great) stable of defensive prospects, led by Gostisbehere, Samuel Morin, and Robert Hagg.  After a failed group of defensive prospects from 2006-2008 that included Kevin Marshall, Denis Bodrov, Michael Ratchuk, and MA Bourdon, the Flyers both lacked high draft picks from the Chris Pronger trade, and showed a reluctance to draft defensemen.  From 2009 to 2011, they chose defensemen with five of eighteen selections, with the earliest being 87th overall.  With Chris Pronger, Kimmo Timonen, Matt Carle, and Braydon Coburn locked up long-term in the NHL, why draft defensemen?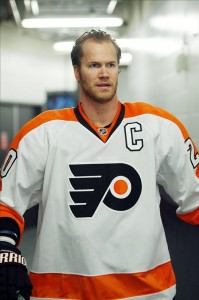 By 2012, the Flyers' previous dominating top 4 showed cracks.  Chris Pronger's career was in jeopardy, Kimmo Timonen had lost a step, and Matt Carle was on his way to Tampa Bay.  In the 2012 and 2013 drafts, the team spent eight picks on defensemen, including one in each of the first four rounds.  Unfortunately, none of them are ready for full-time NHL duty yet.  Combined with the Flyers' previous inability to develop defensemen in-house, there has been a dearth of blueline talent coming through the Philadelphia pipeline recently.  The result has been acquiring defensemen through other, more expensive forms.
A Bunch of Middle Pairing Defensemen
Heading into 2014-15, the Flyers have now committed $21.85 million dollars to five defensemen: Mark Streit, Andrew MacDonald, Braydon Coburn, Luke Schenn, and Nicklas Grossmann.  This is despite the fact that none of them are a clear top pairing defenseman.  And as a group, they are not very mobile either.  The reality is that the Flyers have had to overpay to build a defense comprised of a bunch of middle pairing defensemen to try to contend.  Their inability to develop defensemen forced them into three options for the blueline:
Overpay for veteran defensemen via FA or re-sign veterans acquired via trade
Trade significant, valuable assets for quality young defensemen
Play whatever young prospects you have and pair them with veteran stopgaps
They tried approach #2 with the Shea Weber offer sheet, which failed.  Since then, Holmgren has gone full-tilt in support of approach #1.  Since the team is insisting on trying to contend, they saw it as their only option.  However, a more patient, pragmatic approach for Philadelphia could have yielded them a similar quality blueline at a significantly lower price by combining the above approaches.
Before free agency began in the summer of 2013, Paul Holmgren had acquired the rights to Mark Streit, and gave him a 4 year, $21 million dollar deal.  Is it possible Streit would have received that offer (or more) on the open market?  Yes.  However, it still doesn't mean the Flyers should have given him the deal.  Let somebody else overpay for him.  Had Holmgren waited a few days for the frenzy to settle, he would have seen Marek Zidlicky was still available.  He would eventually sign for 1 year, $4 million, produce essentially the same amount of points as Streit (42 to 44), and
posted significantly better Corsi and Corsi QoC.
 Waiting the market out would have potentially allowed the Flyers to sign a better player for less term and money.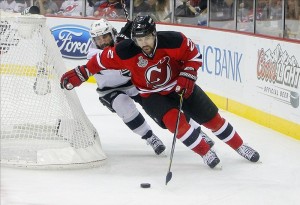 A similar signing occurred later in the summer.  Ron Hainsey would sign with the Hurricanes in September for just $2 million on a one year deal.  Hainsey is a mobile two-way defenseman that would be an upgrade on Grossmann and Schenn, despite being paid around $1.5 million less.  In almost every free agency period, there are a few veteran players that stay available for longer than expected, and sign for pennies on the dollar.  If Holmgren had waited a few weeks for these opportunities to emerge, he could have provided the team some useful cap flexibility moving forward with similar quality players.
Going back to 2012, Holmgren gave Grossmann a 4 year, $14M extension in April.  Towards the end of that free agency period, a number of affordable stay-at-home defensemen signed for significantly less.  Scott Hannan signed for just $1 million for a year in August, and Michal Rozsival was had for just a 1 year, $2 million dollar deal.  Again, had the Flyers been patient and let the market play out, they could have had themselves a few bargains.
6 years, $30 million for Andrew MacDonald
Would another team give Andrew MacDonald that contract on the open market?  If a team was willing to give David Clarkson $36.75 million, I don't doubt MacDonald could have gotten 40.  In MacDonald's time in Philadelphia, he's been solid.  He is not nearly as bad as the advanced stats community likes to assert.  In a fantastic study of MacDonald, it was discovered that the source of his poor advanced stats is the fact that he allows easy zone entries to other teams, collapsing into his defensive zone and giving himself a large cushion.  When he is defending in his own zone, he is solid, but he allows the other team to enter the zone too easily.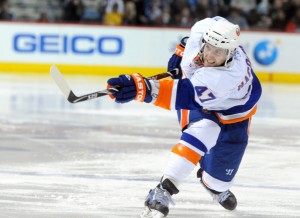 Ideally, MacDonald would be a strong #5, the anchor of a third pairing.  But in Philadelphia, he's forced to play top four minutes.  Paying a player who is an ideal #5 defenseman $5 million dollars a year seems like a pretty big overpayment.  Again, just because MacDonald could get it somewhere else doesn't mean Philadelphia should have given it to him.  Looking at the list of this summer's free agents, there are a few potential Zidlickys/Hainseys that will slip through the cracks.  Don't be surprised if guys like Henrik Tallinder or Derek Morris end up signing for a discount towards the end of free agency.
Philadelphia could have been the team to sign them to a one year $3 million dollar contract; a stopgap until the youngsters are ready.  But instead, they signed Andrew MacDonald for six years, occupying one more spot that could be reserved for Morin or Gostisbehere.
How big of an overpayment is the MacDonald contract?  Would you have rather signed a veteran stopgap, and rolled the dice that Gostisbehere or another prospect would be ready?