In four seasons with the Flyers, Erik Gustafsson has never played a full 82-game schedule. Throughout that time, the 25-year-old defenseman has bounced back and forth between the AHL and NHL, providing the Flyers with depth on the blue line when needed. But with the signing of Shayne Gostisbehere, Gustafsson's services may no longer be needed in Philadelphia.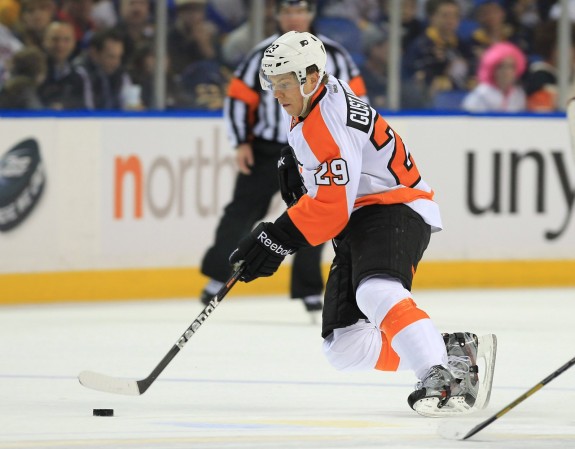 Immediate Impact
Erik Gustafsson has been a modest surprise over the last three seasons for the Flyers. Since playing in only three games in the 2010-11 season, his offensive numbers have increased slightly, leading up to his 10 points in 31 games this season. To this point, the 2011-12 campaign stands to be his most memorable in orange and black.
Despite tallying only one goal and four assists in 30 games, Gustafsson scored one of the biggest goals of his career in Game-Six of the Eastern Conference quarterfinal against Pittsburgh. The wrist shot that beat Marc-Andre Fleury gave the Flyers an insurmountable 3-0 lead, and was the first playoff goal of Gustafsson's career.
"It's a great group of guys, everyone is having fun," Gustafsson said after the game. "To get in and play – in that kind of atmosphere in front of the home crowd – is unbelievable. It's definitely the most fun I ever had playing hockey."
Gustafsson's role in Adirondack, however, has showcased him as one of the more featured defensemen. In parts of four seasons with the Phantoms, "Gus" racked up 13 goals and 82 assists for 95 points. But unlike his plus-17 rating through 91 NHL games, Gustafsson shows a minus-22 rating with a bigger sample size in the AHL.
With the Flyers re-signing Andrew MacDonald to a six-year, $30 million deal, cracking the defensive lineup on a consistent basis appears to be more and more difficult for Gustafsson; even with Kimmo Timonen's likely retirement. With options in free agency and or on the trade block, Gustafsson seems to lack the "immediate impact" factor.
Enter Gostisbehere, Exit Gustafsson?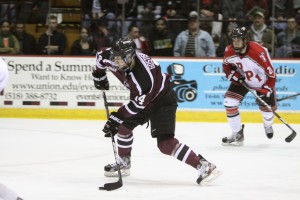 When the Flyers signed college prospect Shayne Gostisbehere to an entry-level contract on Tuesday, many wondered how soon the 2014 Frozen Four MVP would be NHL ready. Listed at 5-11, 170 pounds, Gostisbehere will join the Phantoms for the duration of the AHL season on a try-out contract. This allows his three-year deal to go into effect starting next season, which is strategic to say the least.
"While Gostisbehere will not play with the Flyers during these playoffs, he has a good chance at making the team out of training camp this summer, or landing with the Phantoms when they make the move into the palatial PP&L center in Allentown, much closer to the watchful eye of the Flyers' front office.

"At 5-foot-11 and 170 pounds, Gostisbehere has a heavy shot from the point, great vision, and the speed to go end-to-end." — nj.com
Other potential moves made on the blue line by Flyers GM Paul Holmgren, along with Gostisbehere's development in adding more beef to his frail frame could directly effect Gustafsson's future in Philadelphia. With Andrew MacDonald's previous expiring contract taken care of, the only other current defenseman with an expiring contract (other than Gustafsson) is 39-year-old veteran Hal Gil.
Will Gostisbehere Be NHL Ready?
A lot can happen between the end of the playoffs and the beginning of the 2014-15 season. But should Holmgren not make any drastic moves, the Flyers will have enough depth moving forward to allow Gustafsson to exit the organization. Oliver Lauridsen, who appeared in 15 NHL games last season, could easily move into Gustafsson's depth role, should Gostisbehere need more time to develop in the AHL.
https://twitter.com/DStrehleTFP/status/456117173048864768
Erik Gustafsson has played very well in the games since he's gotten back in the lineup for the Flyers.

— Bill Meltzer (@billmeltzer) February 2, 2014
"Defensemen tend to take a little bit longer than other players, but one thing Oliver has going for him is that he's got great strides, obviously his size is something you can't teach [but] his work ethic and his attitude – he's got all of those things going for him," said Philadelphia's Director of Hockey Operations Chris Pryor.
Lauridsen has the luxury of the extra time it takes to develop, whereas Gostisbehere does not. Not only does Lauridsen, nicknamed "The Great Dane," have size on Gostisbehere with a 6-6, 220 pound build, he also has significant professional experience. And although Lauridsen's scouting reports do not match Gostisbehere's, his 10 points and 137 penalty minutes in 60 games with Adirondack this season suggest he's more NHL ready than their newest prized gem.
Gostisbehere's play with Adirondack this year, along with his progression into training camp next season, could change the plot. After all, the 2012 third-round pick just about single-handedly lifted Union College to an NCAA National Championship. Holmgren, who swiftly moved to sign the 20-year-old prospect, has not left out the chance of Gostisbehere finding himself in the NHL next season.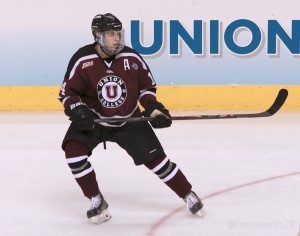 "It's not far-fetched,"
said Holmgren
. "He's an exciting young player, the way he plays the game. It's going to be a big summer for him to continue to get stronger and prepare himself to get ready for the rigors of an 82-game schedule."
It's not outlandish to think Gostisbehere could, in fact, find his way to the Flyers roster come October. History has shown that college players have the tendency to develop at a faster pace; nobody knows this better than current Flyers forward Matt Read.
"As a college player, you're a little bit more mature," said Read, who participated in a Frozen Four himself. "Coming into the game, I think college is a more defensive style of hockey than the Canadian Hockey League and stuff like that. It's different kind of players; they're more sound and more mature, but kind of late developers as well. I think it's getting better and better every year. Teams are realizing that."
Ironically, Gustafsson himself is an un-drafted free agent out of college. And like Gostisbehere, Gustafsson has fought off the criticism for lack of size; a trend more and more NHL defensemen are seeing.
"There was a guy who wasn't drafted because he was a small guy," Holmgren said of Boston's Torey Krug. "Same with Gustafsson. But good hockey players are good hockey players. Do you want a bunch of guys who are 5-8 or 5-9? Probably not. But you can probably get away with a couple."
At 5-10, Gustafsson and veteran Kimmo Timonen are the smallest defensemen on the current Flyers roster. If Gostisbehere does crack the lineup next season, Gustafsson's size could work against him if Holmgren is true to his ideology.
Don't expect Gustafsson to turn into a trivia answer, though. For his experience and pay grade, there would be plenty of suitors that would find use of him.
"Gus is a really good player; he's one of my favorite players, to be honest," said captain Claude Giroux. "He's small, but he's a hard-nosed player and he's really smart out there. He reads the plays pretty good."