By now you're looking at the Stanley Cup playoff bracket and obviously you know that the New Jersey Devils are nowhere to be found.  That's not to say it was all bad in 2013-14 for Jersey's team.  So what positives can the Devils carry over into 2014-15?  Let's take a look at five things that went right.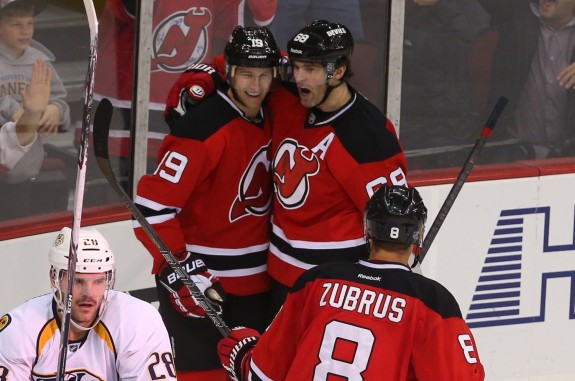 5.) Minor-league pipeline from Albany to Newark:
This season had nine players (not including Rostislav Olesz) who saw action in both Albany and New Jersey.  The AHL Albany Devils have been in the top eight in the Eastern Conference for most of the year and are a virtual lock to qualify for the Calder Cup playoffs.  Both Jon Merrill and Eric Gelinas played in over 50 games for New Jersey.  As offensive defencemen go, there's also Adam Larsson, Brandon Burlon and Reece Scarlett.  Corbin McPherson, Seth Helgeson and Dan Kelly are all in double digits on the positive side for +/- rating and are extremely heady, tough players on the blue line.  I can't speak highly enough about their defensive prospects.  At forward, Mike Sislo (23), Reid Boucher (21) and Joe Whitney (21), all topped the 20-goal plateau.  They also had guys like Rod Pelley and Chris McKelvie playing like Mike Rupp/David Clarkson types all year.  Between the pipes, Keith Kinkaid and Scott Wedgewood have really blossomed, each posting four shutouts apiece this season.
4.) Specialty teams:
For all of the talk about the Devils not having that extra sniper or a shutdown defenceman, they really stepped it up as a unit in these situations.  New Jersey ranked tied for ninth (19.5%) in the NHL, on the power play.  A power play which ranked as good or better than playoff teams such as the Chicago Blackhawks, Columbus Blue Jackets, Tampa Bay Lightning, New York Rangers, Minnesota Wild, Detroit Red Wings, Montreal Canadiens, San Jose Sharks, Anaheim Ducks, Dallas Stars and Los Angeles Kings.  Meanwhile, their penalty kill ranked first (86.4%) overall in the NHL.  Their nine shorthanded goals were tied for sixth.
3.) Goaltending present and future:
It wasn't all sunshine and lollypops between Martin Brodeur and Cory Schneider but they did keep the Devils in the playoff hunt right to the end.  Whether it was a lack of goal support for Schneider or a lack of rhythm for Brodeur, they always did what was asked of them.  Each netminder posted three shutouts apiece.  A team which has always been built from the net out, looks to be solid there for the foreseeable future.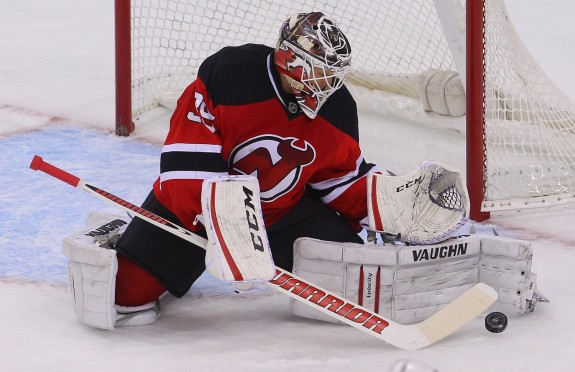 2.) Marek Zidlicky:
One could argue that guys like Andy Greene and Mark Fayne are unheralded constants on the blue line for the Devils.  Yet Zidlicky was a force and a big part of the Devils impressive power play.  For awhile, it looked as though Zidlicky would challenge to become the first Devils defenceman since Scott Stevens in 1993-94, to lead the club in scoring.  As it was, Zidlicky was fifth overall on the team, registering 42 points.  Through 81 contests, Zidlicky posted 12 goals, 30 helpers and eight markers on the power play.
1.) Jaromir Jagr:
One could surely vouch for an old reliable in Patrik Elias, a bounce back year for Travis Zajac and a team leading/career high year of 25 goals for Adam Henrique.  Yet, it has to be Jagr all the way.  Before Jagr was signed, there were questions if there would be a culture clash between the "freewheeling Jagr" and the "conservative Devils."  What transpired was a perfect match, one which felt like Jagr had been there as long as the likes of Brodeur.  Jagr was the consummate team leader, played all 82 contests at max effort and led the squad with 67 points.  Although Jagr has only spent one season in a Devils uniform, one couldn't help but marvel at all of his accomplishments, all season long.  Passing legends like Gordie Howe and Mario Lemieux along the way.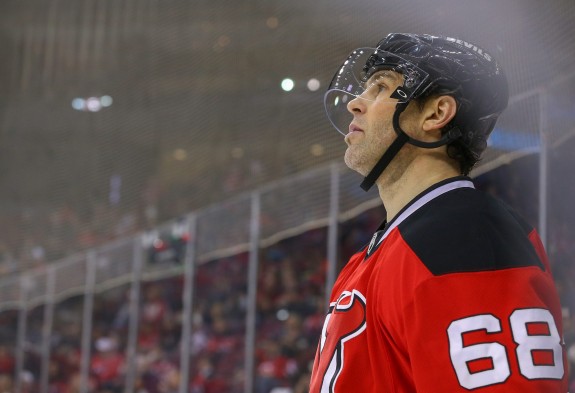 Michael Gwizdala covers the New York Islanders for The Hockey Writers. Michael is also an Associate Producer at WNYT NewsChannel 13. Additionally, Michael was once a Media Relations intern for the AHL Albany River Rats. Michael is a graduate of The College of Saint Rose in Albany, NY.