The New Jersey Devils' season has come to a halt, as a COVID outbreak has forced them to pause all activities. That's resulted in the league postponing all of the team's games through Feb. 6, at a minimum. 
If all goes well, the Devils could return to action on Feb. 9 against the Pittsburgh Penguins, but the numbers of players on the COVID list keeps growing and sits at 17. There are a few exceptions to the 17, though. Sami Vatanen, Aaron Dell and Connor Carrick should be in the clear of a team outbreak. And though the extent of the list is alarming, it's not a guarantee that everyone has tested positive. Only time will tell. 
Still, it appears it could be a while before the New Jersey Devils return to on-ice activities. However, their AHL affiliate, the Binghamton Devils, are on tap to begin their season tomorrow night vs. the Hershey Bears.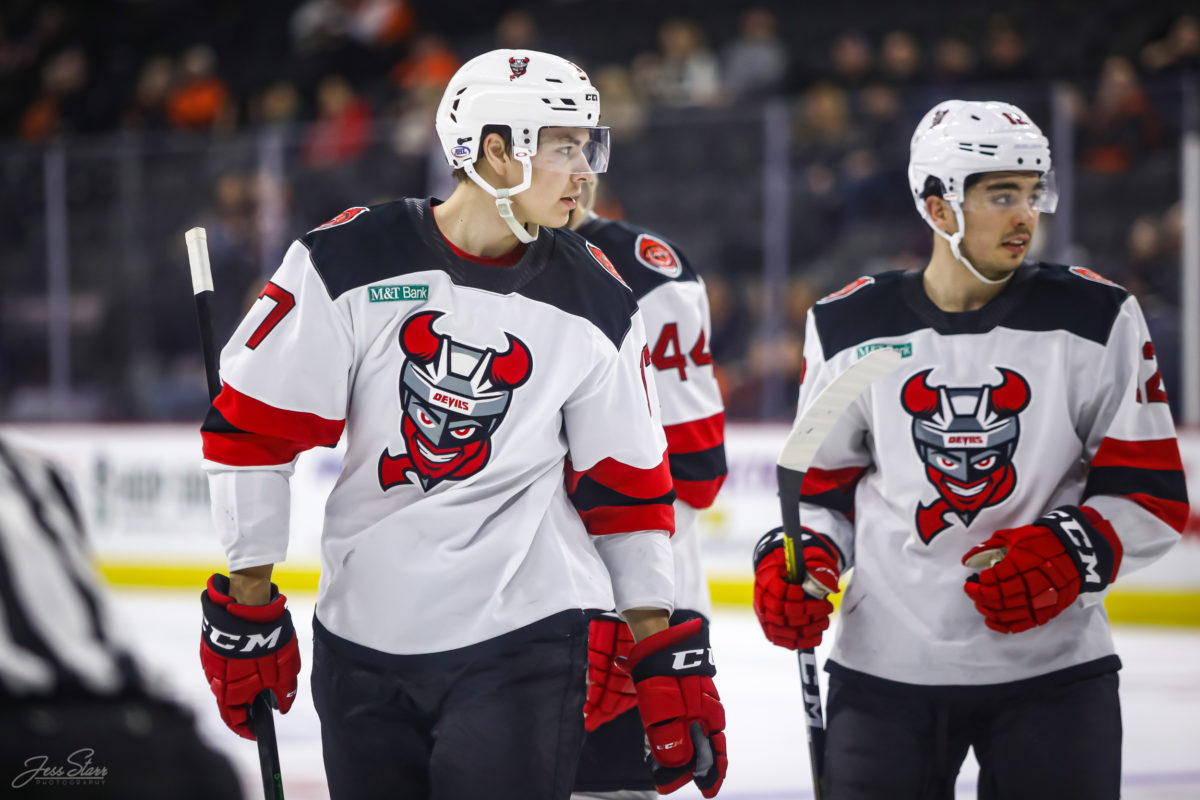 Like every team in the NHL and AHL, Binghamton will face the impacts of playing amid an ongoing pandemic. Rather than being in Binghamton, New York, as they normally would, the team will play all their home games at the Devils' practice facility, which is attached to the Prudential Center in downtown Newark, NJ. This is only a temporary move, and the hope is the team can begin the 2021-22 season back in Binghamton. 
Because the season is just beginning now, Binghamton will play a shortened, 34-game schedule (knock on wood). They have a slew of intriguing prospects who should get significant ice time this season, with a few who could even see NHL action whenever New Jersey returns to play. Let's preview their roster and what to expect as the AHL season gets underway.  
Binghamton Has Talent Up Front
Nolan Foote – Ben Street – Travis St. Denis
Brett Seney – Ryan Schmelzer – Marian Studenic
Danick Martel – Nate Schnarr – Graeme Clarke*
Brandon Gignac – Cam Darcy – Fabian Zetterlund
Nick Rivera – Miles Koules – Tyler Irvine
Ben Thomson
Before getting into some of the notable players, this lineup is more to give you an idea of Binghamton's makeup rather than being projected lines (the same will be true of the defense pairs). 
With that out of the way, let's dive into the roster.
We'll start with Clarke, who's had an interesting route getting to this point. He was on loan with HC Nove Zamky in Slovakia's first division, but he's returned to North America and will join Binghamton until the OHL season starts (if it does). He was not a part of the team's 23-man camp roster, but he's still going through quarantine/work visa delays, which explains his absence. 
Once he does join the team, I'd expect Clarke to play somewhere in the top nine. He was one of Team Canada's final cuts before the 2021 World Junior Championship and impressed during their camp. He has a hard and accurate shot and should give Binghamton some scoring punch. 
The most intriguing prospect here is Foote, who was the centerpiece of the Blake Coleman trade. It's been close to a year since Foote has played competitive hockey, but he did catch your eye from time to time during New Jersey's training camp. He's not an elite skater, but he does have a 6-foot-4, 200-pound frame, as well as a blistering shot, so he should be one of Binghamton's top scorers.
Another prospect to keep an eye on is Studenic. The Slovakian winger had an odd 2019-20 season. He totaled just four points in his first 18 games but finished with 13 points across his final 19 games. He's returning from a loan with HC Slovan Bratislava (Slovakia), where he had 15 points (6 goals, 9 assists) in 25 games. If the end of last season and his loan are any indications, he should log top-six minutes.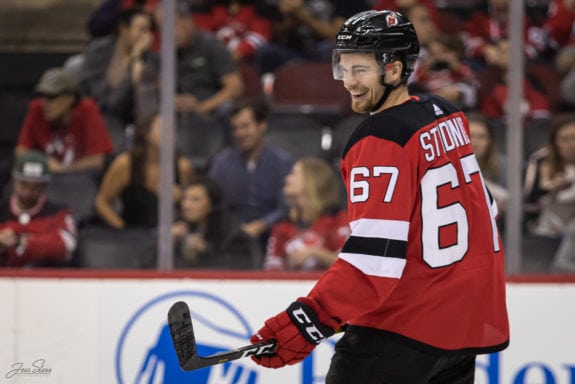 There's also Zetterlund, who, like Studenic, seemed to find his game in the second half of the 2019-20 AHL season. He had seven points in his first 22 games but finished with 12 in his final 24 contests. Zetterlund is returning from a loan with AIK in the HockeysAllsvenskan — the second division in Sweden — where he had 10 points in 21 games. He measures at 5-foot-11, 218 pounds, so he should add some physicality to the bottom six. 
Binghamton also has a solid group of experienced AHLers. Street was the team's best player last season and is their captain. St. Denis can play right wing or center, has four years of AHL experience, and had back-to-back 40-plus-point seasons in 2017-18 and 2018-19. Martel has four 20-goal seasons to his name and will provide scoring depth behind Foote and Seney at left wing; it wouldn't be a surprise to see him play in the top six, either. 
Defense Young But Has Potential
Colton White – Josh Jacobs
Kevin Bahl* – Reilly Walsh
Nikita Okhotiuk – David Quenneville
Michael Vukojevic – Jeremy Groleau
Colby Sissons
Binghamton has plenty of promising prospects on defense. Leading the group is Jacobs, who, at 24 years old, already has five years of AHL experience. He's a defensive defenseman, but he did show well during New Jersey's training camp. He'll likely be partners with White, as the two have played plenty together in the AHL. 
For the time being, Bahl remains with New Jersey as part of their taxi squad. He'll likely join Binghamton at some point, and for many Devils fans, it'll be the first time they get to see him in action since they acquired him in the trade that sent Taylor Hall to the Arizona Coyotes in Dec. 2019. 
Bahl measures at 6-foot-7, 240 pounds, but he skates quite well for someone his size. He'll never be an offensive dynamo, but he can move the puck effectively in transition. It's unlikely he starts on the top pair, but it wouldn't be a surprise if he eventually worked his way into that role once he joins Binghamton.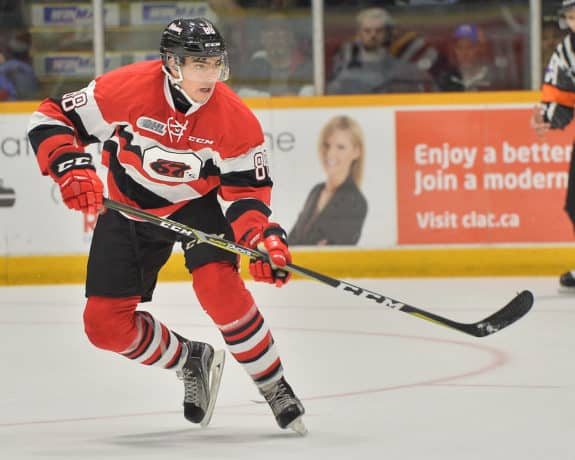 Next up is Walsh, who, like Bahl, is beginning his first season of pro hockey. Walsh was supposed to return to Harvard for his senior season, but when the Ivy League canceled all winter sports due to COVID-19, he decided to turn pro. He's not the fastest skater, but he does move well around the ice. Walsh has a good shot and offensive instincts and should help on the power play. But it'll be interesting to see if he's ready to handle defending in the AHL since he's beginning his pro career a bit earlier than originally planned. 
Rounding out the bottom half of Binghamton's defense is Okhotiuk, who's also beginning his first season of pro hockey. He measures at 6-foot-1, 194 pounds, and plays a physical game. He doesn't have a ton of offensive upside, but he showed improvement in his final season with the Ottawa 67's (OHL), as he had 19 points in 39 games, up from 17 points in 56 games in 2018-19. 
Related: New Jersey Devils' 3 Stars of the Month – January 2021
Last but not least, there's Vukojevic. The plan for him was to return to the Kitchener Rangers for another season in the OHL, but he'll join Binghamton and practice with the team while the OHL remains on pause. He doesn't have a ton of offensive upside, but he defends well and is an excellent skater. If Bahl isn't available on opening night due to New Jersey's COVID situation, perhaps Vukojevic sees playing time right away. 
Goaltending Is a Bit in Flux
Binghamton's goaltending situation is a tad complicated, and what's happening with New Jersey has something to do with it. As of now, their goalies, at least on the camp roster, are Evan Cormier and Jeremy Brodeur (yes, that's Martin Brodeur's son). 
But I'd expect that setup to change sooner than later. Mackenzie Blackwood came off the NHL's COVID list on Tuesday. And Dell will be eligible to come off by the end of the week if he has four negative tests in a row after completing his seven-day quarantine since the Devils claimed him off waivers from the Toronto Maple Leafs. New Jersey might be on pause, but those two will be their goaltenders once they return.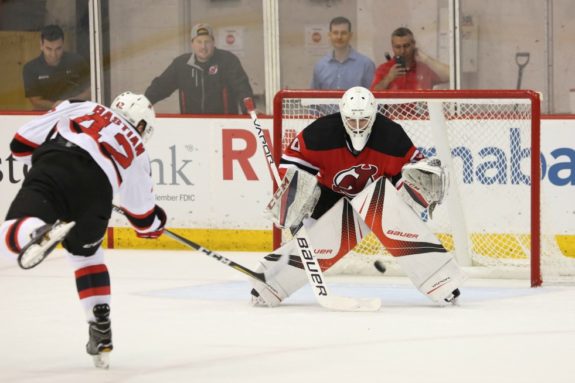 That'll leave New Jersey with a decision to make as to who goes to their taxi squad. Will it be Scott Wedgewood or Eric Comrie? Both of them would require waivers to go to the taxi squad or the AHL, and it's possible one of them doesn't make it through waivers without getting claimed.
If both have to go through waivers with the intention of one going to the AHL, my guess it would be Wedgewood, with Comrie going to the taxi squad. If both clear, then Binghamton's tandem should consist of Wedgewood and Gilles Senn at some point down the road. 
Related: Devils News & Notes: McLeod, Smith & More
Per CapFriendly, Senn is still part of the Devils' taxi squad, even though he isn't listed as such on the team's website. Once Dell joins New Jersey, Senn should return to Binghamton, assuming he clears all COVID protocols. So that should give them a tandem of Senn and Cormier to start things off. 
Senn's 2019-20 stats don't pop off the page — he had a .901 save percentage (SV%) in 26 games played. But he did have a strong close to the season, with a .919 SV% over his final 11 starts. Cormier's AHL numbers aren't particularly great, but he could have to carry the load until New Jersey sorts out their situation. 
Other Binghamton Bullets
Head coach Mark Dennehy returns for his third season behind the bench. Binghamton began the 2019-20 season as one of the worst teams in the AHL. But they won 25 of their final 34 games before COVID canceled the remainder of the AHL season. 
A significant reason for Binghamton's upswing was Dennehy changing the team's philosophy to an up-tempo, offensive style of hockey. That change in strategy occurred in December, soon after New Jersey fired John Hynes as their head coach. With Lindy Ruff implementing a faster-paced style in the NHL, Dennehy will likely continue with what he put in place during the second half of the 2019-20 season.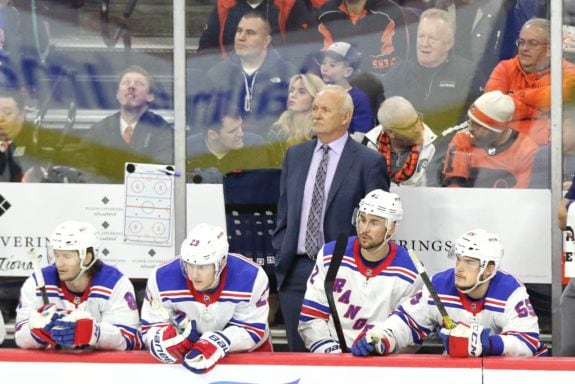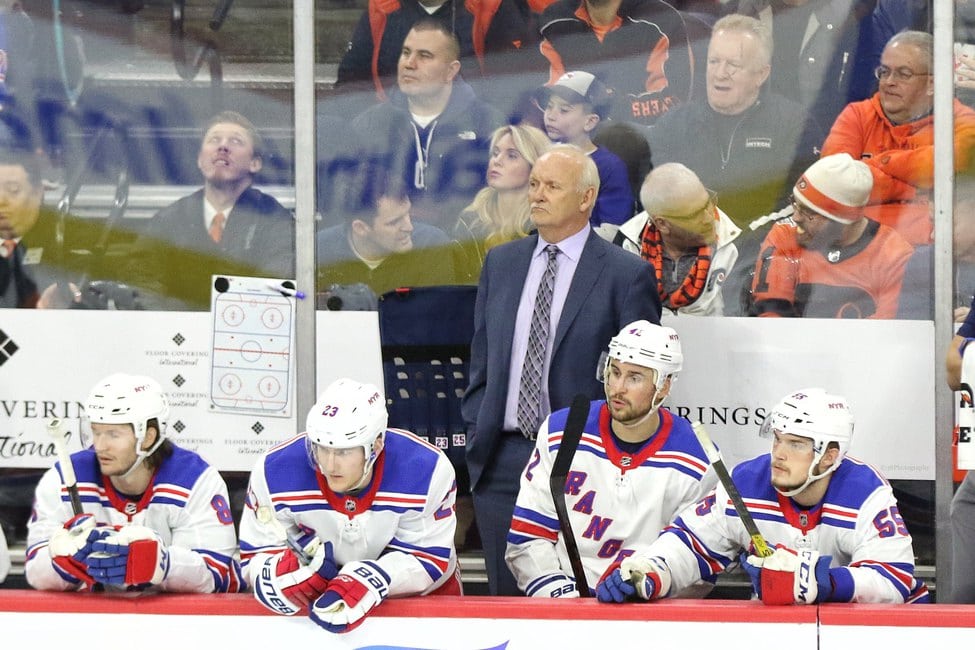 The 2020-21 season will also mark the first where Binghamton has a goaltending coach. The organization hired Brian Eklund back in November, marking the first time the Devils' AHL affiliate has a goaltending coach on its staff. He previously served as Boston University's goaltending coach from 2016-2020, so he has experience developing young netminders. 
Overall, the Binghamton Devils have a good-looking squad in place. The AHL won't hand out the Calder Cup this season, but the 34-game schedule still has significance for player development. And with the Devils having a few of their top prospects beginning their pro careers (Walsh, Foote, Bahl), all eyes will be on the B-Devils to see how they fare in developing those prospects.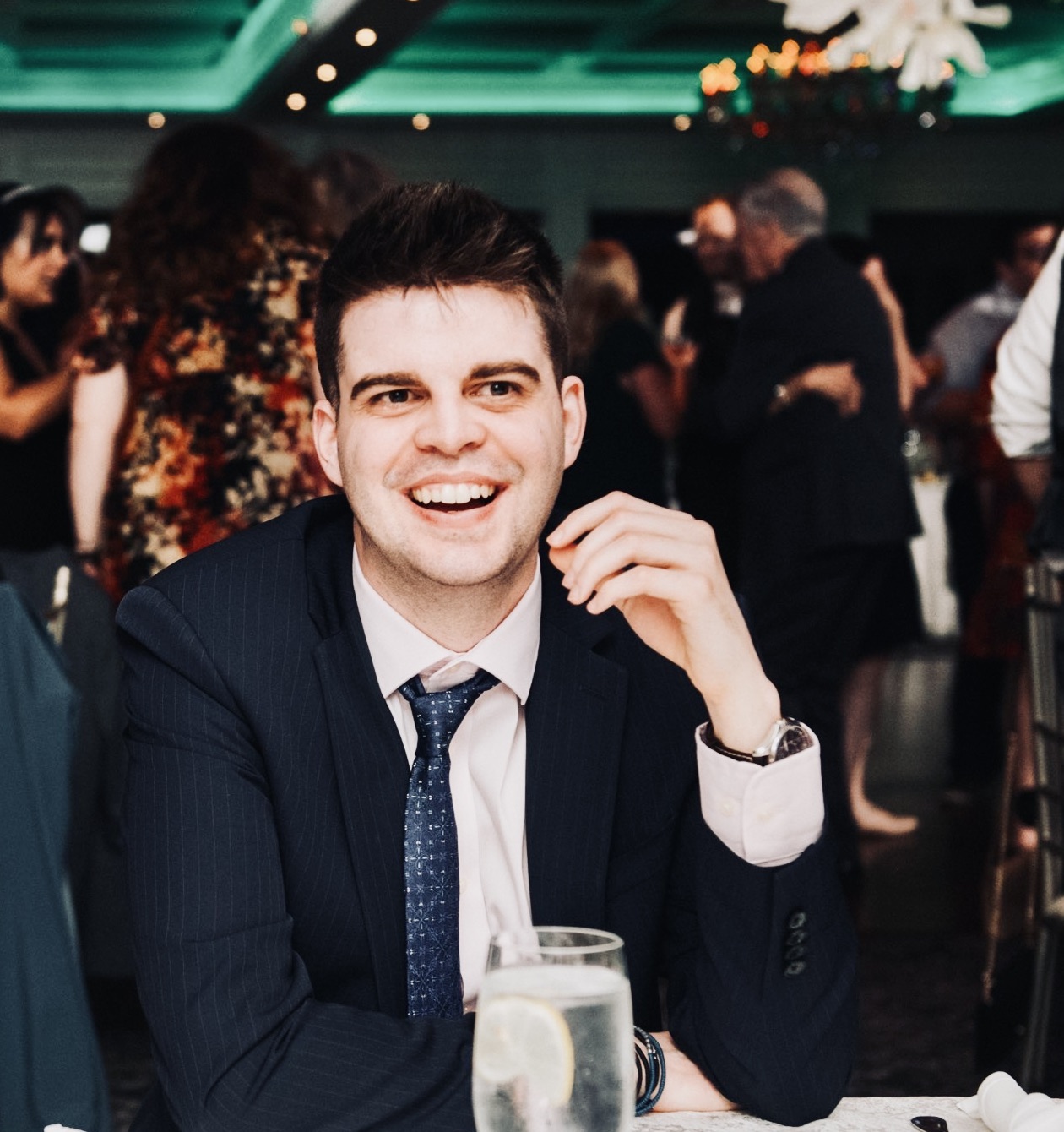 Alex Chauvancy is a New Jersey Devils writer for The Hockey Writers who has a penchant for advanced stats, prospects, signings and trades. He previously wrote for Devils Army Blog, a New Jersey Devils fan blog, from 2015-2017