The New Jersey Devils' season may be suspended for the time being. However, their AHL team, the Binghamton Devils, continue to get their season underway. On Feb. 8, they completed their first game of the year with a thrilling 4-3 OT win against the Wilkes-Barre/Scranton Penguins. Similar to their NHL partner, prior to their first game, they hadn't played in almost a year (334 days to be exact).
However, they haven't seemed to miss a beat because they also won their second game of the year, in another close battle, against the Lehigh Valley Phantoms by a score of 2-1. Despite getting off to a decent start, New Jersey is labeled by many to be a rebuilding organization that will sell its roster when the right timing presents itself. So, having a couple of decent looking minor league players in their AHL system can really help push the rebuild forward for the future.
Recapping the First Couple of Games
There was definitely a lot to look forward to ahead of Binghamton's first few matchups against Wilkes-Barre/Scranton and Lehigh. It's also worth noting that there were five players making their professional debuts that night: Michael Vukojevic (82nd overall pick in 2019), Nolan Foote (27th overall pick in 2019), Tyler Irvine (Undrafted), Nikita Okhotyuk (61st overall pick in 2019), and Reilly Walsh (81st overall pick in 2017). Some of those players were able to pitch in at one point or another in those two games.
In net for Binghamton for the last couple of games was Evan Cormier (105th overall pick 2016). Despite letting a few goals trickle past him, in his first game as the Binghamton netminder, Cormier was still able to finish the game with a .896 save percentage (SV%), stopping 20 of 23 shots. He was able to improve upon that in their next match up when he only allowed one goal on 26 shots (.961 SV%). Currently, Cormier's stat line is 2-0-0 with a 1.96 goals-against average (GAA) and a. 918 SV%.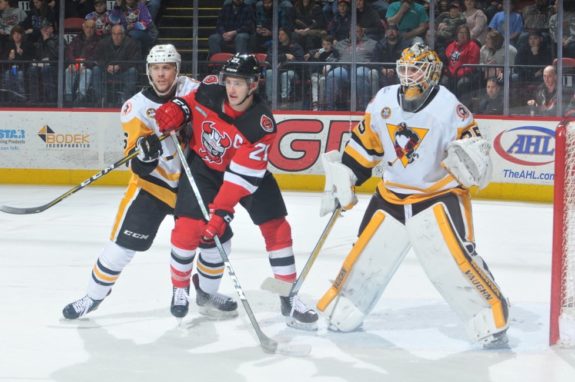 Some of the other notable stats, and also plays, include Walsh's game-winning breakaway goal in overtime versus Wilkes-Barre/Scranton. So far, Walsh leads the team in plus/minus rating four in two games played. Vukojevic has been passing the puck well to start the season, having already assisted on half of the goals scored by Binghamton this season. So, far it has been a great example of teamwork displayed by New Jersey's AHL program. Because, similar to New Jersey, their fourth line put up a great fight in the first game of the year.
The bottom line included the trio of Martel-Schmelzer-Irvine, and when they were all together on the ice, Binghamton never seemed to skip a beat in terms of pace and physical play. Speaking of which, Okhotyuk also had a couple of big hits during the last couple of games. It seems as though Binghamton is trying to establish playing a physical brand style of hockey.
Notable Storylines
As it goes for most teams, there are some compelling storylines that need to be addressed for the sake of entertainment purposes. For starters, Walsh, who last played for the Harvard University Crimson, has a lot of expectations to live up to. Mainly because of his college defensive partner, Adam Fox, having such a great impact at the NHL level for a penurious New York Rangers defensive unit. While they were both playing for Harvard, Fox and Walsh were able to lead their team in points despite both of them being defensemen. If Walsh gets the opportunity to be coached by Lindy Ruff, who coached Fox during his tenure as an assistant with the Rangers, at the NHL level, then maybe Walsh can possibly follow in the footsteps of his former defensive partner.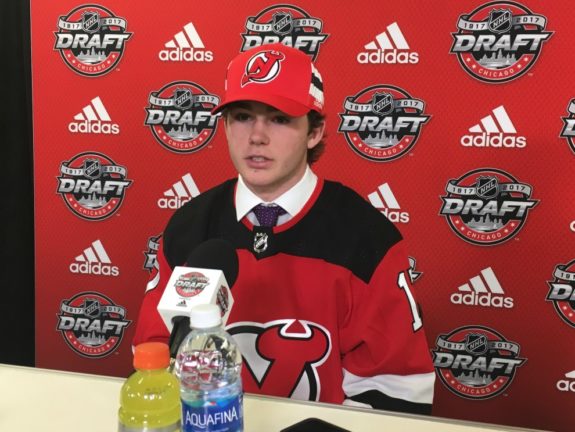 There's also a couple of players that have family members that are apart of NHL royalty. For starters, legendary netminder for New Jersey, Martin Brodeur, has a son that competes with Binghamton. His name is Jeremy, and he is serving as Cormier's backup. Brodeur still has not played in his first AHL game yet, however he has gotten a few repetitions at the SPHL (Southern Professional Hockey League) level. As for Foote, he is the son of former Colorado Avalanche legend, Adam Foote. In two games played, he has two points (a goal and an assist). So, similar to Walsh, he's off to a decent start for the season.
While Binghamton may not be New Jersey, it's still exciting to see what the young guys could potentially do once they're called up to the big leagues of the NHL.
---
---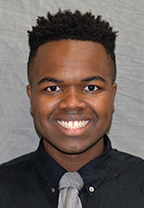 Trey Matthews is currently the play-by-play announcer for the hockey programs at Adrian College. Interestingly, he is also one of the only full-time black hockey play-by-play announcers in the entire country. He has been featured in USA Today, USCHO, & others for his line of work. In addition to that, he's also the host of a podcast show called Locked On Devils. He first began writing for his high school's paper at the University of Detroit Jesuit High School & Academy. Aside from hockey, he also covers the Los Angeles Lakers (NBA) for Belly Up Sports.