The New Jersey Devils are three years removed from their last playoff appearance and are now in the midst of rebuild 2.0 under general manager Tom Fitzgerald. But the team is beginning to reap the benefits of former general manager Ray Shero's drafts before the two sides agreed to part ways at the start of the calendar year 2020.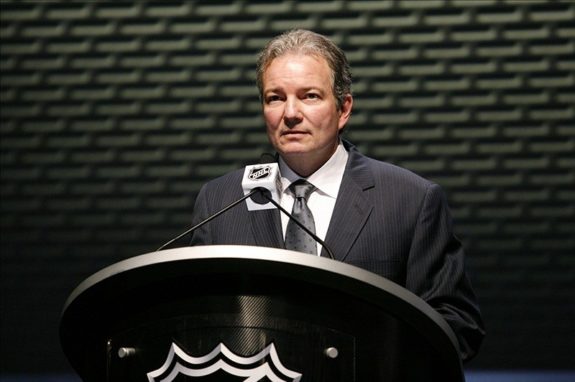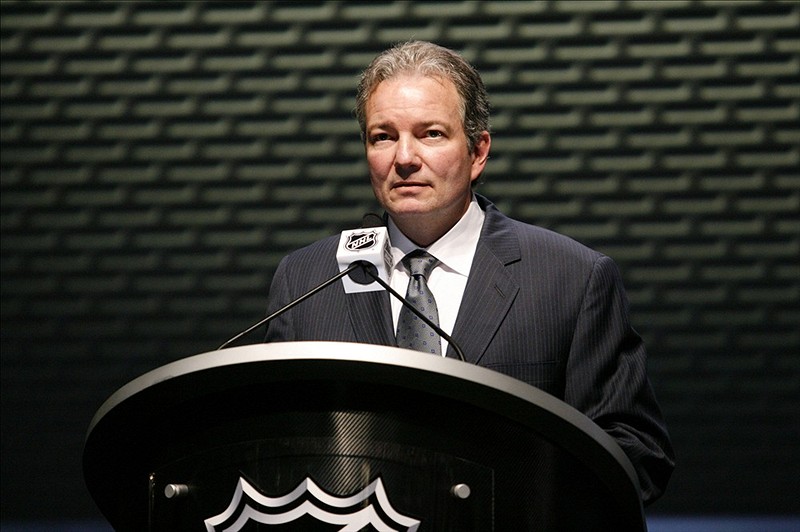 It was clear from the start that Shero would need to be great at the podium in June, and he did not disappoint. He multiplied his picks and turned some of them into NHL players. Let's look at where things stand heading into the 2021 offseason.
2015: Mackenzie Blackwood, Pavel Zacha
The selection of Pavel Zacha at no. 6 overall is regarded as a major blunder by most fans and writers. Nine players drafted after Zacha have outplayed and outscored him to date — three happened to be defensemen. Mathew Barzal was a draft pick of the division rival New York Islanders. Then again, some felt defense was the way, and Zach Werenski, Ivan Provorov, and Thomas Chabot have all outplayed and outscored Zacha.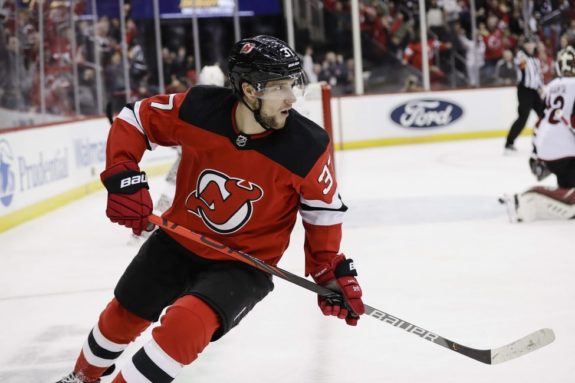 With that said, Zacha had a breakout season in 2020-21, finishing with 17 goals and 35 points in 50 games — a 57-point pace over 82 games. He played a good portion of this past season at left wing alongside Nico Hischier and Jesper Bratt, and that could be a permanent move for him going forward. Time will tell if his season was a one-off, but for now, the selection looks a bit better than it did just even a few months ago.
Notwithstanding, the highlight of this draft was pick no. 42 in the second round, Mackenzie Blackwood. He struggled this past season, but a rough bout of COVID was likely a significant factor for that. The Devils view him as their goalie of the future, and he's still the highlight of their 2015 selections. If Zacha shows his 2020-21 wasn't a fluke, then Devils have themselves a solid class here.
Grade: B+
2016: Jesper Bratt, Michael McLeod, Nathan Bastian
The Devils' first two selections, Michael McLeod and Nathan Bastian, traveled together from the OHL's Mississauga Steelheads as linemates. Both players had great success with the Steelheads, and perhaps Shero felt they would get to the NHL faster if they continued developing together. It took longer than the Devils would've hoped, but both players showed promise in 2020-21. McLeod finished with nine goals, a 14-goal pace over 82 games, and became one of the team's top penalty-killers. Like McLeod, Bastian also became a top penalty-killer and showed he could be an effective bottom-six winger, with 10 points in 41 games.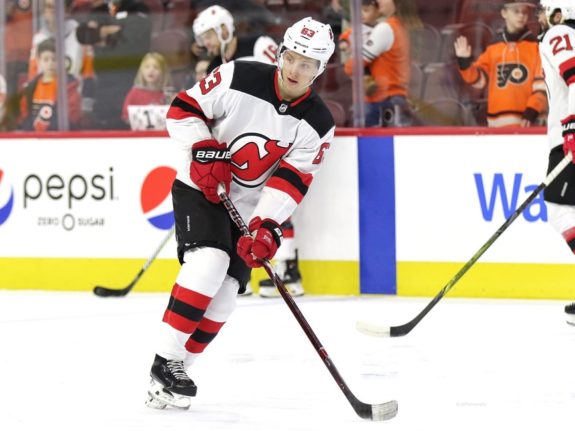 But the real prize of this class has been Bratt, who the Devils chose 162nd overall in the sixth round. When asked if he anticipated this level of play from Bratt, Shero promptly replied:
If we thought Jesper would be this good, we would've taken him a lot earlier than the sixth round

Ray Shero (from 'Devils' Youth Movement Is Off to a Promising Start,' New York Times, 10/31/2017)
Bratt produced at a 53-point pace this past season, and looks to have sealed his place as a top-six forward for the Devils' rebuild 2.0. Add McLeod and Bastian finally showing they belong in the NHL, plus Mikhail Maltsev being on the cusp of becoming an NHL regular, and coming away with possibly four NHLers in 2016 is quite the draft.
Grade: A-
2017: Nico Hischier
When the clock started for New Jersey, the momentum behind Nico Hishier's stock was unstoppable. Despite Nolan Patrick spending the entire year as the consensus no. 1, growing fears about repeated health issues brought pause to the league. Though it truly could have gone either way, Shero relented and went with Hischier. In his fourth season, he is already donning the "C" on his shoulder, and he's still just 22 years old.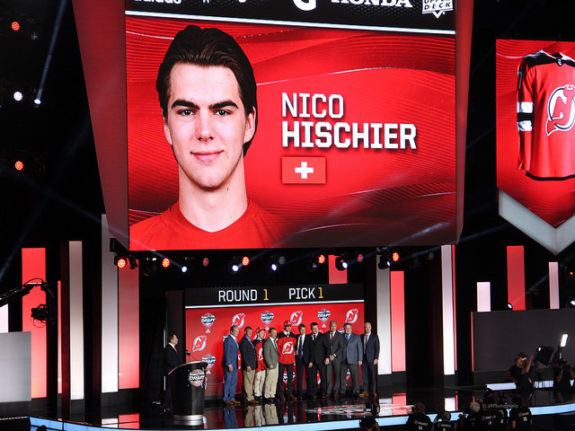 The Devils were feeling Swedish again and selected arguably the best player in the second round, Jesper Boqvist. He's struggled to find his place in the NHL so far, but he did take small steps forwards in 2020-21. He's also 22 years old, so there's still time to figure it out because he has the skating and skill to play in the NHL.
Finally, the Devils got their due. After losing a third-rounder for signing former head coach John Hynes, they were awarded a third-round pick from the San Jose Sharks for signing coach Pete Deboer. The Devils chose to gamble with that free pick on an undersized defenseman from Harvard — Reilly Walsh (5-foot-11) (from 'Catching up with Devils prospect Reilly Walsh, who's learning from a year packed with adversity,' The Athletics, 02/12/2019).
Walsh signed his entry-level deal last offseason after deciding to leave Harvard since the Ivy League canceled their hockey season due to the COVID pandemic. Instead, he began his pro career and a solid season with the Binghamton Devils, finishing with 15 points in 33 games. He may still need some time in the AHL, but he's trending in the right direction and has the makings of an NHL defenseman in him.
Grade: B+
2018: Ty Smith
This may have been the most difficult of Shero's offseasons, but Ty Smith was the icing on the cake. New Jersey was patient in allowing Smith to develop with the WHL's Spokane Chiefs, and that decision seemed to pay off. Smith didn't blow the doors off his rookie season, but he had a solid debut to his NHL career, finishing with 23 points in 48 games in 2020-21. He's only 21 years old and has plenty of room to develop, so the Devils may have a good one on their hands.
Had we been grading this class six months ago, Smith would likely have been the only player to get a grade. But the sudden emergence of Yegor Sharangovich changed that in a big way. The 2018 fifth-round pick broke out in 2020-21, finishing with 16 goals and 30 points in 54 games — a 24-goal, 45-point pace over 82 games. He now appears ready to stay in the NHL, and should be an instrumental part of the Devils' rebuild 2.0. There's also Akira Schmid, who was recently named USHL Goaltender of the Year, and will begin his pro career in 2021-22.
Grade: B+
2019: Lightning Strikes Twice in NJ
For the second time in three years, the Devils won the draft lottery, and an air of suspicion had set in. As Shero approached the podium in 2019, fans and media rallied in anticipation of the Devils' selection of Jack Hughes, who had been the favored no. 1 pick for a couple of years prior to his selection. Though Kaapo Kakko made a late charge in the rankings, the Devils had a rendezvous with destiny and selected Hughes.
Hughes struggled as a rookie in 2019-20, but he took a significant step forward as a sophomore in 2020-21. His counting totals weren't all that impressive; 30 points in 56 games equates to 45 points in 82 games. But the Devils were running teams into the ground a majority of the time he was on the ice. There's still work to do, but he's starting to look more like the first overall pick the Devils used on him.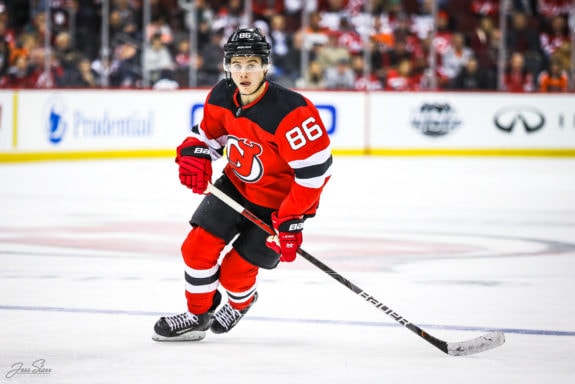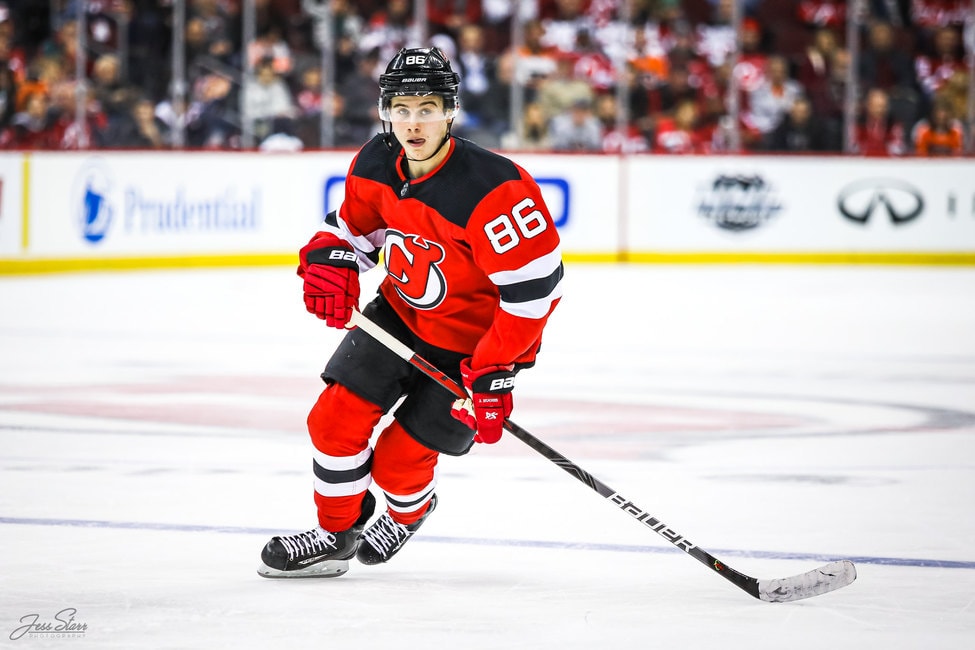 It's still a bit early to tell how good the 2019 class will be aside from Hughes, but there are a few promising prospects. Tyce Thompson turned into one of the Devils' top prospects after they used a fourth-round pick on him in this draft. He made his NHL debut this past season, and while he still needs to add some muscle, his play was relatively encouraging.
Graeme Clarke also had a solid rookie season in the AHL, finishing with 18 points in 31 games. His totals are all the more impressive, given he was supposed to be playing in the OHL had they not canceled their season due to the COVID pandemic. Defenseman Nikita Okhotiuk also showed some promise in the AHL, while late-round picks Nikola Pasic and Arseni Gritsyuk had good seasons in their respective European leagues. It'll take a couple of more years to determine the fate of this class, but there's no doubt they could get more out of it than just Hughes.
Grade: B
Shero's Drafts Finally Paying Off
Shero will not get to enjoy the fruits of his labor, but the Devils are starting to feel the impacts of his draft choices. McLeod and Bastian have broken through, while Sharangovich has come out of nowhere to become an NHLer. Top picks like Smith and Hughes are finally making their presence felt in the NHL too. It may still take another year or two for the Devils to be a force in the Eastern Conference, but there's no doubt they're beginning to turn a corner.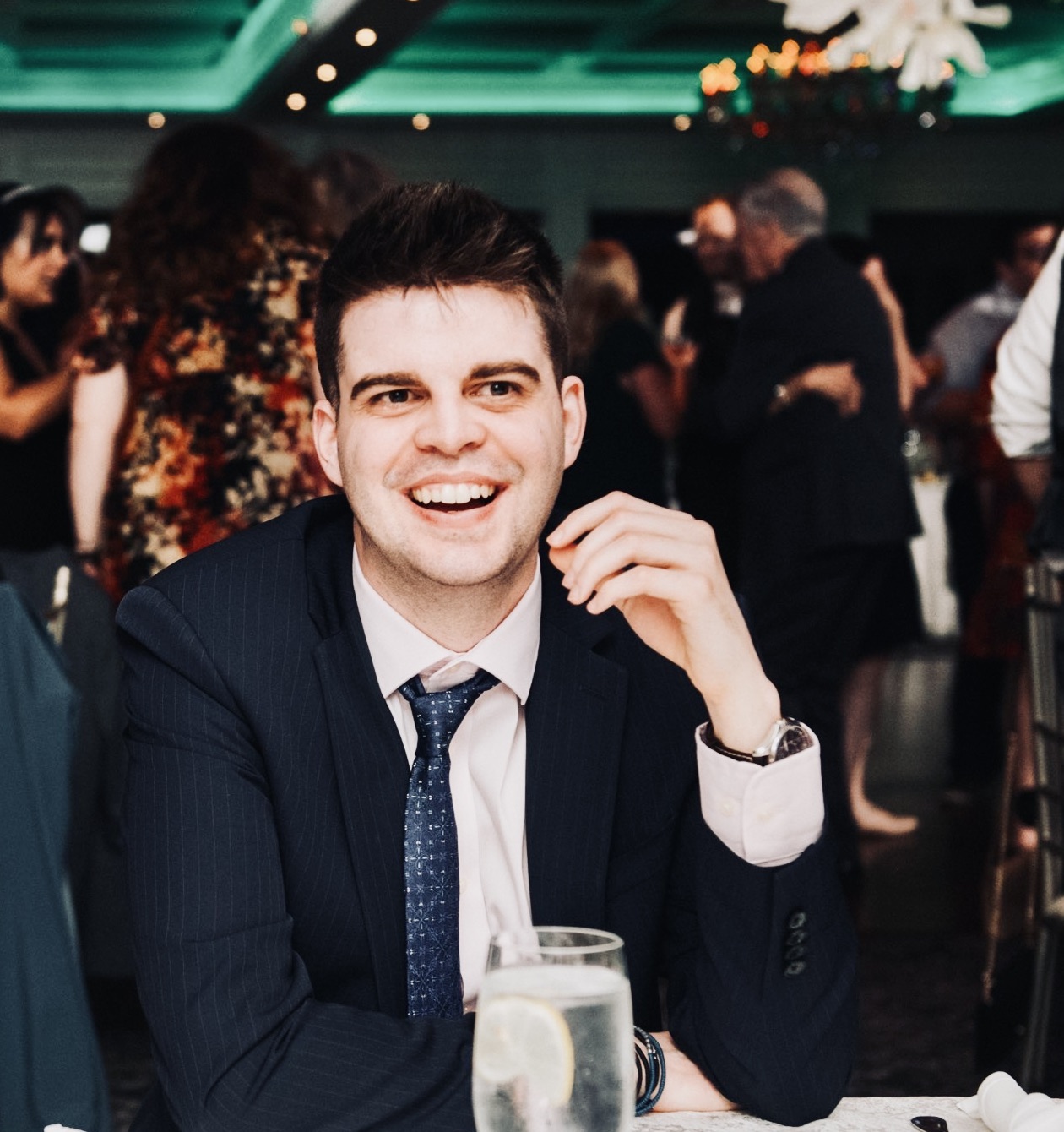 Alex Chauvancy is a New Jersey Devils writer for The Hockey Writers who has a penchant for advanced stats, prospects, signings and trades. He previously wrote for Devils Army Blog, a New Jersey Devils fan blog, from 2015-2017