When the team with the fifth largest payroll in the league is ousted in the first round of the playoffs, questions need to be asked. One already has been, and it was answered with Ron Hextall replacing Paul Holmgren as GM of the Flyers. Whether fair or not, fingers get pointed at the end of the season. People tend to blame the players that underperformed the most in the playoffs, and it's been no different in Philadelphia in recent times.
The recency effect states that people can best recall the items that come last in a sequence. In the case of the Flyers, fans are remembering the lukewarm performances of Braydon Coburn and Scott Hartnell in the first round loss against the Rangers. Coburn made a few costly turnovers, and Hartnell was demoted from the Claude Giroux line after the unit was largely ineffective to begin the series. As a result, they have received a lion's share of the blame for the Flyers' loss.
Why Fans Blame Coburn and Hartnell
"Columnists" like Randy Miller and fans alike think it's time to move on from either Hartnell, Coburn, or both.
https://twitter.com/SportsChatChuck/status/464219595172491264
@BroadStBull what chance you think the Flyers trade Coburn for cap relief whether it be for draft picks/prospects?

— David Wagner (@dwagner4341) May 10, 2014
The recency effect, again, implies that tend to remember the least about the middle of a sequence (in this case, a player's career). This has led to fans forgetting how valuable and effective Coburn and Hartnell have been as Flyers.  It is no coincidence that fans have grown "tired" of these players, and that they are the longest tenured players on the team.  Coburn has been with the team since 06-07, the longest and Hartnell is tied for second longest with Kimmo Timonen. If those two were recent acquisitions of the team, they would not be receiving half of the flak they're getting. Fans always want the shiny new toy, or the new flavor of the month.  As years go by, they forget how effective these players are because they are a staple of the team, and don't remember what it looked like without them.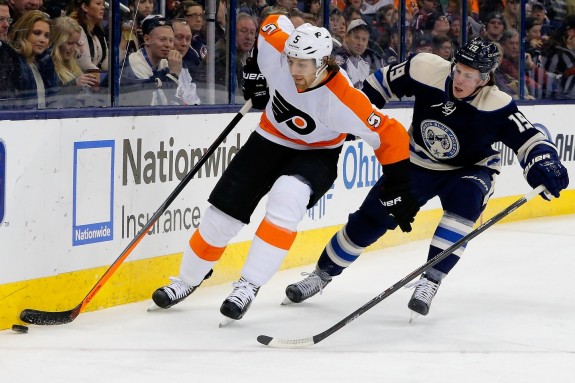 This effect can also bee seen with the NHL Draft. John Tavares and Nathan MacKinnon have been two of the most hyped prospects in recent memory. They were identified at a very young age, around 15 or 16, as the odd-on favorites to be the first overall picks in their draft year. So for years, they were known quantities to the public, and were highly talked about.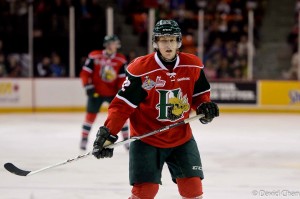 However, as their draft year progressed, some pundits began to suggest that maybe they had gotten "complacent" and hadn't improved as expected. As a result,
some suggested that Victor Hedman or Matt Duchene should go #1 ahead of Tavares
, or that
Seth Jones, Jonathan Drouin, or Aleksander Barkov were better options than Nathan MacKinnon.
The teams picking #1 didn't fall for it, and the results speak for themselves. Tavares is one of the best players in the NHL, and MacKinnon looks like the next big star in the league. The GMs didn't fall for the new flavor of the month, and made the correct picks. Similarly, Ron Hextall should not do as Flyers fans suggest and dump Braydon Coburn and Scott Hartnell, two valuable contributors to the Flyers' success.
The Value of Braydon Coburn and Scott Hartnell
Despite the fact that Kimmo Timonen won the Barry Ashbee Trophy for the Best Defenseman on the Flyers, Braydon Coburn was the Flyers' most important defenseman. As Timonen's even strength minutes have decreased over the past few years, Coburn has been the one to pick up the slack. Coburn played the most even strength minutes for the team last year, and played against the best opponents of any Flyers defenseman. He is a minute munching defenseman at even strength that brings size and mobility to an otherwise slow defensive group.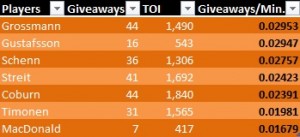 The main argument against Braydon Coburn is his propensity for giveaways. However, this issue is blown out of proportion. As the above chart shows, Coburn has the third lowest giveaways per minute of Flyers' defensemen. Then, factor in that he is playing against the other team's best players, and it becomes an afterthought.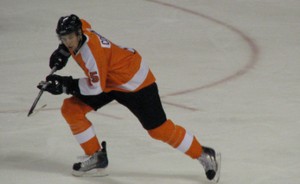 The Flyers' biggest need is quality defensemen that can skate well. Now, does it make sense to trade a 6'5″, mobile defenseman that is your best defenseman for picks? Obviously not.
Just as it makes no sense to trade Braydon Coburn, trading Hartnell would be a poor move. Aside from Hartnell's on-ice production, he is a valuable leader in the dressing room, good with the media, and active in the community. On the ice, he is one of the most unique, rare players in the NHL.
Since the 2005-06 lockout, Hartnell has cemented himself as one of the best power forwards in the NHL. In that time frame, he has registered 20 goals, 20 assists, and 100 penalty minutes in five different seasons. That is more than David Backes, Milan Lucic, Alex Burrows, Wayne Simmonds, Shane Doan, and Ryan Kesler, who are regarded as premier power forwards themselves. Corey Perry is the only player to register as many 20-20-100 seasons as Hartnell, with five himself.
Recently, the knock on Hartnell is that he's not a good enough skater. People are conveniently forgetting that Hartnell was never a good skater, and does not at all rely on his speed to be effective. So, if his speed declines, it's not that big of a problem. It simply means he may not work on a line with two burners like Giroux and Voracek. Instead, he will be effective on a line that thrives on the cycle with similar physical forwards. Despite Hartnell's supposed drop in speed, he managed to turn in his third best offensive season of his career in 2013-14. A 78 game regular season is certainly a better gauge than one 7 game playoff series. And that large sample size indicates Hartnell is still plenty effective offensively.
One area of concern is that Hartnell has already played 13 seasons in the NHL, and plays a style that wears down a player's body. However, he proved to be plenty effective at age 31, and has been remarkably healthy throughout his career. Unless Hartnell's offense disappears out of thin air and he starts missing significant time, there is no real reason to be worried. With the salary cap increasing, Hartnell $4.75 million dollar cap hit will be less of a problem every year.
Scapegoats For No Reason
Despite receiving flak from fans, Braydon Coburn and Scott Hartnell are valuable members of the Flyers. Trading them for picks or prospects to clear cap space would be a poor move in the short and long term. The assets you would receive in return would be unlikely to ever turn into the players these two are today. If you're looking for a whipping boy, look towards Vinny Lecavalier.