The Chicago Blackhawks have had a bit more trouble with the Minnesota Wild than most expected. Some of this is attributable to the Wild being a deeper and better team than many realized, but the decided majority of Chicago's troubles are attributable to something the Blackhawks have been doing — or, to be more precise, something they haven't been doing. 
Chicago Blackhawks' Forecheck: 1-2-2 vs. 2-1-2
The Blackhawks ran a conservative 1-2-2 forecheck for close to the entirety of both Games 3 and 4. It's no coincidence that they generated almost no offensive pressure in either of those tilts, and complaints that the games were boring ran rampant. It's difficult to come up with a reason why Joel Quenneville thought playing things safe would be a good idea. Chicago doesn't have the personnel to play whole games sitting back in the neutral zone; this is a style more befitting far less talented teams like the Nashville Predators.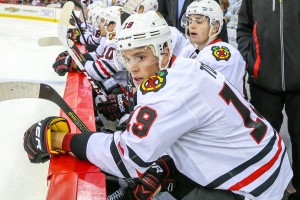 After the disastrous third and fourth games in St. Paul, the Blackhawks were much more aggressive on the forecheck in Game 5. They primarily played a 2-1-2, and the result was a series high in shots on net. In the second period of Game 5 alone, Chicago threw 15 shots Ilya Bryzgalov's way. Prior to Sunday, the Blackhawks hadn't managed more than 22 in an entire game.
Chicago's well-documented puck possession game is predicated on an aggressive forecheck. Early in the third period of Game 5, Jonathan Toews laid a huge hit on Mikael Granlund when the Blackhawks were pressing hard for offensive zone possession, something they didn't do in Games 3 or 4 until they were trailing by multiple goals. A handful of seconds later, Toews scored the game winner.
Quenneville still elects to switch to the 1-2-2 a bit earlier in games than he probably should, often choosing to have the Blackhawks spend the entire third period in a defensive shell if they have any sort of lead. This has come back to bite Chicago in the past, especially in the first round against the St. Louis Blues.
The Blackhawks need to stay aggressive in Game 6. Being overly conservative has killed the team on the road thus far in the playoffs. It's on Quenneville to improve on his already helpful adjustments from Game 5.
Follow Sean Sarcu on Twitter or add him to your network on Google.