The Pittsburgh Penguins suffered arguably their worst loss in the Mike Sullivan era last night against the Boston Bruins. They looked lethargic, turnover-prone and for a lot of individuals, flat-out bad. However, it's encouraging to know that even when the Penguins are at their worst, they're not necessarily a bad team. I know that sounds crazy when you look at the scoreboard following a 5-1 loss, but stay with me.
When you break down last night's loss by the numbers, the data will tell a story that wasn't evident on the ice. The Penguins out shot Boston at even-strength 42-28. They also out-chanced the Bruins 43-25, with 18 of those scoring chances coming from high-danger areas.
If you'd look at those numbers and exclude the score, who would you think left the ice victorious?
While Penguins' fans are obviously concerned following a defeat of that magnitude, I urge you to take a deep breath. The score wasn't exactly representative of how the game was played, and was determined by a few timely mistakes.
Pittsburgh will get Evgeni Malkin and Nick Bonino back in the lineup this weekend, according to reports. Bonino was hardly a force prior to his injury but he also hadn't spent much time in Sullivan's system, which has sparked others that struggled early on. And, I'd say it's obvious how badly they miss Malkin.
Marc-Andre Fleury Has to Be Better Down the Stretch
The Penguins haven't had many areas of concern recently. Despite their recent rash of injuries, they've continued to win games and tally points in the standings. However, goaltending is an area that is regressing, and that's bad news when you're facing the type of stretch the Penguins are with some very important games approaching.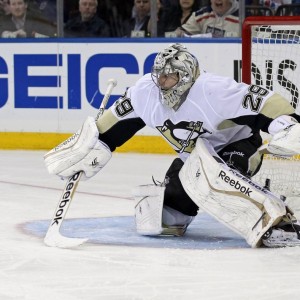 Since Jan. 1, the Penguins are 20th in the league for even-strength save-percentage. Fleury posted a sub-.900 save-percentage in seven contests throughout that stretch. There's a myth right now that the Penguins are playing high-stakes hockey under Sullivan, which is leading to more scoring chances-against and therefore, leading to more goals-against. That simply isn't true. Both scoring chances and high-danger chances have stayed fairly flat since the coaching change. This is on goaltending.
Is Fleury being overworked due to the team not trusting Jeff Zatkoff? Are there lingering effects from his concussion suffered earlier this season?
Whatever the reason is, the Penguins will need him to return to form if they plan to hold their spot in the Eastern Conference playoff race, let alone make it past the first round. Last night's contest in Boston wasn't a terrible showing, other than a few mishaps while playing the puck that led to scoring chances. But, overall, he has been far less-than-stellar as of late.
Just How Capable is This Defensive Group?
Despite the narrative I briefly mentioned above, which is a belief the Penguins are a worse defensive team under Sullivan due to high-risk hockey, the Penguins are eighth in the NHL for scoring chances-against per 60 minutes since the calendar flipped to 2016. They're also eighth for the month of February alone.
Simply put, they aren't giving up more chances due to a focus on offense.
However, games like last night's loss outline something that should be very concerning, and that's the fact that Olli Maatta hasn't been himself for much of this season. Two costly mistakes led to Bruins' goals last night. The first, an obvious lapse in judgement, provided David Pastrnak a prime opportunity with an open lane to the net.
The second, another poor decision, occurred due to him over pursuing the puck. With Landon Ferraro to his left, Maatta should have backed up with the play. Instead, he tries to play an airborne puck and the rest is history.
I'm not picking on Maatta, but these types of plays can't happen when you're fighting for your playoff lives. If the Penguins can't count on Maatta to be a true top-two defender, they're in trouble. He's better than he has shown, obviously. Pittsburgh will need him at his best in the coming weeks.
I'm far more confident in this group than I had been at any other point this season. That said, they need their best players to play as such. Maatta is in that category.
What to Expect Before the Looming Trade Deadline
With all of this talk around the defensive group, we'll start there. Ben Lovejoy's injury may mean the Penguins need to address their defensive depth via trade. They don't need, nor will they pursue a blockbuster trade. But, adding someone who can fill a sixth or seventh defensive role would be ideal.
I feel like Matt Hunwick is a strong candidate for the Penguins and as I wrote yesterday, the Penguins are scouting the Leafs. Considering Ian Cole's struggles, Hunwick could potentially step in and play alongside Derrick Pouliot on the bottom pairing. The move would also give them another defenseman with plenty of NHL experience for the home stretch.
On offense, I see P.A. Parenteau as a great fit, as well as Tanner Pearson if the Kings decide to move him. However, I've wavered back-and-forth on whether or not this team needs bottom-six help. That group hasn't been productive enough but as time goes on, their AHL call-ups keep improving. Should they stick with what they have in the organization and keep whatever assets another forward would cost? Definitely something to consider.
This is a strange trade deadline for Pittsburgh and one that's very hard to predict. If the Penguins added two or three players prior to Monday, I wouldn't be surprised. However, at the same time, I can also see them standing pat and going to war with the group they have.
Who Stays and Who Goes Upon Malkin/Bonino's Return?
The young forwards that have manned Pittsburgh's bottom-six have made a pretty good case for themselves at the NHL level. Scott Wilson, Tom Kuhnhackl and Bryan Rust have been standouts and though he's not known for this type of play, Wilson is literally fighting to earn a permanent spot.
Ideally, Kevin Porter and Conor Sheary will get reassigned to the AHL. Though, Sullivan seems to value Porter's gritty playing style and many covet his penalty killing ability. I don't agree that his work on the penalty kill is worthy of retention but unfortunately, the opinions of those that are in charge are what matters.
One thing is certain. The Penguins got a great look at some of their young forwards and the results were encouraging. With questions about where the NHL's salary cap could end up next season, team's that spend to the ceiling like Pittsburgh need impactful young forwards with cheap contracts. You may be watching next season's bottom-six develop right in front of your eyes.
Thanks for reading. Follow me on

Twitter

at

@Michael29Angelo

for more conversation around the Pittsburgh Penguins and everything NHL.