The Pittsburgh Penguins are a team that no one wants to play against these days. They're fast, aggressive on the puck and extremely potent. In their last 10 games, Pittsburgh is 7-2-1 with at least four goals in four of those games, and 32 total tallies. Maybe more impressive is that they've only scored three goals over their last three games, meaning 29 of those goals came in a seven-game stretch. However, those last three games are evidence of a major issue this team is facing. No Evgeni Malkin.
Malkin has missed the Penguins' last five games. They completed that stretch above .500, going 3-1-1, but outside of their 6-2 victory against the Anaheim Ducks, they haven't necessarily won in convincing fashion. On Feb. 6, the Penguins found themselves trailing the Florida Panthers by two goals until Sidney Crosby and Kris Letang took over and tied the game with very little time left, then finished the contest in overtime for a Pittsburgh victory.
They beat the Carolina Hurricanes 2-1 on the back of a solid goaltending performance by Marc-Andre Fleury and they squeaked out a loser point on Monday night in their second contest vs. the Panthers. Hardly what we've grown accustomed to over the last two months.
Penguins' Power Play is Powerless Without Evgeni Malkin
Can you guess how many power-play goals the Penguins have scored over their last five games without Malkin? The answer is one, and it came in overtime during a four-on-three. Pittsburgh's power play has gone 1-for-11 in that stretch, after scoring six goals with the man-advantage through their prior five games. Malkin isn't the only one scoring goals on that unit by any means, but don't underestimate the impact his presence has on opposing penalty killers.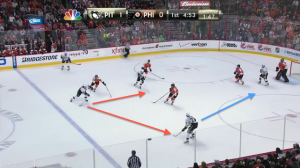 Without Malkin on the right side, opponents can focus more attention on Kris Letang and Phil Kessel manning the left. Those two have been responsible for tons of pucks-on-net, which have resulted in rebounds and second-chance opportunities. Crosby has made a living on those opportunities as of late.
It also takes away the Malkin one-timer from the right circle, pictured to the left. Basically, no Malkin means the right side is deemed almost useless, which puts obvious pressure elsewhere. Lanes are clogged, shots aren't getting through and the Penguins power play, dare I say, looks like they did in October and November. Yes, he has that much of an impact.
While Pittsburgh tried to move Crosby to the right half wall, Malkin's normal spot, it just isn't the same. They lose the threat of Crosby down low and still remain far less potent. This is a truly great power-play unit with No. 71 partaking. But, they're awful without him.
Overshadowed, But Not Overestimated
Let us not forget that Malkin carried the Penguins' offensive attack on his shoulders throughout former head coach Mike Johnston's stint to start the season. While the debate about what plagued Crosby and resulted in the worst start of his career will likely never be settled, it's impossible to argue that Malkin was there to keep the Penguins afloat during an extremely rough period. In recent months, Crosby is back and has launched a full-blown assault on the NHL. He's deserving of the attention he's receiving, which has overshadowed Geno to an extent, but the Penguins will struggle to compete down the stretch without both of their superstars healthy and performing as only they can.
Malkin should return soon and barring any setbacks, the Penguins will be off and running yet again. Pittsburgh is quickly approaching a busy March, which consists of 12 games against their Metropolitan Division counterparts. Needless to say, Malkin's return can't come soon enough.
Thanks for reading. Follow me on Twitter at @Michael29Angelo for more conversation around the Pittsburgh Penguins and everything NHL.