Which Detroit Red Wings players will represent their counrties or regions in the tournament?
On March 1, the eight World Cup of Hockey teams will announce preliminary rosters ahead of the fall tournament. Sixteen players, including two goalies, will be announced by each team to start off the 2016 World Cup of Hockey festivities.
Known for their internationally friendly lineups, the Red Wings could see nine or more players play for their home countries—or for the two miscellaneous teams. Team North America will be comprised of the best U23 American and Canadian players. Team Europe will consist of the best European players born outside of Sweden, Finland, Czech Republic, and Russia.
So which Red Wings could participate in the 2016 World Cup of Hockey?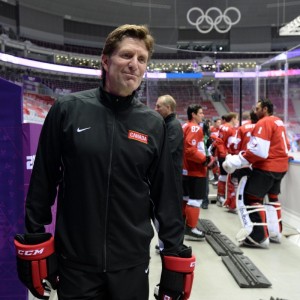 Canada
If it was 2008, then Brad Richards and Mike Green would be certainly be considered for the Canadian World Cup of Hockey team. However, it is 2016 and each are past their prime. Though former Red Wings in Mike Babcock, Tom Renney, and Marc Bergevin will represent Canada, the only current Red Wing to make the team will be Ken Holland, who will serve as an advisor to GM Doug Armstrong.
Czech Republic
Depending on how this season ends, Petr Mrazek could play himself into the starting goalie position for not only the Red Wings, but Team Czech Republic as well.
He will need to battle countryman Michal Neuvirth to win the job though. Having represented the Czech Republic well in past World Junior tournament, a shot at leading his country at the World Cup of Hockey would be an incredible experience (and huge confidence boost) for the young Czech goaltender.
Unless there is a rash of injuries to Czech blueliners this fall, it's unlikely that Jakub Kindl will make the World Cup of Hockey team for the Czech Republic. Crazier things have happened though.
Europe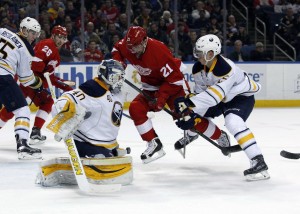 Consisting of players born in Slovakia, Norway, Switzerland, and other smaller hockey countries, Team Europe is an under-the-radar team heading into the 2016 World Cup of Hockey. Detroit's Tomas Tatar should be a lock to make the team and will likely have his name announced on March 1. He'll join Marian Hossa, Mats Zuccarello, and Anze Kopitar on the offensively dynamic forward unit. It's possibly, but unlikely, that Tomas Jurco and Xavier Ouellet—natives of Slovakia and France, respectively—could join Tatar as well.
Finland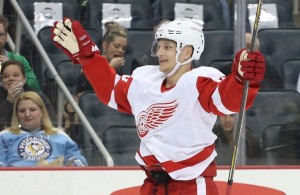 As far as the Finnish World Cup of Hockey team is concerned, the only Detroit Red Wings representative will be Teemu Pulkkinen. A healthy scratch as of late, Pulkkinen's cannon (Pulk-cannon) would be a great fit in Finland's top-nine. On a team with many two-way forwards, Pulkkinen's offensive prowess will be able to shine without him having to worry too much about his own end. Vili Saarijarvi will play on future Finnish national teams, but not this one.
North America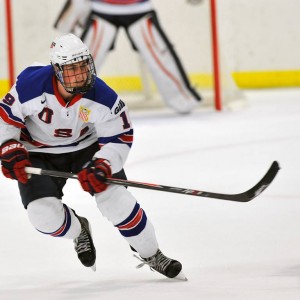 Dylan Larkin has a shot at making the U23 Team North America, but has some stiff competition despite his play as one of the Red Wings' top players this year. Larkin's ability to play all forward positions, kill penalties, two-way hockey sense, and speed will all help his selection case. However, he'll be competing with the likes of Brandon Saad, Jonathan Hubredeau, Jack Eichel, and Auston Matthews. Larkin shouldn't be considered a lock, but is more than likely to suit up for Team North America.
Russia
Unless Pavel Datsyuk wants to rest ahead of the 2016-17 season, the captain of the 2014 Russian Olympic ice hockey team is a lock to make an appearance at the World Cup of Hockey. Datsyuk will join Evgeni Malkin and Evgeny Kuznetsov to form a deep center unit for the Russians. There's also a chance that he'll be joined on Russia's World Cup of Hockey team by Red Wings teammate Alexey Marchenko. As a right-handed shot, Marchenko is a rare commodity on the Russian blueline. He could beat out the likes of Fedor Tyutin and Anton Belov for a roster spot.
Sweden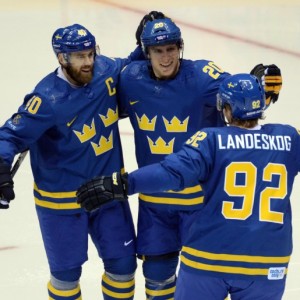 Team Sweden might as well be renamed "Team Detroit Red Wings", considering the amount of Swedish players that the Red Wings have rostered over the last 20 years. Henrik Zetterberg is a lock to make the team and possibly be named captain again. Gustav Nyquist and Niklas Kronwall likely will be named to the team again after playing in the 2014 Olympics. It's possible that fellow 2014 Olympian Jonathan Ericsson will play in the World Cup of Hockey, but it's hard to justify him playing over Victor Hedman, Erik Karlsson, John Klingberg, Oliver Ekman-Larsson, Niklas Hjalmarsson, Alexander Edler, Hampus Lindholm, and Kronwall.
USA
Though the Red Wings have fantastic American talent on the roster, none are expected to make Team USA's roster. Dylan Larkin is too young. Danny DeKeyser and Justin Abdelkader are very good, just not good enough to crack the roster. And finally, Jimmy Howard would have a tough time beating out Jonathan Quick, Ben Bishop, and Cory Schneider at this point. If Howard were to regain the starting job in Detroit before the end of the season, he could put himself in contention for a roster spot.
What are your thoughts? Should some of these Red Wings stay home? Should some of the unlikely players in fact make their team's roster? Comment below or tweet me: @PolakWolak
For more World Cup of Hockey coverage, check out Dustin Nelson's projected rosters: Canada | Czech Republic | Europe | Finland | North America | Russia | Sweden | USA.