Which players could the Detroit Red Wings trade at the NHL Trade Deadline?
As the NHL Trade Deadline approaches, the Detroit Red Wings find themselves with an opportunity to improve their already solid roster. In doing so, they'll have to give up players, prospects, and/or picks in return.
With the rumors that the 2016-17 salary cap ceiling may rise or fall, the Red Wings need to put themselves in a position to win this year and next. Currently, the Red Wings are close to the salary cap ceiling. Along with their pending unrestricted free agents, the Wings also have a number of critical players reaching restricted free agency as well. With all of this, the Red Wings find themselves in a situation where they cannot take on much more cap hits without significant player salaries heading back the other way. Last year, the Red Wings brought in Marek Zidlicky, Erik Cole, and their respective cap hits at the trade deadline without trading an NHL player. They do not have such a luxury this year.
So where does that leave the Red Wings? In this week's column from The Grind Line, the Red Wings coverage team from The Hockey Writers takes a look at the trade chips that could be dealt at the 2016 NHL Trade Deadline.
Tony Wolak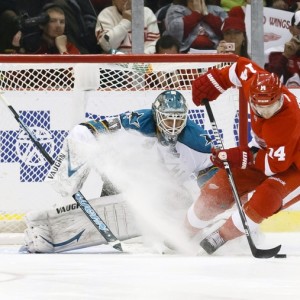 Having won four of their last five game (the only loss coming in a shootout), the Red Wings have been on a roll lately, but have room for improvement. If the Red Wings want to advance in the playoffs, they'll want to shore up their defense. And the only trade worth making is for a top defender, capable of playing big minutes with Niklas Kronwall. However, the cost to acquire such a player would be high.
So who is expendable? And who will bring in significant return if traded. The popular answer is Jimmy Howard, but not too many teams are in the market for a struggling backup goalie with a $5 million-plus cap hit. If he can win some games and raise his confidence, a few teams may be interested and be able to trade the fair amount back to the Red Wings. But until then, Howard is staying in Hockeytown.
Gustav Nyquist
The Red Wings do have forward depth, as evidenced by their recent utilization of Riley Sheahan on the fourth line. With salary cap uncertainties, a logical trade chip would be Gustav Nyquist. Why Nyquist though? The University of Maine alum has a favorable cap hit and is in his prime. Trading a serious asset like Nyquist would net a very nice return—someone like Kevin Shattenkirk, Sami Vatanen, or Justin Faulk.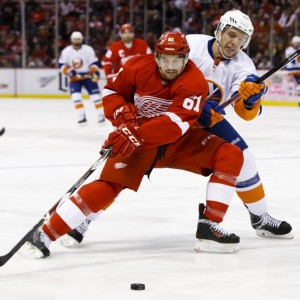 Defense Prospects
Apart from Nyquist, the Red Wings could look to trade one of either Xavier Ouellet, Nick Jensen, or Ryan Sproul. All three lose their waiver eligibility before the start of next season and could fetch a decent player if traded. Not all three can be on the Red Wings' 23-man roster next season. Perhaps one could be traded for a prospect with waiver eligibility or a playoff-experienced forward for the stretch run. Michael Grabner, Kerby Rychel, and Jiri Hudler could all help the Red Wings if acquired, especially if salary was retained in Grabner and Hudler's cases.
Jacob Messing
Looking at the Red Wings' roster, they have a few needs to address and only a couple of players that management would be willing to part with.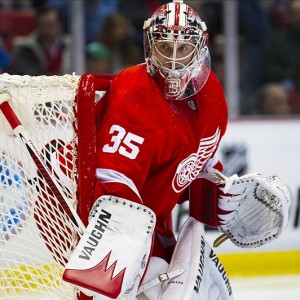 Jimmy Howard
That'll be the day. Petr Mrazek has clearly shown he is Detroit's present and future, even with Howard's contract. With three years left on his contract that has a cap hit just below $5.3 million, Howard's days in Detroit are numbered, as they say. Detroit won't pay Howard that kind of money to be a backup goaltender. Teams that could be interested include Calgary and Buffalo, but that's about it.
I wrote about Howard in Calgary back in November in a potential deal that would see Detroit bolster their blue line with Dennis Wideman. That's no longer an option. The Wings would need a capable back-up goalie in return to dress the rest of the season, such as Jonas Hiller, (UFA in summer). Even without a real deadline acquisition in return, simply moving Howard and freeing up the cap space would be enough.
Moving Howard ahead of the deadline is unlikely. Getting the return he could have last season will not be easy for GM Ken Holland. But, getting him off your salary cap is worth taking the best offer you can get.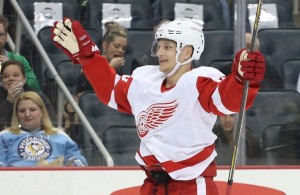 Teemu Pulkkinen
Pulkkinen hasn't been given a big chance at the NHL level but has posted 20 points (11 G, 9 A) in 63 career games. He's known for his booming, right-hand shot, but hasn't fully learned he doesn't have the time and space in the NHL to use it consistently. Detroit isn't hurting for prospects and moving last season's AHL goal leader can still fetch a nice return.
Every team should have interest in Pulkkinen, but with Detroit's forward depth, moving him makes sense. Bringing back a defensive defenseman or power forward would be the key here. Holland said that any trade would need to be a "dramatic upgrade," in addition to working with the cap.
Pulkkinen has been a consistent healthy scratch and now has even been replaced on the depth chart by Andreas Athanasiou, a 21-year-old, big-bodied, speedy, grinder.
Would you trade any of these Red Wings? Comment below or tweet at us: @THW_RedWings
Recent Posts:
The Detroit Red Wings Quiz Guaranteed to Stump You
The Grind Line: Detroit Red Wings Who Must Step Up Down the Stretch