How well do you know the Detroit Red Wings?
With the rich history the Detroit Red Wings have, there are plenty of factoids and tidbits to stump the most avid fans. This quiz dives into the history, records, and fandom that surrounds the Red Wings.
The answers are below the quiz. Don't cheat. The Red Wings don't cheat. Why should you?
Now test your knowledge. How well do you know the Detroit Red Wings?
**  This is only available on our Desktop Version at the moment.
The Quiz:
(If the quiz does not appear below, click here to take the Red Wings quiz)
The Answers:
How well did you do? Check out the answers below to learn a thing or two about the Red Wings.
1. Torrie Robertson
During his 54-game tenure with the Red Wings, Torrie Robertson wore Brendan Shanahan's #14, which is not retired. Jimmy Carson wore #10 (Alex Delvecchio), Sheldon Kennedy wore #12 (Sid Abel), and blueliner Darren Veitch wore #5 (Nicklas Lidstrom).
2. Kristen Bell
Though not a regular attendee at Joe Louis Arena, Kristen Bell grew up and still is a Red Wings fan. She admitted to have a crush on former Red Wings' goalie Chris Osgood as a teenager in the 90s.
3. British Columbia
Though he grew up outside of Ottawa in Ontario, Steve Yzerman was actually born in Cranbrook, British Columbia. He played for the suburban-Ottawa Nepean Raiders before finishing his junior hockey career with the Peterborough Petes.
4. Syd Howe
Sergei Fedorov scored five goals against the Capitals in 1996, but Syd Howe holds the record with six goals in one game. The elder (and not related) Howe scored six against the New York Rangers in 1944.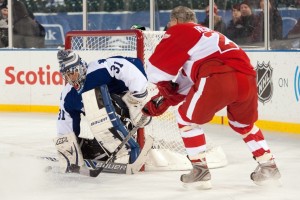 5. Mickey Redmond
Holy cow! The ginger ale-loving Mickey Remond holds the Red Wings record for the highest goals per game average as a Red Wing, scoring an average of 0.56 goals per game. Ray Sheppard and Frank Mahovlich each scored 0.55 goals per game. "Johnny O" scored 0.47 goals per game in his Red Wings career.
6. Errol Thompson
Though he played three-plus seasons with the Red Wings, Errol Thompson ended his NHL career in Pittsburgh, not Detroit. The Red Wings traded him to the Penguins during the 1980-81 season, his last in the NHL.
Darryl Sittler, Rick MacLeish, and Borje Salming all finished their NHL careers in a Red Wings uniform, despite starring for other teams in their respective careers.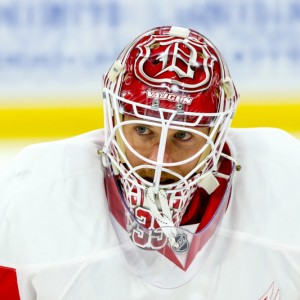 7. 4th Place
Sitting only behind Terry Sawchuck, Chris Osgood, and Harry Lumley, current Red Wings goalie Jimmy Howard is 4th place on Detroit's all-time shutout leaders list with 21. He has one more than Dominik Hasek and Roger Crozier.
8. 7 Jersey Numbers
The Detroit Red Wings have officially retired seven jersey numbers. Sid Abel, Alex Delvecchio, Gordie Howe, Nicklas Lidstrom, Ted Lindsay, Terry Sawchuk, and Steve Yzerman all have their jerseys hanging in the rafters at Joe Louis Arena. Though not officially retired, Larry Aurie's #6, Sergei Fedorov's #91, and Vladimir Konstantinov's #16 are all out of circulation within the organization.
9. 63 Years
Budd Lynch, Detroit's famed play-by-play and public address announcer, was a part of the Red Wings organization for 63 years. Though he passed away in 2012, Lynch's voice can still be heard announcing the final minute of each period at all Red Wings home agames. The Battle of Normandy and World War II veteran remains an integral part of every Red Wings game today.
10. 32
During the majority of his playing career in Detroit, netminder Tim Cheveldae wore #32 for the Red Wings. During a brief, two-game stint in 1989, "Chevy" wore #31, before switching to #32 the following season.