In a recent installment of THW's "The Grind Line", the Red Wings' writers discussed the team's biggest trade deadline needs. While my colleagues cited top-tier defenders and power forwards as pressing concerns, I elected to go a different route. With Detroit feeling the cap crunch, it makes sense that they should shed some salary heading into next season. The team has several pending unrestricted free agents making a good chunk of change, including Brad Richards, Kyle Quincey and Darren Helm.
It's unlikely that any of the aforementioned players will move at the trade deadline, especially if the Red Wings think they have a shot to make some noise in the postseason. While I expect the first two players to hit the free agent market on July 1st, I'm not entirely sure how Ken Holland is going to approach Helm's situation.
The uncertainty extends to Helm's role on this team – is he a second-line winger, or a bottom-six center? Furthermore, how does Holland view the speedy forward, and what will he offer him as compensation next season? Considering his history of retaining homegrown, veteran players, the Red Wings' general manager is probably leaning toward signing Helm. Is that the right choice, though?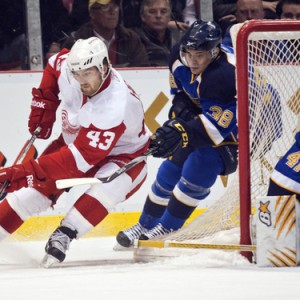 Jack-of-all-Trades, Master of None
OK, so he's mastered a skill or two. Helm's a very solid penalty killer, and perhaps one of the best on Detroit's roster. He's a versatile player, who can move up and down the lineup, though he is probably best suited for third-line duty. Therein lies the issue – where does Helm fit in this Red Wings' lineup? The team is strong down the middle, with Henrik Zetterberg, Pavel Datsyuk and Riley Sheahan occupying the center positions in Detroit's top-nine forward group. Datsyuk probably only has a couple of years left, but that's where Dylan Larkin and Andreas Athanasiou come in. The reality is, the team is fairly set at center, which has forced Helm to play on the wing.
Helm thrived on the wing last season, playing along Datsyuk and Tomas Tatar. The line posted some very solid possession numbers, and the 29-year-old forward posted a respectable 33 points through 75 games. While it was a career-high for Helm, you probably want a little more out of someone playing in a top-six role. This season, Helm has bounced between the team's second and fourth lines. He hasn't had the same offensive impact he did last season, but he is also better than the fourth-line minutes he has received at times.
Chances are that Helm demands a raise from his current 2.125M cap hit. It's not unreasonable to think he could command something between 3-3.5M from the Red Wings – certainly, he could receive that on the open market. Is Helm willing to take a deal in the 2-2.5M range to stay in Motown? It's unlikely, and at this stage of his career, he needs to do what is best for himself.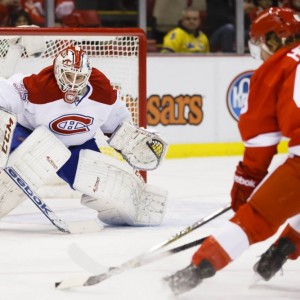 Should he Stay or Should he Go?
The Red Wings already have (arguably) three or four contracts where the level of play does not quite match up with the cap hit. Signing Helm to anything above 2.5M runs the same risk, in my opinion. With a number of young players with potential ready to prove their worth in the NHL, Holland is better suited to continue the youth movement that is currently underway in Detroit.
By himself, Helm is not going to fetch much for the Red Wings at the trade deadline. As I mentioned earlier, the chances of Holland moving him while the team is contending are slim to none. However, if the right opportunity were to arise, he is an attractive piece as part of a package deal. Despite his status as a pending, unrestricted free agent, Helm would make an ideal third-line center for a team with space on their depth chart. Truthfully, he has made for an excellent third-liner center in Detroit for many years, but with the Red Wings tight on cap space and roster spots, the time to part ways with Helm may be here.