This could be an active trade deadline for the Detroit Red Wings.
With just about a month until the NHL Trade Deadline, the Detroit Red Wings have the opportunity to address a few needs in their lineup. But which need should be tackled first? Which is most important? The Hockey Writers' Red Wings crew weighs in on this week's The Grind Line column.
Tony Wolak: Top-Tier Defenseman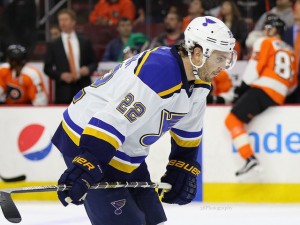 More so this season than in previous years, there appears to be a higher number of top defensemen on the trade market. Dustin Byfuglien, Kevin Shattenkirk, and Sami Vatanen have all been mentioned in trade rumors in recent weeks.
The Red Wings still find themselves in need of a top-pairing defenseman to partner with either Niklas Kronwall or Danny DeKeyser. With a plethora of talent on the forwards depth chart, the Red Wings have the opportunity to part with young talent for a young, talented defenseman to better round out the roster. Shattenkirk and Vatanen also have the skill set to be featured on the Red Wings' penalty kill and power play units.
As for trade bait, the Red Wings have a multitude of wingers who are NHL-ready, but only so many spots to fill in the lineup. Soon, Anthony Mantha and Andreas Athanasiou will be pushing Justin Abdelkader, Dylan Larkin, Gustav Nyquist, Tomas Tatar, Teemu Pulkkinen, Tomas Jurco, and Darren Helm for time in the Red Wings top forward lines. Everyone, besides Larkin, could be spun for a top defender that the Red Wings are lacking.
Related: Detroit Red Wings Mock Trades and Trade Deadline Targets: Defensemen
Jacob Messing: Power-Forward Options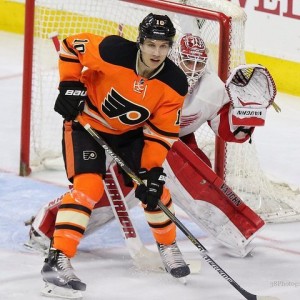 The Detroit Red Wings need to get bigger. Come playoffs, when room decreases and defenses buckle down, size usually correlates to success. Just ask the Los Angeles Kings, the Boston Bruins or the New York Rangers. Sure, maybe the three-time Cup champions Chicago Blackhawks aren't the biggest team, but that's why I said usually.
In Detroit, Justin Abdelkader seems to be the only forward with true grit. The defense does a pretty good job, but we're going to focus on the offense. There are some good players that could be had at the deadline and since sellers are always the teams on the outside looking in, we'll focus on the lower half of the standings. Here are three potential deadline players Detroit could add for size and scoring.
Brayden Schenn (Philadelphia)— 43 GP, 11 G, 13 A— At 24, Schenn is a younger Abdelkader with a higher ceiling. The former fifth overall pick wouldn't come as cheap as a veteran dead-liner, but as a restricted free agent at the end of the season, he could become part of Detroit's future. In Detroit, he's another net-front guy that fights in the corners and fights for his space. Philly is outside the wild card race currently, but there is enough time left for superstars Claude Giroux and Jakub Voracek to string together a nice streak and push them back into playoff contention.
Andrew Ladd (Winnipeg)— 48 GP, 10 G, 17 A— The 30-year-old had a career year last season, posting 62 points (24 G, 38 A) and loves to throw the body. The Jets aren't standing where they thought they'd be thus far in the season and appear to be sellers come February 29. It would take a big offer to pull Winnipeg's captain away, but it's not impossible if he demands a long-term contract and similar salary to Ryan Kesler ($6.8 million, per). Winnipeg also has defenseman Dustin Byfuglien potentially on the trading block, but he would cost much more than Ladd. Either way, neither player would return to Detroit next year, so the cost may not be worth the rental.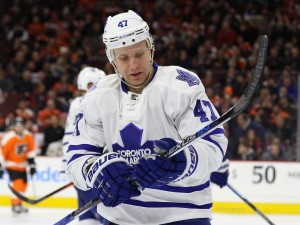 Leo Komarov (Toronto)— 46 GP, 15 G, 16 A— Spoiler alert: Toronto is out of the playoff race. Komarov is Mike Babcock's Toronto version of Abdelkader. Komarov is only 29 and has been quite the surprise for Toronto. There aren't many players who hit as much as Komarov; according to ESPN, the Islanders' Matt Martin is the only player with more hits this season. He would be a cheaper price than Schenn or Ladd and easier to let walk away come season's end.
Eric Tangradi (Grand Rapids Griffins)— 36 GP, 16 G, 15 A— Standing 6-foot-4, and willing to use his 221-lb. frame, Tangradi has been a "big" addition for the Griffins; leading the team in points all season. At just 26 years old, he may still get another shot in the NHL again one day. Detroit called him up at the end of December, but wasn't needed when a sick Luke Glendening opted to play. He's more of an honorable mention, but if he gets a chance to play after Sunday's recall and can chip in a few points and grit, he could be a free, bottom-six upgrade for the Wings…if all else fails.
Brandon Peleshok: Stand Pat/Cap Space
Last season, Ken Holland was able to address two needs of the Detroit Red Wings at the trade deadline – Erik Cole offered the team grit and size up front, while Marek Zidlicky was the right-handed, offensive defender the Wings sought all season.
In retrospect, it's easy to label the acquisitions as failures. Cole suffered a spinal contusion after only 11 games with the Wings, and while Zidlicky provided a boost to the team's offense, he stood out for all the wrong reasons during their playoff run. When Holland made the trades, he had the cap space and the assets to do so. It was a calculated gamble that, ultimately, did not pay off in Detroit.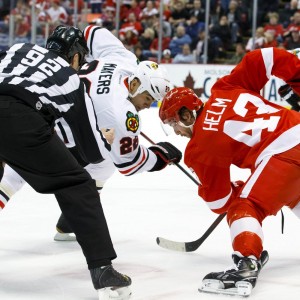 Which brings us to the 2015-16 trade deadline. Holland needs to address, arguably, the exact same needs as last season. The key difference being that the Wings simply do not have the cap space to pull off a trade of much significance, unless they're willing to ship out a player from the active roster.
Several pending unrestricted free agents might garner some interest, including Darren Helm, Kyle Quincey and Brad Richards. If Holland believes the Wings are a contender, it makes no sense to move any of the aforementioned players.
Someone the Red Wings have attempted to move is Jakub Kindl. Realistically, it's unlikely that Holland will find a suitor for Kindl. Ideally, flipping the 28-year-old for a late-round pick and getting some cap relief would have been best for the team. However, Holland exposed Kindl to waivers, but none of the other 29 teams in the league were willing to take on his 2.4M cap hit.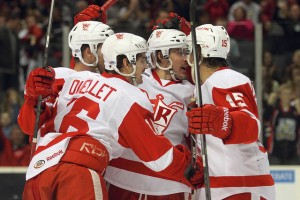 Again, it's not to say the Red Wings don't have needs – they have plenty, but they involve bringing in high-calibre players. Unless Holland has a blockbuster deal up his sleeve, one where he is willing to ship out some key players for blue chip talent, the team should stand pat this season. With several prospects chomping at the bit in Grand Rapids right now, the Wings' GM should consider giving them an extended look in the NHL before making any more band-aid transactions.
What do you think is the Red Wings' most pressing need? Comment below or hit us up on Twitter: @THW_RedWings