Could the Detroit Red Wings pull the trigger on a trade deadline move for a top defenseman?
As the NHL Trade Deadline approaches, the Detroit Red Wings are poised to make a move, given their needs and wealth of talent. One of those needs for the Red Wings is to acquire a top-pairing defenseman in a fair trade at the deadline.
But what does a "fair trade" mean?
For the sake of this trade deadline primer, a "fair trade" means a trade agreed upon with the THW beat reporter of the other team. For each trade target and mock trade below, a fair trade was "negotiated" in order to establish what the other team is looking for and which Red Wings' players, prospects, and picks match the need. Note: the proposed trades keep the Red Wings salary cap-compliant, but subsequent trades may be needed to align their roster correctly (e.g. having too many defensemen and needing to move one).
1. Kevin Shattenkirk (STL)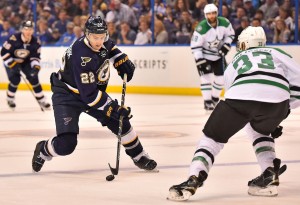 Skinny: With the addition of Kevin Shattenkirk, the Detroit Red Wings have a perfect top-pairing defenseman. The St. Louis Blue can play in all situations and with his right-handed shot, the soon-to-be 27-year-old would be a fantastic complement to Danny DeKeyser on the Red Wings' top defensive pairing. Shattenkirk currently leads Blues' defenders with 26 points, despite missing 12 games earlier this season—15 of which with the man advantage.
Mock Trade: As agreed to with THW St. Louis beat reporter, Jeff Ponder, Detroit trades Brad Richards, Anthony Mantha/Teemu Pulkkinen, and a 2017 3rd round pick to St. Louis for Kevin Shattenkirk and Santeri Saari.
Components: While Detroit is trading Richards and his leadership, moving his salary is necessary to bringing in a top-flight defenseman. In either Mantha or Pulkkinen, St. Louis fills the need of immediate, young scoring. Shattenkirk gives Detroit a top-pairing defensive partner for DeKesyer for the next 5+ years. With Saari, Detroit acquires a project prospect currently patrolling the blue line in the Finnish Elite League.
2. Sami Vatanen (ANA)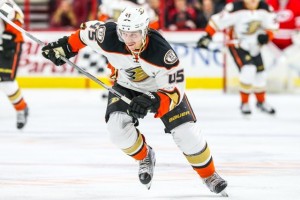 Skinny: Detroit has had a tradition of employing offensive-minded defensemen. Sami Vatanen fits the mold and with his powerful, right-handed shot, can be compared to a young Brian Rafalski. Currently quarterbacking Anaheim's top power play, Vatanen's cannon from the point would be a welcomed addition to the Red Wings' power play. At even strength, Vatanen would be the perfect complement to Danny DeKeyser on the Wings' blue line. He is a great playmaker and can also contribute to the penalty kill. Going forward, Vatanen and DeKeyser could potentially be Detroit's top pairing for years to come.
Mock Trade: As agreed to with THW Anaheim beat reporter, John Gove, Detroit trades Gustav Nyquist and a 2017 3rd round pick to Anaheim for Sami Vatanen and Stefan Noesen.
Components: In Vatanen, Detroit gets an all-around defenseman with offensive upside. Noesen is a young right-handed forward who has a lot of potential, but is still adapting to the professional game. The Red Wings give up a hefty sum in Nyquist, but are otherwise stocked with solid wingers. Nyquist's departure would allow Teemu Pulkkinen, Tomas Jurco, or Anthony Mantha to step up and possibly thrive.
3. Jack Johnson (CBJ)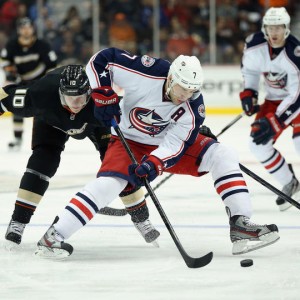 Skinny: With Columbus adding Seth Jones and looking to shed higher salaried players, the Red Wings have an opportunity to buy low on a solid, two-way defenseman in Jack Johnson. Before the arrival of Jones, Johnson worked the point on the Blue Jackets' top power play and penalty kill. His numbers reflect poor play at even strength however. In Detroit's system, the Red Wings could add essentially a more offensive-minded Kyle Quincey if they were to acquire Johnson. And with Quincey's contract set to expire, the Red Wings could let him walk and keep the younger former Blue Jacket.
Mock Trade: As agreed to with THW Columbus beat reporter, Mark Scheig, Detroit trades Tomas Jurco and a 2016 2nd round pick to Columbus for Jack Johnson.
Components: In Johnson, the Red Wings acquire a young, two-play defender that raises the average on their blue line. In exchange, the Red Wings send the struggling, but still young Tomas Jurco to the Blue Jackets. The Red Wings have a plethora of young talent on the wings plus Andreas Athanasiou and Mantha pushing for time with the varsity squad. The 2nd round pick is a steep price to pay, but reflects the trade market for top defensemen. You have to trade a fair amount get something solid in return.
4. Justin Faulk (CAR)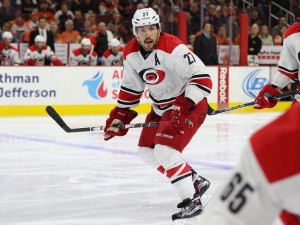 Skinny: Another top-pairing defender with a great, right-handed shot? That's right. Justin Faulk would be an incredible add for the Detroit Red Wings, but would require a lot in return. However, Faulk has been killing it for the Hurricane's power play this year, with 12 power play goals so far. His cannon could be set up well on the half wall, similar to how the Predators feature Shea Weber. Faulk also contributes to the Hurricane's penalty kill and could be utilized there if need be by the Red Wings.
Mock Trade: Agreed to with THW Carolina beat reporter, Mark Shiver, Detroit trades Gustav Nyquist, Xavier Ouellet, and a 2016 1st round pick to Carolina for Justin Faulk and Jay McClement.
Components: Sensing a trend here? Nyquist, unfortunately, is essential to most deals involving a top-tier defenseman because of his talent, youth, and contract. In order to free up space for a larger contract, another larger contract must be moved. Nyquist's deal is reasonable for a young, skilled player. With Carolina looking to add youth, Ouellet and the pick are needed to acquire a solid defenseman in Faulk. His all-around skill would be a welcomed addition to the Red Wings' stagnant defense. In McClement, the Red Wings essentially replace Drew Miller, who is out for the season. McClement is strong in the circles and is an excellent penalty killer. His playoff experiences bodes well for a shutdown line with Luke Glendening and Darren Helm.
Thoughts? Comments? Propose alternative trades and share your opinions below or on Twitter: @PolakWolak
Related: Detroit Red Wings Trade Deadline Preview
Related: The Grind Line: Biggest Trade Deadline Need for the Detroit Red Wings