What should the Detroit Red Wings consider on the trade market?
While the Detroit Red Wings front office discusses potential roster-improvement opportunities, the NHL has seen a flurry of transactions recently. After nearly half a season of inactivity on the trade front, the NHL was taken by storm with a few high-profile trades to start the New Year. Nashville traded future star Seth Jones to Columbus for budding superstar Ryan Johansen, and Philadelphia sent former All-Star Vincent Lecavalier and stay-at-home defenseman Luke Schenn to Los Angeles for Jordan Weal and a third round pick.
The NHL's hotstove is heating up. The Detroit Red Wings currently sit in second place in the Atlantic Division with 51 points and currently riding a four-game winning streak. Jakub Kindl has already been waived in an attempt to keep the 23 strongest players on the NHL roster. Now, as the trade deadline approaches, the Red Wings must consider all options to keep pace in their division and potentially elevate themselves into Stanley Cup contender status.
Lack of Elbow Room
Though the Red Wings should consider making moves to bolster their roster, team management will do so knowing that acquiring a player means having to part with one. The Red Wings currently have 23 players on the roster and only Alexey Marchenko is eligible to be demoted to Grand Rapids without having to clear waivers. Marchenko's performance, while placing Kindl on waivers, suggests that he is here to stay.
Other than Marchenko, the only player that the Red Wings would consider sending to Grand Rapids is Joakim Andersson, but he would need to clear waivers first. He would likely be claimed by a team looking to add depth if that situation arose.
In addition to the lack of player space, the Red Wings are now operating under a tighter salary cap number to factor in potential performance bonuses.
Ken Holland explains to the diggers that LTIR basically gave them a $66M cap to work with, but that's not how LTIR works.

— Winging It In Motown (@wingingitmotown) January 9, 2016
So where does that leave the Red Wings in terms of their needs at the trade deadline?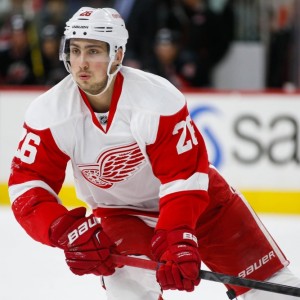 Adding Offense
It's been no secret this season that Detroit has struggled to score. You can look at that in a couple of ways: the roster has not been consistently healthy all season, throwing off the chemistry—or—the healthy players have not produced to their abilities. Nonetheless, they need to score more and should look at outside options for an added scoring punch.
Given the lack of space on their roster and with the salary cap, the Red Wings could still use a forward to boost their power play. They have great power-play quarterbacks, but not the players to work down low and score goals. Apart from Justin Abdelkader, they lack a prototypical power forward who can use his big-body presence to create offense. Johan Franzen does not look to be coming back from injuries and his new Instagram career, so the Red Wings should consider adding size up front.
Though not known for his physical presence, the return of Teemu Pulkkinen will give the Red Wings a fully healthy forward group and more offensive prowess in the lineup. The Red Wings do love the return-from-injury-trade-deadline-acquisitions *Ken Holland laughs maniacally*.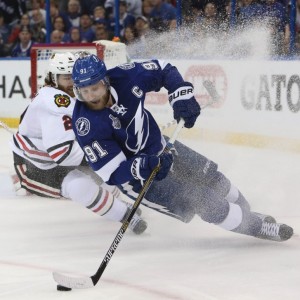 With recent reports suggesting the Red Wings could potentially acquire Steven Stamkos and Jonathan Drouin from the Lightning, the potential trade should be met with some skepticism. First, the Red Wings would need to trade a fortune to net Stamkos and Drouin, likely more than they're worth. And second, the Lightning would be highly unlikely to trade the two within the Eastern Conference, let alone the Atlantic Division. It would be great to have them, but the trade is just not plausible.
Related: Detroit Red Wings: Strengthening the Anemic Power Play
Upgrading Defense
As a whole, the Red Wings' defense has not been terrible this season. In fact, Brendan Smith has made tremendous strides in recent months in improving his game. As mentioned before, Marchenko has also earned the trust of his coaching staff and teammates.
However, the Red Wings do not have any true, top defensemen on their roster. Niklas Kronwall has looked his age this season. Danny DeKeyser will be a top defenseman one day, just not yet. Mike Green is not the player he once was, but still can contribute.
If there is a team willing to part with a top-tier defenseman, the Red Wings should seriously look into making a move. Between their prospects and NHL roster players, the Red Wings have a strong group of players that can be a part of a great package heading back in return for the defenseman. Though it may require parting with young talent (some combination of Nyquist, Tatar, Mantha, Pulkkinen, Jurco, Athanasiou, Marchenko, Helm, Ouellet or Svechnikov), a need to has to be addressed at some point.
Goaltending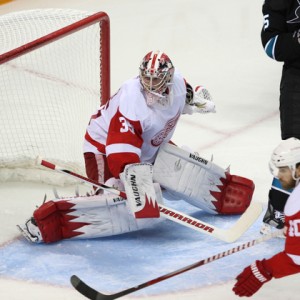 Though many would like the Red Wings to part with Jimmy Howard and hand the reigns over to Petr Mrazek, this is not the right time to do so. Howard's stock has never been lower and trading him now would not fetch an ideal return. This would also leave Tom McCollum or Jared Coreau as the new backup. If the Red Wings lost Mrazek to injury thereafter, they would be in a horrible position heading toward the playoffs.
The Red Wings could look to add a goaltender with potential to their AHL roster. This player could compete for the backup job next year if Howard was traded in the offseason. Otherwise, there is no need to add a goaltender to the NHL roster at this time.
Bottom Line
If the Red Wings make any moves, they will be upgrading players who are already on the roster. They really do not have the ability to trade prospects and draft picks for NHL players without moving an NHL player, as well. Most teams in the league are like this and, since there are more contenders this year than ever, the Red Wings may have to stand pat or take a chance on an under-the-radar player. It will certainly be another intriguing trade deadline, though.
—