In response to a few big trades last week, the NHL is once again giddy with trade deadline talk. And with good reason, as the 2016 NHL Trade Deadline has the potential to be one of the most active in recent memory.
Last week, we saw two trades. The first featured the Philadelphia Flyers and Los Angeles Kings, with Luke Schenn and Vincent Lecavalier heading to L.A. for Jordan Weal and a 2016 3rd round pick.
Later that same day, we saw a blockbuster trade between the Columbus Blue Jackets and Nashville Predators. Ryan Johansen went to the Preds in return for Seth Jones, both young and extremely talented players.
Since then, fans have become fascinated in who could be available for their favourite team to acquire in hopes of a late push towards the playoffs.
In the spirit of the trading season, we've ranked the top 10 players available for the 2016 NHL Trade Deadline.
10: Jeff Skinner – Carolina Hurricanes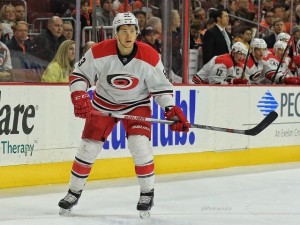 Jeff Skinner has been in his fair share of trade rumours already, at the age of just 23 years. It has been a rollercoaster six-year career so far for the talented left winger. He has dealt with a few concussions, and up and down production each year. With the Carolina Hurricanes in the beginning stages of a rebuild, you would think Skinner would be their key piece. However, this will mark the third year that he finds his name all over trade deadline rumours.
After falling to only 18 goals last season, Skinner has made strides to become his old self, with 15 goals through 43 games this season, with the potential to reach 30. The concern for interested teams will still revolve around his health though. Multiple concussions can derail a promising career, and another one could possibly end it. Regardless, Skinner is a scoring winger who could see his totals bumped up playing for a more offensive minded team.
Skinner has three years remaining on his contract after this season, with a $5.725M cap hit.
9: Dustin Byfuglien – Winnipeg Jets
Dustin Byfuglien could be well on his way to playing for the third franchise in his career. The big-bodied defenceman is in the last year of his contract, and talks of an extension haven't gained any traction as of yet. The Jets would much rather deal at the deadline than lose him for nothing, but they are expected a huge return. The question is whether any team is willing to match their requests for 30-year-old who may be more trouble than good.
In this, his 11th NHL season, Byfuglien has seen his point totals drop for the third consecutive year. After bouncing back and forth between playing forward and defence, he had finally settled on being a defenceman. He can still put up 40 points a year, but will inquiring teams think that is worth the trouble he causes both on and off the ice? For that reason, the Jets may have to significantly lower their standards.
This is Byfuglien's last year of his contract, at a $5.2M cap hit.
8: Kyle Okposo – New York Islanders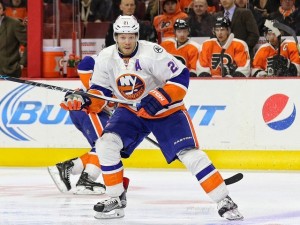 Kyle Okposo, the Islanders leading scorer, is in the final year of his contract with he Islanders, with a possible extension not even close to being signed. The only hinge with this possible trade is that the Islanders currently have a strong position and the playoffs and may want to hold onto him for the playoff run, rather than trade him away and halt any realistic chances they have.
The 27-year-old is in his ninth season with the Islanders, with his best season coming in 2013-14 when he scored 27 goals and 69 points in 71 games. So far this season, he has 10 goals and 31 points in 40 games. There isn't really any concerns with Okposo, what you see is what you get, ande has never had any serious injuries. The former seventh overall pick would be an excellent second-line winger on any contender.
Okposo is in the last year of his contract, at a $2.8M cap hit.
7: Jordan Eberle – Edmonton Oilers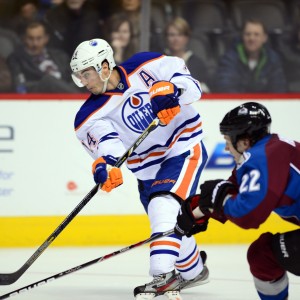 Jordan Eberle is in his seventh season with the Oilers, and seems to be amid trade rumours annually. Edmonton desperately needs a top-two defenceman, and will only trade Eberle if that is included in the return. Eberle is in the midst of a down year, with just 10 goals and 18 points in 29 games. But, as a 25-year-old, he certainly has a lengthy career ahead of him, valued as a second-line winger right now.
It's no secret that the Oilers have an excess up skilled forwards with a lack of NHL defensemen. With that said, they have a valuable asset in Eberle because of his contract that has four years remaining with a $6M cap hit. Because of that, they may have some leverage in a potential deal for someone with a shorter contract.
Eberle has three years remaining after 2015-16 on his contract with a $6M cap hit.
6: Andrew Ladd – Winnipeg Jets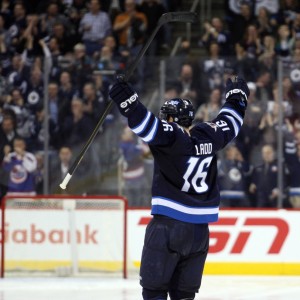 Andrew Ladd, much like Byfuglien, could be on his way to playing for another team next season. Apart of the trade with Byfuglien from Chicago to Atlanta, Ladd is also in the last year of his contract. Rumours have it that extension talks between Ladd and the Jets have been much more productive than with Byfuglien, but the possibility of a deadline deal is still very much alive.
The fact that the Jets are not in a playoff position makes the potential for a trade much stronger. Ladd is experiencing a down year, production wise, with just 10 goals and 23 points in 41 games this year. It's his leadership abilities though, that are priceless. Ladd is a terrific captain that can have a positive impact on any NHL locker room. The 30-year-old is in his 12th NHL season, with his third franchise.
Ladd is in the last year of his contract with a $4.4M cap hit.
5: Jonathan Drouin – Tampa Bay Lightning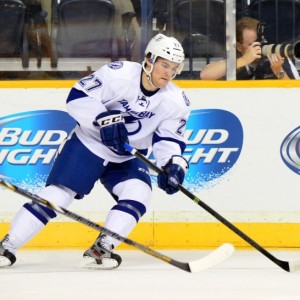 Jonathan Drouin is the hot topic among trade rumours right now, after his agent announced that he had requested a trade from the Tampa Bay Lightning. Things haven't gone smoothly between him and the organization, starting from being returned to junior after being drafted. Then, in 2014-15, Drouin struggled to find a consistent spot in the lineup, often playing very limited minutes. It has been much of the same this season, and it hit a boiling point when Drouin was sent down to the Syracuse Crunch of the AHL.
In 89 career NHL games, Drouin has scored six goals and 40 points. The Lightning have made it known that they would prefer to trade him to a Western Conference team. The 20-year-old has loads of potential, being the third overall pick in the 2013, and GM Steve Yzerman will be looking for an enormous return.
Drouin is in the second year of his three-year entry level contract.
4: Travis Hamonic – New York Islanders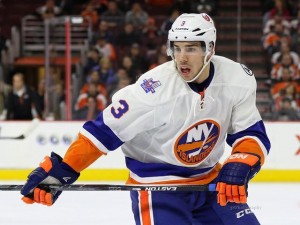 Travis Hamonic is another player who has requested a trade from his team, in this case, for personal reasons. Despite making the request before the season began, the market has been very quiet lately. Apparently a trade later in the year, or in the offseason, may be more likely. He would like to go to a Western team, like Winnipeg, Calgary, Edmonton, or Minnesota. Hamonic is in his sixth season with the Islanders as a 25-year-old.
Hamonic's offence has seen a slight decrease this year, after setting a career high in points in 2014-15 with 33. He has just two goals and eight points through 41 games. He should be an extremely valuable trade asset, not only because of his strong defensive play, but also because of his cap hit, which is just $3.86M for through 2019-20.
Hamonic has four more years on his contract with a $3.86M cap hit.
3: Ryan Nugent-Hopkins – Edmonton Oilers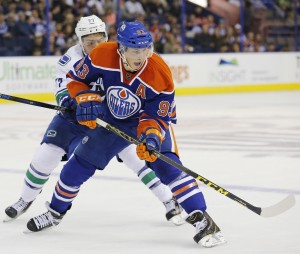 Ryan Nugent-Hopkins could be one of the most underrated forwards in the league today. He is in his fifth season with the Oilers, who would rather keep him than perhaps Eberle or Yakupov. However, his value is much higher than theirs right now, and the Oilers may need to consider listening to offers for him. A top-two defenceman is what they are looking for.
Nugent-Hopkins is currently on pace to set a career high in points with 58, his previous high was 56 in the last two years. He is a terrific two-way player who would slot in as a second-line center on most teams. Much like Eberle, his contract makes him affordable for many years to come, with a cap hit of $6M through 2020-21. The 22-year-old obviously still has tremendous offensive potential and should continue to grow into his mid-20's.
2: Eric Staal – Carolina Hurricanes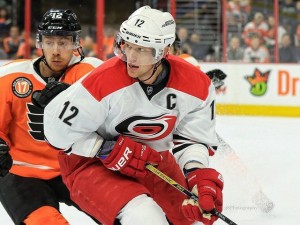 Eric Staal has already had an amazing 12-year career as a member of the Hurricanes, but it may finally be time for both parties to move on. With 320 goals and 767 points in 888 games with the Canes, including a Stanley Cup, it won't be easy to trade away their franchise player. But with his contract expiring at the end of this season, and the Hurricanes no where near a playoff spot, it may be in their best interest to get something for him, instead of letting him walk for nothing.
Staal has been one of the most consistent players in the league, until 2013-14, when he finally started on a slight decline. He is no longer the point-per-game player everyone had become accustomed to, but is still a very valuable asset for any stretch run. He has developed a terrific two-way game over the years and is still great in the face-off circle. He has eight goals and 25 points in 42 games this year.
Staal is in the last year of his contract with a massive $8.25M cap hit.
1: Steven Stamkos – Tampa Bay Lightning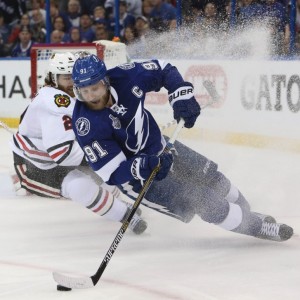 Steven Stamkos was thought to be a lifelong Lightning without a doubt, until this year. In the last year of his contract, many expected an extension to be signed before the season began. However, that did not happen, and talks have not been very effective as of yet either. Because of that, there is thought to be a large possibility that Stamkos becomes an unrestricted free agent on July 1st. The 25-year-old is in his eighth season with Tampa Bay, racking up 294 goals and 529 points in 534 games. He is regarded as one of the elite goal-scorers in the game today.
If the Lightning are out of a playoff spot and firmly believe that Stamkos is not coming back, they will trade him at the deadline. However, if they still believe there's a slight chance that he will re-sign, then we will not see a trade, simple as that. He is a four-time 40-goal scorer, hitting 60 in 2011-12. He captained the Lightning to the Stanley Cup Final last season, and may still have his best years ahead of him.
Stamkos is in the last year of his contract with a $7.5M cap hit.