Before jumping up and down in arms; this isn't an attempt to create a rumour between the Edmonton Oilers and Tampa Bay Lightning swapping two players. This is about two players who share a similarity in the sense that neither, at this point, fit into the long term futures of their current teams.
It's a clear notion that both Nail Yakupov and Jonathan Drouin have murky futures in their respective organizations. Yakupov has frequently been involved in the rumour mill over the past two seasons. Drouin has adamantly requested a trade out of Tampa and without a massive breakthrough in the peace he'll be gone by the 2016 Trade Deadline.
Both players would greatly benefit from a change in scenery and the belief in the argument is both may be able to unlock their skill sets playing in a different forward mix.
Related: These five teams should pursue a Jonathan Drouin trade
Now the stalemate in the argument is that Drouin is a playmaker and has already had a favourable linemate in sniper Steven Stamkos. Yakupov on the other hand has had looks as a sniper along with a playmaker in Connor McDavid. Both Stamkos and McDavid are elite players, both meet the current needs of Yakupov and Drouin as a sniper/playmaker match up. So if Yakupov and Drouin can't already succeed with their current elite player, what's to say they will when they change to playing with another?
---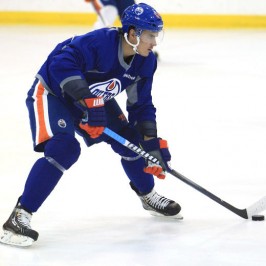 Nail Yakupov
Age: 22     | Contract: $2.5M (RFA 2017)
---
The biggest knock against the 2012 1st overall pick is inconsistency, second is health. Yakupov is playing in his fourth NHL season and his career best totals have been scoring 14 goals and 33 points last season.
He has yet to surpass his 0.65 PTS/GP from his rookie season when he lost out on the Calder Memorial trophy for rookie of the year to Jonathan Huberdeau (Florida Panthers).
On the flip side, Yakupov has played much of his career on the third-line, sporadically getting moved into a top six role when injuries permit. A telling sign about his use in Edmonton is that he's averaged between 14:24-15:26 TOI during his time as an Oiler. Considering that most top six players play between 16:00-20:00 TOI, he's well under useful minutes and needs more time.
Related: Oilers: Yakupov Gets New Lease on Life With McDavid
Related: Nail Yakupov: Not a Bust
Where do you get this time however when Yakupov is a defensive liability during 5-on-5 play? Where do you get this when Yakupov is buried in the depth chart behind the likes of Taylor Hall, Benoit Pouliot, Jordan Eberle and Teddy Purcell? It's difficult. Yakupov did get a short look next to McDavid to start the year and looked great, but then the points dropped off and he got injured.
Edmonton is looking for consistent production, in fact the Oilers need scoring in their ranks. Would you believe that the current Oilers, with all their high end draft picks, sit 24th overall in the league in goals scored? Hard reality.
With Purcell and Eberle both on the trade block it's possible Yakupov finally gets something he (and what his supporters believe) is a fair shot in the Oilers top six. If he's not going to get it however, you might as well move him because having a former 1st overall pick waste away on your third-line is just that, a waste.
Insert Drouin?
---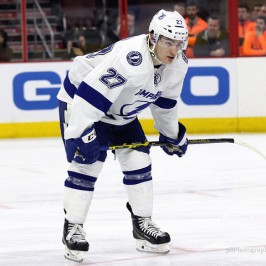 Jonathan Drouin
Age: 20     | Contract: $894K (RFA 2017)
---
Everyone knows the situation between Drouin and the Tampa Bay Lightning right now. In fact it's been quoted that his value is dropping by the minute as long as this holdout continues. The latest news being reported by Adrian Dater is rumblings of a swap with Colorado potentially involving defenseman Chris Bigras (2nd round pick, 2013). The same draft Drouin went 3rd overall for comparisons sake.
The fact of the matter is that the Lightning and GM Steve Yzerman are rumoured to be looking for a defenseman in return to add to their backend. Braydon Coburn and Matt Carle aren't sitting with favourable cap hits, Coburn is a UFA this summer and Victor Hedman is coming up for re-signing looking for big money.
Tampa needs help on their backend, someone preferably on an ELC to cushion the blow with their impending cap issues. This makes a swap for Yakupov difficult. The Lightning also boost some incredible talent upfront led by Stamkos. Behind him there's; Valterri Filppula, Ondrej Palat, Tyler Johnson, Alex Killorn, Nikita Kucherov and a few others to mention.
Related: Colorado Avalanche: Is Trading for Jonathan Drouin Just a Dream?
Related: Report: Sens Asked to Part With Thomas Chabot for Drouin
So where would Yakupov fit in? Where is the match for playing time for a guy like Yakupov?
Drouin on the flipside has some siblime skills but has struggled, much like Yakupov, to adjust to the pro level. Similar arguments can be made that he hasn't had his fair share of chances, but then again most of his 5-on-5 minutes have been with Stamkos of all people. If you look at the Lightning's depth upfront you'd be hard pressed to find a spot for Drouin in that group. His ELC is a great bargaining chip especially with having two years left.
He can play all three forward positions if neccessary but is better suited for the wing where he can maximize his creativity. There are teams looking to add Drouin but the best matches seem to be with the ones willing to give up a young defenseman in return with Anaheim, Colorado, Ottawa, St.Louis leading the way.
Edmonton could make this move to give the two embattled young players something they need, a fresh start. Does it make sense however?
---
Would You Do It?
If you look at the hard facts of this the deal makes sense from the perspective that both players would be getting a change in scenery. The flip side of the argument is that both teams have the same need in return, a defenseman to help grow their backend.
Both players trade value is dropping the more they go without striking on an opportunity, whether it's the organization themselves failing to provide it or the players themselves making the most of the opportunities in the top six they do get.
Make your own decision, leave a remark in the comment section and start the discussion.