Only a few forwards make sense for the Detroit Red Wings at the NHL Trade Deadline.
Looking ahead to this month's trade deadline, the Detroit Red Wings have the opportunity to bolster their forward unit for the stretch run. Like most teams, the Red Wings have holes in their roster that need to be addressed. And now that potential defenseman trade targets have been evaluated, let's take a look at forwards who could help the Red Wings make some noise and the fair trades required to acquire them.
And what does a "fair trade" constitute?
When targeting forwards across the league, a "fair trade" was negotiated with the THW beat writer of the player's team. Each team has their own needs and trade chips. Detroit has their fair share of players, prospects, and picks that could be dangled for a nice add. Though these trades are Salary Cap-compliant, additional trades may be needed to bring the Red Wings' roster to the right alignment (e.g. having too many forwards on the roster).
Related: Detroit Red Wings Mock Trades and Trade Deadline Targets: Defensemen
1. Steven Stamkos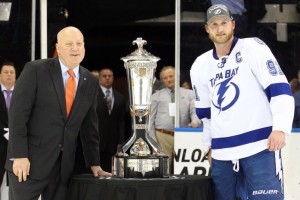 Skinny: It's no secret that the Red Wings are a potential destination for Steven Stamkos, even if a contract extension is signed. The Red Wings could certainly use a true #1 center with Henrik Zetterberg and Pavel Datsyuk winding down their careers and Dylan Larkin just coming along. Stamkos and his right-handed shot would instantly make the Red Wings contenders. Though it may take time for Stamkos to adjust to Detroit's systems, the Red Wings would be more than happy to unleash his goal-scoring prowess.
Mock Trade: As agreed to with THW Tampa Bay beat writer, Dan Herrejon, Detroit trades Brendan Smith, Gustav Nyquist, Vili Saarijarvi, and a conditional pick (1st round pick if Stamkos signs; 2017 3rd round pick if he does not) for Steven Stamkos and Ben Thomas. (Note: this trade is agreed to without Stamkos signing a contract extension)
Components: In order to acquire one of the best players in the NHL, even if just for a few months, the Red Wings would need to trade a few valuable assets. Moving Nyquist and Smith is a hefty cost, but necessary for opening up the cap space that Stamkos' current contract would fill. Additionally, Tampa Bay is looking for a right-handed defense prospect and Saarijarvi fits the mold. While he is a highly-touted prospect, Sarrijarvi is still four-to-five years away from NHL action and the Red Wings have others to take his place. In Stamkos, the Red Wings instantly bolster their power play, offensive output, and chances of advancing throughout the playoffs. Finally, the Red Wings acquire a project prospect in Ben Thomas, who could develop into a bottom-pairing or higher NHL defenseman.
2. Andrew Ladd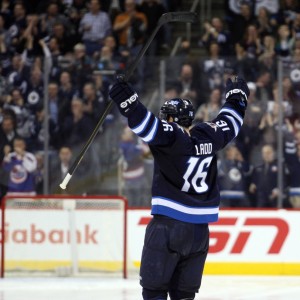 Skinny: Detroit's roster is currently skinny and could use some size. Eric Tangradi adds size, but acquiring Andrew Ladd would add size and goal scoring. Having won a Cup with both Carolina and Chicago and currently captaining the Winnipeg Jets, Ladd brings instant credibility and leadership to compliment his on-ice talents. Putting Ladd on a line with Datsyuk and either Tomas Tatar or Dylan Larkin would give the Red Wings a true top line capable of taking over games.
Mock Trade: As agreed to with THW Winnipeg beat writer, Sean Olinkin, Detroit trades Darren Helm, Joe Hicketts, and a conditional pick (2ns round pick if Ladd signs; 4th round pick if he does not) for Andrew Ladd and a conditional pick (3rd round pick if Helm signs; 5th round pick if he does not).
Components: Though Detroit fans would hate to see Helm go, he is likely on his way out of town in the offseason as a pending unrestricted free agent. Helm has a high market value and the Red Wings do not have the cap space to match what Helm is likely looking for. The Red Wings are high on Hicketts (and rightfully so), but with the addition of Saarijarvi via the draft, Detroit has the option to move one of the two undersized, offensive defensemen. If Ladd were to come to the Red Wings, he would go from one of the worst teams in the NHL to a team with a chance to compete deep into the playoffs. Like most Jets, his numbers are down this year, but joining the Red Wings could spark the power forward.
3. Michael Grabner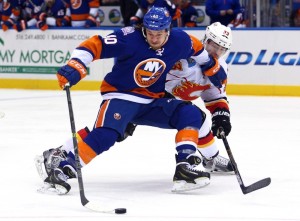 Skinny: With Drew Miller out for the season, the Red Wings may look to bolster their fourth line and penalty kill. Michael Grabner has been a bright spot for Mike Babcock's lowly Toronto Maple Leafs this season. He is one of their leading penalty killers and could add some offense to Detroit's fourth line with his blazing speed and offensive touch. Imagine a pesky line of Grabner, Helm, and Luke Glendening shadowing opponents' top lines in the playoffs. Only 27 and a pending UFA, Grabner could replace Miller long-term with a strong performance.
Mock Trade: As agreed to with THW Toronto beat writer, Anthony Fusco, Detroit trades a 2017 2nd round pick and a 2016 4th round pick to Toronto for Michael Grabner (half of his salary retained) and a 5th round pick.
Components: In order to make this trade work, Toronto would have to retain half of Grabner's $3 million salary. This is something Toronto planned on doing as far back as this past offseason, when they signed Grabner, P.A. Parenteau, Brad Boyes, and others to one-year contracts knowing they would eventually be traded. A 2nd round pick is a high price to pay, but reflects the current market conditions. Don't forget that Nashville recently traded a 1st round pick for Paul Gaustad.
Thoughts? Comments? Are there other forwards the Red Wings should be targeting? Share below or propose alternative trades on Twitter: @PolakWolak
More: Detroit Red Wings Mock Trades and Trade Deadline Targets: Defensemen