As happens with every team and every position at some point, the Pittsburgh Penguins could be approaching a controversy at the goaltending position. This controversy though, is far different from Tomas Vokoun supplanting Marc-Andre Fleury to start in the playoffs a few seasons ago. This time, Fleury's long-term replacement and future of Pittsburgh's goal crease is currently playing in his net, as Fleury remains out with a concussion. At least, that's how highly regarded Matt Murray is in Pittsburgh at the moment.
Murray burst on the scene in 2014-15 with a stellar, record-setting performance with the Penguins' AHL affiliate in Wilkes-Barre/Scranton. He started 40 games last season, going 25-10-3 and recorded 12 shutouts while boasting a save percentage of .941 and a goals-against average of only 1.58. Immediately, the talk of how the Penguins would handle their goaltending surplus began to surface.
Keep in mind, the Penguins also have 20-year old Tristan Jarry in goal at the AHL level. With Murray currently manning the fort in the NHL, Jarry is 8-1 with a .940 save-percentage and a 1.50 goals-against average in Wilkes-Barre. He obviously has a long way to go before being considered an NHL-caliber goalie but he's off to a great start. Clearly, goaltending is an area of strength for Pittsburgh and if Murray continues to develop into a legit NHL goalie, things could get quite interesting. In most cases, teams could sit back and let things play out naturally but when you're in a win-now mode but have plenty of holes to fill, the organization has to consider dealing from areas of surplus.
Pittsburgh Penguins Have a Tough Decision Looming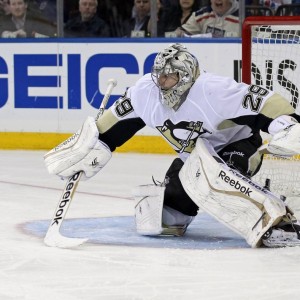 Fleury has been nothing short of spectacular this season. In fact, since facing a few daunting playoff issues just a few short seasons ago, he has been phenomenal. Fleury is arguably the only reason Pittsburgh stayed afloat throughout the first 30 games of this season prior to making a coaching change. The Penguins have been a bottom-of-the-barrel team in both shot suppression and goals-for which means one thing, they've relied heavily on Fleury and backup Jeff Zatkoff to keep games close, despite a poor defensive effort and inability to score. Both goaltenders have been up to the challenge but Fleury has stood out in a big way.
Recently, with Fleury on the shelf due to injury, Murray has stepped in and played well. He still has holes in his game but all indications are that he will be a very good NHL starter in the very near future, maybe even next season. While there were questions about whether Murray or Zatkoff would take the reins while Fleury sits out, it looks as if they'll likely split time with Murray getting a more frequent look. He has been calm, confident and poised in the crease and has a savvy about him that's normally only seen in trusted veteran goalies. So far, through his small sample size of three starts, he carries a 1.68 goals-against average and .934 save-percentage.
This is a tough situation for the Penguins but a necessary part of the business. It's also a situation that any team would love to be in. Considering the lack of organizational depth at all other positions, the Penguins can work with their surplus in goal to help fill voids. If they deal Fleury at some point, as they gain more confidence in Murray taking over, they would also put themselves in a much better situation from a salary cap standpoint. Of course, there are pros and cons that come with each path.
Dealing Goaltenders Can Be Tricky Business
Trading a young goaltender rarely fetches a large return. Most of the time, the selling team will acquire payment in the form of draft picks. While it's possible to get a high pick for a goalie like Murray, they're better off waiting this out and ensuring that he is indeed the heir to Fleury's throne. However, considering that Fleury is playing what's arguably the best hockey of his career and he's in the first year of his new four-year extension, if packaging Murray with other assets means acquiring a true top-four defender the Penguins should consider.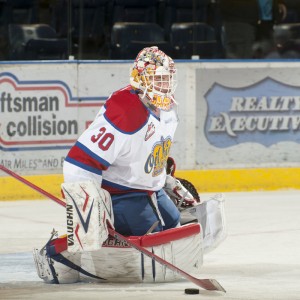 The wild card in this situation is Jarry, who I mentioned previously. Many scouts view him as Matt Murray 2.0 for the Penguins, which doesn't necessarily mean they're similar in style but rather in potential. Both are highly touted and expected to be very good NHL goalies. With Fleury locked up for four years and Jarry waiting in the wings, does that mean that Murray is the most expendable of the three? Or, for a team that stays so close to the salary cap ceiling, is it best to explore the market for Fleury and move forward with Murray as their starter? Fleury's $5.75 million would give Jim Rutherford plenty of flexibility at other positions.
You can clearly see the predicament that Pittsburgh is currently in and how tough this decision will be. Though, this is a problem that any franchise would love to have. I don't believe that we're in the midst of a goalie controversy right now but if Fleury remains out and Murray continues to play like a legit NHL option, it's going to be quite interesting to see how things play out. Based on Rutherford stating that Fleury will be his goaltender for as long as he remains in Pittsburgh, it's very possible that Murray is showcasing himself for possible suitors during his current NHL stint. It's tough argue either decision but of course, the return is the most important piece of how this ends.
Is it too early to consider which direction the Pittsburgh Penguins should go? I don't believe so. I'm not ready to crown Murray the next franchise goaltender in Pittsburgh but I'm also a realist and understand that given the Penguins' current needs, considering a move in the crease is something that makes complete sense.