The Pittsburgh Penguins started the season in an uncharacteristic fashion, they were struggling to score goals. But more importantly, they weren't winning a lot of games. Well, after 21 games, the Penguins have a record of 13-8 and are currently third in the Metropolitan Division.
There were a lot of people confused, upset and angry over how this star studded team began the season. It's no secret that the Penguins commit a ton of their salary cap to a few key players. In fact, Sidney Crosby, Evgeni Malkin, Kris Letang and Phil Kessel account for 45.16% of the teams $71.4 million salary cap.
At the start of the season all of the stars were struggling to produce points and the team was faltering. Many blamed head coach Mike Johnston for the failure of the team. While he's not without blame, he is not the only reason why the Penguins weren't playing well. Pittsburgh's fan base has been infuriated over Johnston's desire to play a dump and chase system.
It's a system that works well at the junior level, but not in the best league on the planet. MIT has already proved that carrying the puck into the zone creates twice as many scoring chances as dumping it in. So why was Johnston insisting that the Penguins play this system? Well, it all comes down to comfortability.
Last season, the Penguins came out of the gate strong and were dominating the league with a simple up-tempo puck possession system. However, it was a simple system and teams quickly reacted to it and as the season wore on, Pittsburgh played so badly they were forced to win their last game to even make the playoffs.
Over the offseason, Johnston spent time developing a new system, and it's one that takes a lot from his time at the junior level. But if the Penguins abysmal play was any indication, this system does not work at the NHL level. Within the last four games, the Penguins have been slowly moving away from a dump and chase approach to carrying the puck in, and unsurprisingly their play has dramatically improved.
We're going to be using a lot of charts here to illustrate this point and it's fair that I explain them prior to revealing them. What I'm going to be looking at is corsi for percentage of total of the entire Penguins team as well as some of the star players. This metric is the percentage of shots attempts for your team while your on the ice, fifty percent is even, anything above means they're driving possession and below means they're not.
First, let's take a look at the Penguins performance as a whole.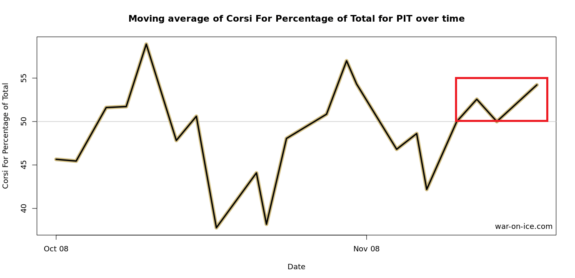 The area highlighted in the red box is the Penguins last four games. For the most part, they're not dumping and chasing anymore, they're letting their star players use their talents to the best of their ability. It's no coincidence they've fared much better and have won three out of their last four. In the first 17 games with a dump and chase approach, the team had a combined corsi for percentage of 48%. But in their last four games they have had a corsi for percentage of 51.8%.
What's changed? The players are all still on the roster and Johnston is still behind the bench, but he's changing the way they play the game.
However, the biggest change has not been in the team's overall metrics, let's take a look at the "washed up" captain Sidney Crosby.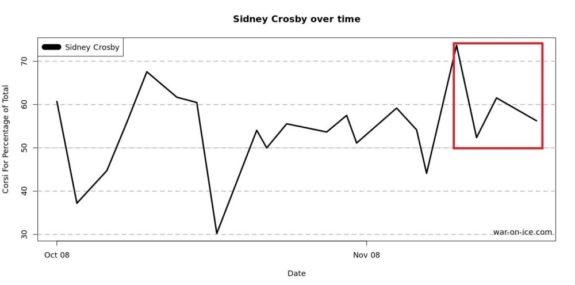 Sidney Crosby did not start out the season playing very well. It was an up and down beginning and he was struggling to put up points. In his first 17 games played, Crosby had a corsi for of 53% and produced 1.5 points per-sixty minutes played, which translated into just nine points.
However, let's look at his last four games, Crosby has had a corsi for of 61%, has been scoring 3 points per-sixty played and has scored four points. But it's not just Crosby who's seen a significant improvement in play over the last four games.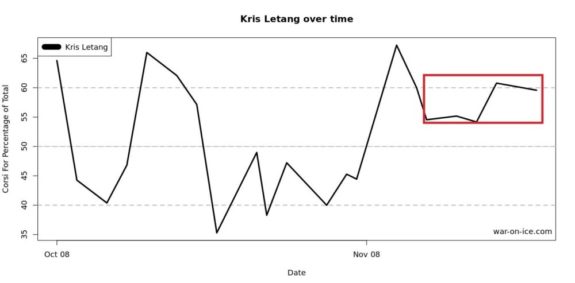 People have been frustrated with the Penguins $7.25 million defenseman this year. Kris Letang had been playing some of his worst hockey we've seen in the last few years, but that's been rapidly changing. In his first 17 games, Letang had a corsi for of 51.3%, but as you can see that was inflated by some huge games, scored 1.1 points per-sixty and netted a goal and seven assists.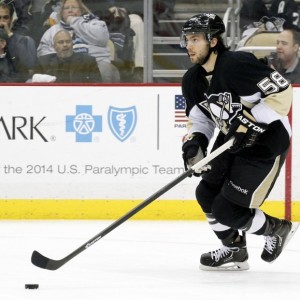 He was recently separated from his early season defensive partner Ian Cole and was playing with Olli Maatta prior to his shoulder surgery. However, Letang is now skating with Rob Scuderi. There isn't enough credit I can give to Letang for his heroic effort in the last four games, despite skating with a defender who should be playing in the AHL. In those four contests, Letang has a corsi for of 57.4%, has scored 2.9 points per-sixty and has netted five points.
Where does all of this leave the Penguins? One thing is certain, it's highly unlikely that Johnston returns to a dump and chase system anytime soon. Almost every single player has statistically improved over the last four games within the altered offensive system. And the crazy thing is that the Pittsburgh Penguins are finally starting to look like the Pittsburgh Penguins we thought they would be. Advanced analytics aren't the be-all end-all of hockey analysis, but when the numbers are this strikingly different, there's truth to them.
Dumping and chasing the puck isn't a smart way to use star players and Johnston has realized that. The Penguins are looking like a much better team and their success should continue. For the first time this season, things are looking positive in Pittsburgh and it's all due to a change in system.
Thanks for reading! Feel free to leave your comments below or tweet me anytime @MPityk_PIT